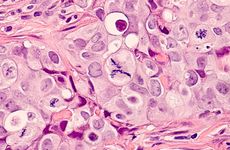 NEW YORK – Reveal Genomics plans to launch its second product next year while it works to make its flagship HER2DX test available in more markets.
Representatives for the Barcelona, Spain-based biotechnology company said that the new test, called DNADX, should be on the market as a research-use-only assay during 2024, while they are planning to add distributors in Latin America and the Middle East and continuing to work toward setting up a US laboratory. 
The technology underpinning the new test, called DNADX, was discussed in a recent paper in Nature Communications. The company claims the test can be used to predict drug response and survival outcomes in patients with metastatic breast cancer being treated with endocrine therapy and CDK4/6 inhibitors.
According to CSO Aleix Prat, the assay will offer users the ability to obtain information on biological features in cell-free DNA obtained via liquid biopsy as well as in tumor tissue DNA. It relies on whole-genome sequencing and computational approaches to predict tumor features, including gene and protein expression as well as tumor histology, and is indicated for use in patients with advanced cancer.
"We can identify the status of key signaling pathways in the tumor, such as the cell cycle or estrogen receptor," Prat said of the technology. DNADX can also be used to assign tumors to four different subtypes of breast cancer, he added.
DNADX is currently undergoing validation, and Reveal Genomics plans more retrospective and prospective clinical validation studies with academic and pharmaceutical partners ahead of its launch for use in plasma and tissue samples next year.
As detailed in the new paper, Reveal Genomics and partners sequenced cell-free DNA obtained from 459 patients with metastatic breast cancer, including 245 patients with hormone receptor-positive/HER2-negative cancers, who were treated with endocrine therapy and a CDK4/6 inhibitor, such as the therapies palbociclib (sold by Pfizer as Ibrance), ribociclib (marketed by Novartis as Kisqali and Kryxana), or abemaciclib (marketed by Eli Lilly as Verzenio, Verzenios, and under other brand names).
According to the paper, the authors sequenced the cell-free DNA on an Illumina NovaSeq 6000 at 0.5X mean coverage, with read lengths of 2x150 bp.
The investigators analyzed the sequencing data using machine-learning and multi-gene signatures, which were linked to DNA, RNA, and protein data from tumor tissue collected from the same patients. Using the tools, they were able to identify signatures linked to different biological features in the cell-free DNA data.
As noted, they included measures of tumor proliferation and estrogen receptor signaling, and the investigators were also able to use signatures to identify four new subtypes of breast cancer that were associated with survival outcome in patients with early-stage and metastatic HR+/HER2- breast cancer. Additionally, the investigators used a multi-gene retinoblastoma loss-of-heterozygosity (RB-LOH) signature to flag those patients who are unlikely to respond well to treatment with endocrine therapy and a CDK4/6 inhibitor.
The Spanish Ministry of Science and Innovation granted Reveal Genomics and its collaborators €1.1 million ($1.2 million) to carry out the study, and now the company is keen to get it into the hands of clinicians.
Prat said that Reveal Genomics wants to show in these follow-on studies that DNADX can identify patients with advanced breast cancer who are candidates for endocrine-based therapies versus chemotherapy-based treatments, including antibody drug conjugates.
It is unclear if the test has any immediate competitors, but other companies certainly have been developing liquid biopsy tests to guide breast cancer treatment. Canada's mDetect has focused on developing a test based on methylation patterns, for instance, and San Diego-based Epic Sciences offers DefineMBC, a laboratory-developed test that relies on cell-based and cell-free analyses to profile metastatic breast cancer and to provide users with a variety of information.
Since it was founded in 2020, Reveal Genomics has aimed to deliver to market genomic tests that can be used to guide cancer treatment. Prat, also head of the medical oncology department at the Hospital Clínic Barcelona, cofounded the firm. CEO Patricia Villagrasa-Gonzalez, former scientific director of the breast cancer research group at the Barcelona-based Solti Foundation, is another cofounder.
Two other cofounders, Charles Perou, a professor of molecular oncology at the University of North Carolina School of Medicine, and Joel Parker, an associate professor of medicine at the same institution, led the development of the PAM50 signature, a breast cancer gene expression assay for formalin-fixed, paraffin-embedded tissue that was later commercialized by NanoString Technologies as Prosigna. Using Prosigna, clinicians can stratify breast cancer patients into five different subtypes.
Like Prosigna, Reveal Genomics' first product, HER2Dx, launched for use on NanoString's nCounter platform in 2022. Offered as a laboratory-developed test via a central lab in Barcelona, HER2DX is intended for early-stage HER2-positive breast cancer patients. It relies on a 27-gene panel plus clinical data to produce scores related to likelihood of recurrence as well as the likely response of patients to different anti-HER2 drugs.
Reveal Genomics launched the test first in Spain and then quickly expanded to Italy. According to Villagrasa-Gonzalez, the firm has also had orders from customers in New Zealand, Croatia, and Chile since it began offering the test. Villagrasa-Gonzalez said this week that Reveal will soon announce other agreements with distributors in two other countries, one in Latin America and another in the Middle East. She did not name the company's partners.
Reveal Genomics is also working toward making its test available in the US market. Last April, the company signed a research collaboration with the Dana-Farber Cancer Institute in Boston to validate HER2DX across three US-based clinical studies, APT, ATEMPT, and DAPHNE. 
Reveal Genomics presented the results from the validations at the San Antonio Breast Cancer Symposium in December. The company described using the test to analyze tumor samples from 471 patients with early-stage HER2+ breast cancer from both the ATEMPT and APT trials, reporting that its test could identify patients who were less likely to relapse, and therefore might benefit from a reduction of systemic therapy. Reveal Genomics also reported the results of its validation in the DAPHNE study, and said its score could reliably identify patients who might be ideal candidates for neoadjuvant paclitaxel, trastuzumab, and pertuzumab therapies.
Villagrasa-Gonzalez noted that the results from the validation in the APT trial were published in The Lancet Oncology this month, where the authors concluded that HER2DX could be used to refine the prognosis for node-negative, HER2+ breast cancer patients treated with paclitaxel and trastuzumab. Papers detailing the other validations are pending publication.
Sara Tolaney, chief of the division of breast oncology at Dana-Farber, was the lead author on the recent paper. She said in an email this week that she has been "excited" about HER2Dx, in part because new therapies have emerged for treating HER2+ breast cancer. Tolaney cited pertuzumab, trastuzumab emtansine (sold by Roche as Kadcyla), trastuzumab deruxtecan (marketed by Daiichi Sankyo as Enhertu), and tucatinib (sold by Seagen as Tukysa) as examples. All four therapies have received market authorization in Europe in the past decade, the latter two in the past two years.
"With the development of better HER2-directed therapies over the past few years, it gives us an opportunity to try and optimize therapy to the individual patient," said Tolaney, who is not affiliated with Reveal Genomics. She added that while studies to date have focused on clinical-pathologic risk to help tailor therapy, it would "be ideal to rather use biology of the tumor to help personalize treatment."
Reveal Genomics' HER2DX assay will allow users to predict rates of pathological complete response to a particular therapy, Tolaney said. This will enable clinicians to better understand prognosis, "which is critical when trying to optimize therapy for patients in order to achieve excellent outcomes."
Tolaney said that she is familiar with the DNADX test under development at Reveal Genomics, and that the assay might be able to help clinicians better understand upfront which patients are likely to respond to particular therapies. It could also allow users to track the development of resistance to therapies during treatment. By identifying RB-LOH or RB mutations, she noted, clinicians might be able to determine at the start of therapy who might and might not benefit from treatment with CDK4/6 inhibitors.
According to Villagrasa-Gonzalez, while clinical validation of HER2DX continues in the US, and the company continues to validate DNADX, Reveal Genomics is also working to set up a US central laboratory.
"We want to be close to our collaborators there and launch an early-access program for HER2DX," said Villagrasa-Gonzalez.
The firm aims to have the site active later this year, though she could not say where it will be located. "We are exploring different options," she said.
To accomplish these goals, Reveal Genomics is pursuing Series A financing with the aim to close the investment round early next year. The company commenced its operations in 2020 with seed financing of €500,000 and has received additional funding from current investors, which will allow it to continue its activities as it raises its Series A, Villagrasa-Gonzalez said. The firm is also hoping to expand its headcount, currently seven full-time employees.