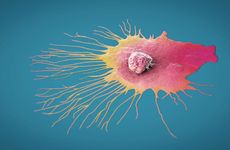 SAN ANTONIO – Attendees of the San Antonio Breast Cancer Symposium digested new data today from a study using liquid biopsy, specifically Foundation Medicine's next-gen sequencing product FoundationOne Liquid alongside circulating tumor cell detection, to mark the presence of residual disease and predict recurrence in early-stage triple negative breast cancer.
Results showed that the FoundationOne test could subclassify patients into higher and lower recurrence risk groups after a combination of neoadjuvant chemotherapy and then surgery, with CTCs providing an additional boost where available.
Overall, authors calculated, ctDNA-positive patients were three times as likely to have distant disease recurrence than ctDNA-negative patients. Detection of ctDNA was also associated with inferior overall survival. Patients with detectable circulating cancer mutations had about 4 times higher risk of death.
"For patients who have triple-negative breast cancer with residual disease, the risk of recurrence is exceptionally high [and] novel ... technologies are critical, including those that can potentially predict the risk of relapse," study senior author Bryan Schneider, a professor at Indiana University School of Medicine, said in a statement accompanying the results.
"This study establishes that triple-negative breast cancer patients who have ctDNA after neoadjuvant therapy have a higher risk of recurrence," he added, arguing that the data may set the stage for further clinical trials for these high-risk individuals.
The concept of circulating DNA or tumor cells to identify patients with residual cancer present after early-stage, putatively curative treatment has made rapid strides across multiple tumor types since some of the first promising tests in colorectal cancer.
Specific commercial tools have even been launched, most notably Natera's Signatera technology, which creates bespoke or patient-specific mutation panels that can be used to mine for signs of residual disease or monitor the emergence of ctDNA signals over time.
Notably, Foundation Medicine and Natera actually have an agreement in place under which they have pledged to jointly develop and commercialize these personalized assays using the FoundationOne CDx test to generate the patient-specific mutations, though the company didn't use that approach for the trial reported at SABCS.
In an email interview, Foundation Medicine Chief Medical Officer Brian Alexander said that early-stage cancer testing is a new area for the firm, whose mainstay has been molecular profiling of advanced, metastatic disease. He called triple-negative breast cancer an area of particular interest for this new venture because of its unmet need.
"In my training as a radiation oncologist, I've seen how estimating the risk of recurrence drives a tremendous amount of decision-making in adjuvant settings, so research like this is very exciting to be a part of," he wrote.
Triple-negative breast cancers, unlike some other breast cancer types, carry significant risk of recurrence even when diagnosed at early stages. In addition, they lack the growing slate of targeted treatment options available to other molecular subsets. Because of this, standard of care is limited to chemotherapy, radiation, and surgery. 
In their study presented at SABCS, the Indiana University investigators analyzed retrospective plasma samples that had been collected from patients enrolled in the Phase II BRE12-158 clinical trial, which studied genomically directed therapy versus physician's choice of treatment after preoperative chemotherapy in patients with high-risk triple-negative breast cancer.
According to Milan Radovich, an Indiana University associate professor and first author of the new study, with neoadjuvant chemotherapy about one third of triple-negative patients achieve a state of pathologic complete response, in which there is no evidence of their tumor once surgeons go in to remove it. This subgroup has much better outcomes than the two thirds who still have residual disease after neoadjuvant chemo.
"We focused on this residual disease population," he said, with the question being "if we detect [evidence of cancer in the blood of patients] who have completed neoajduvant chemo and surgery, are they at higher risk of their cancer coming back?"
The trial enrolled 196 women in total, 142 of whom had ctDNA sequencing performed using the FoundationOne Liquid Test and enough clinical follow-up to study. Testing identified mutated ctDNA in 90 of the patients — about 60 percent — with TP53 being the most commonly mutated gene, followed by others that are commonly associated with breast cancer.
At 17.2 months of follow up, the patients in whom ctDNA had been detected had significantly inferior distant disease free survival (DDFS) compared to those who didn't. The group showing circulating mutations survived without distant recurrences 32.5 months on average, while patients without ctDNA had not reached a median. And at 24 months, the DDFS rate was 56 percent for ctDNA-positive patients, compared with 81 percent in ctDNA-negative patients.
Presenting the results at SABCS, Radovich added that combining ctDNA and circulating tumor cell detection boosted this even further. Patients who were double positive (having both ctDNA and CTCs present) had a two-year DDFS of just 52 percent compared to 89 percent for double negatives.
When the researchers controlled for factors including residual cancer burden, tumor size and grade, cancer stage, age, and race, the detection of ctDNA or ctDNA and CTCs remained independently associated with inferior DDFS.
During a press conference, Radovich said the results make clear that circulating biomarkers can provide independent added value in establishing risk. CtDNA patients are "doing really well," he said, despite being at high risk based on other parameters.
"When looking at detailed clinical data, many of these patients had large tumors … several had lymph node involvement … yet they have now had exceptional long-term outcomes," he said.
Perhaps most importantly, the findings have laid the groundwork for a new prospective adjuvant treatment trial that Radovich and Schneider described at the meeting.
Starting in the first half of next year, the group will recruit patients with triple-negative breast cancer to BRE18-334, or PERSERVERE, in which ctDNA status after neoadjuvant therapy and surgery will be used to direct patients to four different precision oncology treatment arms.
Upfront, the trial will define patients as ctDNA positive or negative, with negative patients receiving whatever care their doctor recommends. Among ctDNA positive patients, those who have actionable genomic markers either in plasma or residual tumor tissue will be assigned to matched treatment plus chemotherapy in an umbrella-style design.  
Those with DNA repair alterations will get PARP inhibition plus capcetabine. Immunotherapy biomarkers will define a group for treatment with atezolizumab (Genentech's Tecentriq) plus chemo. P13K/AKT/mTOR status will funnel patients to receive the investigation Genentech AKT inhibitor ipatasertib in combination with capcetabine, and any patients with both DNA repair- and immunotherapy-associated markers will go to a triple-therapy arm with atezolizumab, PARP inhibition and chemo.
Those with no actionable markers detected will receive their doctor's choice of treatment.
Asked whether the results from the group's analysis in the BRE12-158 trial are practice changing on their own right now, UT Health oncologist Virginia Kaklamani, who served as a moderator for the press conference, said no, though they are research-changing.
Part of the challenge of triple-negative breast cancer, as stated by Schneider and Radovich, is that therapy options are limited. So the excitement around the ctDNA results is that they establish a new way for researchers to figure out which patients are at the highest risk, so they can now test new therapies in that group as in the newly announced PERSERVERE effort.
"That's why we have clinical trials," she said,"so we can figure out whether we can salvage patients with novel therapies."
Foundation Medicine's Alexander wrote that the company is excited to continue its collaboration with the investigators at Indiana University in the new trial.
Since the company is now in a position, with its Natera partnership, to also produce patient-specific assays, he added that another question for Foundation as it continues to conduct more research in this early cancer space may be whether one approach or another can confer higher sensitivity for specific applications.
"It's a question we hope to answer through our clinical development efforts going forward … [to] understand the sensitivity/specificity tradeoffs as they apply to decision making in various clinical scenarios. It is exciting to have a variety of tools in our portfolio to apply to aid doctors and patients [in making] more personalized decisions," he wrote.
In the meantime, the company expects to hear from the FDA on its standard FoundationOne assay some time next year. The firm was granted breakthrough device designation for the panel in 2018.
File Attachments
adobestock_299133862.jpeg