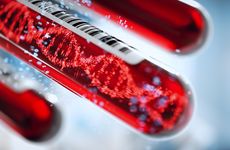 NEW YORK – Based on new details published this Wednesday on circulating tumor DNA test results within the IMvigor010 trial, Roche has decided to explore its anti-PD-L1 inhibitor atezolizumab (Tecentriq) once again as an adjuvant treatment for locally invasive bladder cancer, this time in a biomarker-defined population.
Published in Nature, the report provides expanded data on an exploratory prespecified endpoint of the trial: assessing the utility of liquid biopsy minimal residual disease, or MRD, detection, specifically Natera's tumor-informed ctDNA assay Signatera, to identify drug responders. While the overall trial population didn't show improved survival with atezolizumab treatment, the subset who were ctDNA MRD-positive had better progression-free survival and overall survival.
The use of blood-based genomic assays to detect MRD in solid-tumor cancer patients after surgery is accelerating rapidly. Natera launched its product nearly four years ago, but several other companies have since joined in or plan to in the near future, including Inivata, which offers a similar tumor-informed approach using larger mutation panels; and Guardant Health, which released a competing tumor-agnostic assay earlier this year.
During this time of rapid development, commercial testing firms and researchers are hoping that ctDNA-based MRD detection will be therapeutically informative for solid tumors in the way it has for blood cancers: identifying which patients need additional treatment and which can be spared toxic drugs, as well as tracking patients for signs of recurrence and directing adjuvant treatment to them on a more individualized schedule.
Stakeholders have also tagged these technologies as a potential boon to drug development — a way to salvage failed or ambiguous drug trials and reduce costs and timelines for new endeavors by preselecting patients likely to respond.
Natera is hoping to lead the pack in this arena and is one of the first firms to announce that its MRD product is being actively evaluated as a companion diagnostic to a specific drug in the adjuvant setting for a solid tumor.
IMVigor010 enrolled 809 patients with muscle-invasive urothelial carcinoma, randomizing them after surgery to either atezolizumab or to observation. Although the trial failed to meet its endpoint in the cohort as a whole, the publication in Nature this week describes how a subset of participants — 214 bladder cancer patients with positive Signatera results — responded very favorably to the drug, showing a 41 percent survival improvement compared to those randomized to observation alone.
Investigators set out to assay trial participants at the start of adjuvant therapy and again after six weeks. In the full cohort, 581 patients were successfully tested and 37 percent were ctDNA-positive at the first time point.
When the researchers compared outcomes for the ctDNA-positive patients who were treated with atezolizumab to those who were not, there was a clear benefit with treatment over observation.
"The main finding … is that for the MRD-positive patients, treatment with atezolizumab improved not just progression-free survival, but also overall survival," said Alexey Aleshin, Natera's senior medical director of oncology, adding that the reduction seen in the risk of recurrence or death in this subset of patients was "tremendous."
The MRD-negative subset, meanwhile, failed to show any meaningful improvement with atezolizumab versus observation. "And if anything, there was a non-significant trend towards possible harm," Aleshin said.
He added that sets up a promising possible clinical pathway, where MRD-positive patients would immediately receive immunotherapy. Those who are MRD-negative could be tested serially, he said, and reconsidered for treatment if they later become positive.
According to Natera, the level of response seen in the ctDNA MRD-positive trial subset implies that, had IMvigor010 selectively enrolled only MRD-positive patients, the trial would have had a positive result.
This is now what Roche is exploring with IMvigor011. The recently published exploratory results are "essentially the basis for the new study, which is now open and enrolling and has actually randomized the first MRD-positive patients as of a few weeks ago," Aleshin said. "The concept is, if you do serial testing after surgery with Signatera, any patient that is positive at any time point afterward gets randomized to either atezolizumab or observation."
According to Aleshin, under the current study design "if successful, Signatera could become a companion diagnostic for atezolizumab in the adjuvant setting," which would be a first for the field.
However, there are also precedents from the hematological cancer space that Natera and other solid-tumor MRD assay companies could follow, which don't conform to the single drug-diagnostic CDx paradigm.
For example, he said, Adaptive Biotechnologies' ClonoSeq doesn't have a specified CDx label, but is an approved IVD for MRD detection in leukemia patients. At the same time, the FDA label for blinatumomab (Amgen's Blincyto) states that if an acute lymphoblastic leukemia patient tests positive with any FDA-approved MRD test, they should get the drug, regardless of which assay is used.
According to Aleshin, Natera and Roche's attempt at resurrecting atezolizumab in post-surgical bladder cancer patients could be the first of many such efforts.
"I can't comment on any particular study, but I can say that I think the big settings are the ones we should be focused on, namely, lung cancer, gastric cancer, esophageal cancer, colon cancer, breast cancer … the big tumor types where there's a lot of drug development happening and hopefully there's also going to be a lot of MRD data coming out from some of these studies," he said.
The opportunity is even larger, he added, considering not just failed studies but also studies that are successful but have lingering questions about the magnitude of benefit, or helping decide between two beneficial therapies in the same setting.
Studies like the one just published should give drugmakers more incentive to do retrospective and prospective biomarker subgroup analysis and home in on the best responder population using MRD. "There's going to be much, much more data like this in the coming months and years," Aleshin said.
In addition to the progression-free and overall survival results in ctDNA-positive patients, the publication for IMvigor010 this week also included data suggesting that patients who clear their ctDNA early in treatment may have better survival than those who don't — making molecular MRD a possible surrogate endpoint for therapy efficacy.
"Patients who cleared their DNA did almost as well, if not better, than if they were MRD-negative to begin with," Aleshin said describing the data. "That, I think, sets up a really nice [additional] paradigm ... that if you're MRD-positive, overall, you're likely to benefit from the drug. Furthermore, you can check again, and if … you clear your ctDNA, your prognosis gets even better."
Overall, Aleshin said, this concept of trying to provoke patients into MRD negativity could become more and more prevalent in the precision oncology field. "It's going to take months and years … but treating through MRD negativity is something that we talk about in hematologic malignancies already," he said. "It's only a matter of time until you start doing it in solid tumors."
As Natera and its competitors push forward, reimbursement structures will need to evolve for patients to be able to access this type of testing, especially in a serial or longitudinal setting.
Signatera currently has a local coverage determination through Medicare contractor Palmetto GBA for colorectal cancer patients in the post-surgery setting. The test is covered when done at multiple time points as an analogue to proteomic monitoring tests like a carcinoembryonic antigen assay.
Palmetto has a pending draft LCD that could expand this to other cancer types where there are similar established practice patterns and standard-of-care procedures, as well as broaden coverage to a more general class of MRD assays beyond Natera's specific technology.