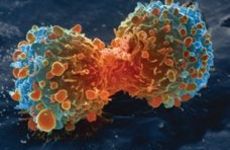 NEW YORK (360Dx) – As Integrated Diagnostics prepares to launch its second-generation Xpresys Lung test, a study published this month in Chest finds the assay can rule out lung nodules as likely benign with a negative predictive value of 98 percent.
This is a substantial improvement over the first-generation Xpresys test, which had a median NPV of 91 percent. In addition to showing a boost in performance, the recent study also represents a more thorough clinical validation than the initial test underwent, said Peter Mazzone, director of the lung cancer program for the Cleveland Clinic's Respiratory Institute and a participant in studies for both versions of the test.
Mazzone, who was senior author on the Chest paper, said that he used the initial Xpresys test only rarely in his patients due to questions he had about the level of evidence supporting its use. The Chest study represents a more rigorous clinical validation, he said, noting that, while additional studies are needed, "this level of evidence has now at least put us in the position to start using the test."
Indi launched the original Xpresys test in October 2013 out of its CLIA lab, but the test posted only modest sales, with around 2,000 total tests sold during the roughly three years it was on the market. The company decided to pull the test from the market in 2016 as it worked to develop the second-generation Xpresys diagnostic.
Both Xpresys Lung 2 and the original Xpresys test ae intended to aid doctors in identifying whether lung nodules detected via CT scans are likely benign, which could spare patients expensive and invasive procedures like fine needle aspiration and thoracotomies.
The original test used multiple-reaction monitoring mass spec to quantify the levels of 11 proteins in patient blood samples. The Xpresys Lung 2 test is also MRM-MS-based but measures only two proteins, both taken from the original panel of 11, and combines measurements of these proteins with clinical factors, like nodule size, location, and morphology, patient age, and smoking status.
The test is meant for use in patients with nodules determined by a doctor's assessment to have a pre-test cancer risk of 50 percent or lower.
That puts them in a range that is challenging for doctors to evaluate, Mazzone said, noting that while guidelines vary, typically nodules with a pretest cancer risk of 5 percent or lower are treated as likely benign and put under surveillance while those with a pretest cancer risk of 65 percent are treated as likely malignant and biopsied and/or resected.
"Unfortunately, we have this middle pool where [the nodule] is not low enough risk just to follow it, and it's not high enough risk to justify getting it out," he said. "So, this test could take some people from that group, where you might [otherwise] have to do a biopsy or some other potentially risky test such and put [the patient] into the group with a low enough risk [group] where we're comfortable just watching that nodule."
Mazzone said that in a specialized practice like his, indeterminate nodules fitting the intended use of the Xpresys 2 test make up around half the lung nodules he sees. He estimated that for a general pulmonologist that figure would probably fall to around 25 to 30 percent.
The PANOPTIC study detailed in the Chest paper was a prospective, 33-site study that enrolled 392 eligible patients, 178 of whom had a lung nodule with a pre-test cancer probability of 50 percent or below. Of these 178, 149 nodules were benign and 29 were malignant. The Xpresys 2 test classified 66 as likely benign, 65 of which were benign, and one of which was a malignant nodule.
A subgroup of 58 patients underwent an invasive procedure immediately after detection of their nodule. In this group, 35 nodules were benign and 23 were malignant. The Xpresys 2 test identified 14 of the 35 benign nodules as likely benign, while incorrectly identifying one of the 23 malignant nodules as likely benign.
These findings suggest that the test could lead to a 40 percent decrease in procedures performed on benign nodules, while 3 percent of malignant nodules would be misclassified as benign, the authors noted.
"I did not often use the initial [Xpresys] test with my patients because it hadn't reached the level of evidence where I'd be comfortable applying it clinically," Mazzone said. "This is a more advanced study. This is a true clinical validation study, and so I can be very comfortable that the accuracy here should hold up."
Ultimately, though, clinical utility data will be needed to truly make the case for the test, he said.
"We tried to be careful with language we used in the paper to say we can estimate the clinical utility based on this accuracy, but clinical utility depends on how clinicians interpret test results and act on them," he said.
Mazzone noted that a number of factors determine how the performance of a test in clinical validation translates to actual clinical utility.
"It gets to a lot of the nuance of nodule management," he said, giving the example of a patient with an indeterminate nodule that isn't easily accessible for a biopsy.
In that case, "you really don't have much else to do except follow it or take it out," he said. "And so, if the test is applied in that patient, and you had already decided you were going to follow [the nodule], not take it out, then the test being negative really wouldn't impact your decision."
"Separate from that, it's about the clinician and the patient, when they're sitting talking about these results and the probability of cancer after the test has been run," he added. "Are they going to be comfortable enough saying, 'Okay, now with this test we're just going to follow [the negative result]. I'm not going to biopsy it.' Even though their risk is really low, and we would strongly speculate [based on the clinical validation] that they would [not biopsy], that's not known until it's been looked at."