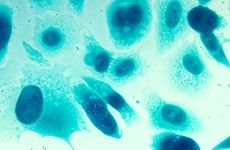 NEW YORK (360Dx) – Genomic Health announced last week the full launch of what it calls the Oncotype DX AR-V7 Nucleus Detect test, an assay designed and performed by circulating tumor cell firm Epic Sciences.
The test detects the AR-V7 splice variant of the androgen receptor protein in the nucleus of isolated CTCs in order to identify which men with metastatic castration-resistant prostate cancer are more likely to respond to treatment with an androgen receptor-signaling inhibitor (ARSI) therapy, and which would be better served by chemotherapy.
The AR-V7 test is a departure for Genomic Health in several ways. For one, while most of Genomic Health's existing tests compete — sometimes hotly — with other companies in the same medical niche, the new AR-V7 assay has no serious commercial competitors yet.
According to Genomic Health, about 50,000 men in the US with advanced prostate cancer could benefit from knowing their AR-V7 status prior to selecting further treatment.
Another difference that marks the AR-V7 test is Genomic Health's partnership with Epic Sciences. Epic still performs the test in its lab, but Genomic Health has exclusive rights to market and sell the test in the US, and results of the assay are made available to physicians through Genomic Health's physician portal.
In contrast, Genomic Health's other prostate cancer test, as well as its breast and colorectal cancer tests, were developed and validated largely in house, and are conducted by the company in its own lab. Acquiring or licensing tests from other players seems to be a strategy that the company has hit on in an effort to build a broad menu of tests that it can market to the urology community.
The firm said last November, for example, that it had also added a new licensing agreement with Cleveland Diagnostics to develop and commercialize a high-PSA reflex test based on Cleveland Diagnostics' IsoPSA reagents and technology.
The Epic Sciences AR-V7 assay is performed using a platform the company calls "No Cell Left Behind," which arrays cells isolated from blood samples, and uses staining, morphology, and other techniques to identify the CTCs amongst a background of other cells. The identified CTCs can then be assayed for specific biomarkers using techniques like immunohistochemistry.
Two clinical validation studies, led by Memorial Sloan Kettering Cancer Center, collectively including 360 patients, have demonstrated that men who are AR-V7 positive and treated with chemotherapy survive longer than those on ARSI therapy.
Findings from the first validation study were published in JAMA Oncology in 2016, demonstrating the assay's ability to distinguish men who might have better survival sticking with taxane chemotherapy versus anti-androgen drugs.
Results from the second validation study, which expanded the analysis to multiple sites, were presented at the 2018 Genitourinary Cancers Symposium of the American Society of Clinical Oncology this February.
"The results were mostly the same as the JAMA study," said Genomic Health Chief Medical Officer Phil Febbo. "Patients who are AR-V7[-positive] do not benefit from AR-signaling inhibitors, and live longer when treated with taxanes."
More interestingly the second study shored up the predictive nature of a negative AR-V7 result, Febbo added.
"In the first study [there was] a trend that if patients are negative, it looked like those who receive a second AR inhibitor did better than those who got taxane. … That was not statistically significant in the first study, but it was in this one," he said.
Investigators saw improved hazard ratios for both groups of patients. Median survival was about 22.6 months for AR-V7-negative patients when treated with an AR-signaling inhibitor, but only 13.1 months on taxane chemo. And for AR-positive patients, median survival was 14.5 months when treated with chemo, compared to only 8.7 months if given a second AR therapy.
"This is important, because some of the resistance I've heard from physicians is that even though [National Comprehensive Cancer Network] guidelines support use of a second AR-signaling inhibitor, some doctors are skeptical that if you progress on one you'll respond to another," Febbo said. "But this study clarifies that if you remove the patients who are AR-V7-positive, you do improve survival with a second AR inhibitor in the remaining cohort."
Although Genomic Health doesn't face any large commercial competitors in AR-V7-based therapy prediction right now, one source of future rivals could be laboratory-developed tests that use an RNA-based approach initially developed by researchers at Johns Hopkins and licensed last year by Qiagen.
Qiagen public relations director Thomas Theuringer confirmed that Qiagen has not yet launched its planned research-use only kit, the AdnaTest Prostate Cancer Panel AR-V7, but it intends to release it soon. At that time, the technology could be incorporated into clinical tests performed in CLIA labs.
Johns Hopkins also offers its own PCR-based assay to patients through the institution's Molecular Diagnostics Laboratory, though with sample collection requirements that would most likely preclude large volumes.
Other approaches to detecting AR-V7, or to predicting therapy response based on other biomarkers, have also been investigated in recent years, including an RT-PCR approach using BioRad Laboratories' droplet digital PCR platform to detect both PSA and AR-V7; another droplet PCR method that interrogates androgen receptor copy number variation rather than expression of the AR-V7 splice variant; and a method for array-based comparative genomic hybridization to search for copy number changes in CTCs,
At one point, both Epic's test and the Qiagen AdnaTest technology were being evaluated as potential companion diagnostics to Tokai Pharmaceuticals late-stage investigational drug galeterone. However, that collaboration was later discontinued when it looked like it would not meet its primary endpoint.
According to Febbo, this doesn't rule out future drugs that might require AR-V7 testing as a companion.
"Epic has continued to engage with pharma to integrate AR-V7 and other tests into trials with a path to a companion diagnostic. Those trials are still underway, but I wouldn't be surprised if after two or three years some of those trials come to fruition, and AR-V7 does come out as a predictor for a specific drug," he said.
Moving forward right now with a more general tool, Genomic Health is confident in its ability to collect clinical utility and health economic data that will cement the usefulness of the AR-V7 test for practicing physicians, and to help persuade payors.
"In order to get private payors [you] have to show that physicians follow the results of the test in a meaningful way, and that that then translates to a benefit to patients … [but] I'm optimistic about AR-V7 because it's so linked to survival," Febbo said.
"With many of our other tests, survival is decades away, but with this it's much more immediate," he added.
In addition, Febbo said, the test offers a binary — positive or negative — associated with a well-understood clinical intervention. "Physicians know not to treat AR-V7 positive patients with AR targeted therapy. That message is very clear," he said.
According to Febbo, prior to its full launch of the test last week, Genomic Health had been providing the test through a controlled launch for about seven months, during which it has collected data on physician utilization of the test.
So far, he said, "we are very pleased that we have not seen a single patient who is positive by the test be treated with AR therapy." The company is now working on organizing that data into a publication.
And although US payors don't as a rule use health economic data to inform coverage decisions, Febbo added that because chemotherapy is not only more effective in the approximately 22 percent of patients who are AR-V7-positive after first-line therapy, but also cheaper, there is a clear cost benefit to implementation of AR-V7 testing that may also help support adoption.