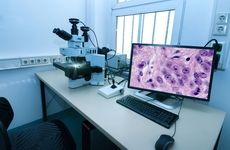 NEW YORK (360Dx) – New York City-based startup Paige.AI is using clinical-grade computation to evaluate the de-identified images of digitized slides and develop advanced technology for pathologists.
Leveraging artificial intelligence and deep learning software running on a supercomputer, the system is being developed to analyze and learn from large-scale datasets and then recognize types of cancer cells on slide images, separating them from healthy cells.
"We are going the last mile and getting this into the clinic, and a huge part of that is obtaining regulatory approval," said Thomas Fuchs, the firm's chief scientific officer who co-founded Paige.AI on research and technology he and colleagues developed over the past 10 years. The firm soon expects to publish details of its system in an undisclosed high-profile journal, Fuchs said.
Last week, Paige received a US Food and Drug Administration Breakthrough Device Designation for its computational pathology tools in prostate cancer.
Paige.AI's newly appointed CEO Leo Grady said in an interview that the firm has been working the with FDA for some time and the agency clearly "sees value and the potential" for what the firm is building, which is reflected in the breakthrough designation. Prior to receiving the designation, Paige.AI had submitted data from internal pilot studies involving validation of its computational pathology system.
The breakthrough designation will ensure an open dialogue and a more fluid, iterative process in its communications with the agency as the firm pursues 510(k) clearance, Grady said, adding the company continues to validate the system in preparation for a submission to the FDA.
Paige could also opt to launch its system as a lab-developed testing service, Grady said, and more long-term versions could integrate genomic testing results and patients' clinical assessments with computational pathology. The current system, if it can be made available as an FDA-cleared product, fits within existing reimbursement protocols for pathology testing, he noted, so the firm will not have to apply for new reimbursement codes or negotiate with payors for its first product.
Series A funding
Fuchs, who is also the director of the Computational Pathology Lab at Memorial Sloan Kettering Cancer Center, launched the firm with colleagues in February last year on the back of a $25 million Series A equity investment. In parallel, the firm signed a licensing agreement with MSK that gave it access to the cancer center's library of 25 million pathology slides.
Under the agreement, Paige received more than 1 million de-identified images of digitized slides from MSK and began funding the digitization of an additional 4 million slides from MSK's archives.
Grady noted that the Series A funding "is intended to build the team, build the product, and to get it through those early stages, but not to fund widespread commercialization. As we make the transition to commercialization, we will need to continue to obtain new funding."
Now, the firm is working with the de-identified dataset to develop a portfolio of AI products across cancer subtypes for use by pathologists.
"The main purpose of Paige is to build artificial intelligence that can help doctors to be more efficient, help researchers discover new science, and help patients to be more confident in their diagnoses," Fuchs said. "We're doing that by building machine learning models and deep neural networks at an unprecedented scale."
This kind of scale is needed to enable building computational models for pathology that are robust and reproducible and can be used in clinical practice, said Fuchs, who is a former research technologist at NASA's Jet Propulsion Laboratory in Pasadena, California. He has worked on the Mars Rover and autonomous space exploration there, and some of the algorithms used to identify terrain on Mars have been useful in differentiating cancerous from benign tissues on slides, he said.
The primary goal of Paige.AI is to make its system available to hospital clinics, "but it really could help to change a discipline which hasn't changed for more than 100 years," Fuchs said. At the most advanced cancer centers, such as MSKCC and the Dana Farber Cancer Institute, pathologists look through microscopes at glass slides in making a diagnosis.
"That becomes the basis of all cancer treatment," he said. "If you can help to make that process more robust and reproducible, that would have a huge impact on patient care. You can democratize this knowledge because you will be able to take the Paige system, trained with inputs from the best doctors in the world, and apply it in a small hospital anywhere, and patients could get information from the system that they could never afford or get otherwise."
One of the biggest challenges for pathologists is the number of slides that they must read. In diagnosing a prostate cancer biopsy, for example, a pathologist might analyze 48 slides, Fuchs said. Each slide produces an image with 50,000 to 100,000 pixels and consists of millions of cells.
It is exceptionally difficult for the human eye and mind to select small cancer lesions from among the slides. "It's cumbersome and if the pathologist is not experienced, there can be diagnostic errors," he said. The pathology-based diagnosis is the basis of everything else that follows, Fuchs noted, including how to treat the patient, whether the patient is suitable for pharma drug trials, and the kind of diagnostic tests needed to support treatment decisions.
In providing a robust diagnosis, Paige's computational model is trained on exceptionally large datasets, and it leverages high-performance computing to find cancer lesions, including for prostate, lung, and breast cancers, he said.
For the pathologist this translates to less time spent on slide analysis and an easier workflow.
"This is all very important in a larger context because there is a shortage of pathologists in the US and worldwide," Fuchs said. "Given the rate of developments in early detection of cancer, you would need these standard decision support systems in the future to reinforce the standard of care," he said.
The firm anticipates collaborating with academic medical centers, commercial labs, and pharma companies as it moves along a commercial path. It is in discussions with academic medical centers and hospitals to enable beta testing of early versions of its products through which it can receive feedback and make improvements to improve clinical workflows. The firm anticipates that collaborations with pharmaceutical companies will enable drug discovery and clinical trial processes.
Expanding digital pathology
Pathology is among the last disciplines to digitize in medicine, but with the adoption of digital side scanners, it's now possible to do primary diagnosis from images, Grady said. He is seeing an "upward trend toward digitization in Europe," and a similar trend is beginning in the US. "I think that upward trend is really going to be facilitated by the kinds of tools that Paige is building," he said.
For two decades, digital pathology has been "awaiting adoption in masses," Abhi Gholap, the founder and CEO of OptraScan, which offers an on-demand digital pathology service, said in an interview.
Cost and accessibility have been the main obstacles to the adoption of digital pathology, he said. AI and deep learning technologies, such as those being developed by Paige.AI, mimic human cognitive capabilities to reveal more information and answer queries pertaining to a given disease, he said. "Once digital pathology scanners become affordable then such AI tools if made available on demand will help improve healthcare globally," he added.
Until the US regulatory approval in 2017 of the Philips IntelliSite Pathology Solution scanner, many small and mid-sized pathology labs were slow to embrace the use of digital pathology technology. Some pathologists believe that the FDA's approval of the system for sale in the US sent a clear signal that digital images could one day become the standard of care in anatomic and clinical pathology.
Philips is collaborating with PathAI in an initiative to develop artificial intelligence for pathology, and additional companies are entering the digital pathology space, including Deep Lens, Roche, and Cernostics.
In a 2018 commentary published in JAMA Oncology, David Rimm, a professor in the department of pathology at Yale University School of Medicine and a scientific advisor to Paige.AI, noted that some deep-learning algorithms in a study achieved better diagnostic performance than a pathologists' panel.