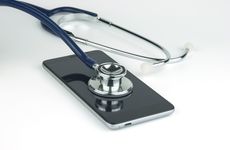 NEW YORK (360Dx) – The frontier of the battle of human versus machine has reached skin cancer diagnostics with consumers increasingly using smartphone apps to help them decide whether a mole could be cancerous.
According to researchers at the University of Birmingham in the UK, however, people could be putting their health at risk by using some of the apps, and they could miss important warning signs.
In a study, presented recently at the British Association of Dermatologists' Annual Meeting in Edinburgh, Scotland researchers reviewed medical literature to explore the range of apps available, evaluate their benefits and limits, and assess their role in teledermatology.
Overall, smartphone apps can supplement but not substitute standard medical care, Maria Charalambides, study researcher at the University of Birmingham's College of Medical and Dental Sciences, said in an interview. However, apps can play an important role in patient education, she said, because people generally don't recognize the alarm bells that signal the presence of a skin melanoma.
"The types of phone apps fall within a number of different categories, and the best among them bring education and awareness of skin cancers," Charalambides said.
Among the different classes of smart phone apps for skin cancer diagnostics, teledermatology applications that enable sending an image directly to a dermatologist are among the most frequently used; storage apps are used to compare photos and look for changes in a mole over time; and apps that use color and pattern recognition or fractal analysis perform skin cancer risk calculations.
At the center of the challenges that surround the use of smartphone apps for cancer diagnosis is the broad variety of skin conditions and the average user's lack of training to recognize whether a mole could be cancerous, she said. Even trained dermatologists working in clinics sometimes need a biopsy before deciding whether cancer is present, she said, so leaving it to an untrained eye to decide whether a mole could be cancerous can be unsafe.
In their study, the researchers identified important points of failure with respect to the use of smartphones for skin cancer diagnosis — a lack of rigorous published trials to show they are safe; a lack of input from skin cancer specialists during app development to identify which lesions are suspicious; and flaws in how images are analyzed.
Without specialist input, the apps might not recognize rare or unusual cancers, Charalambides said. Even when the technology is effective, patients tend to not recognize some red-flag symptoms without input from a dermatologist. Some color and pattern recognition software apps struggle in recognizing scaly, crusted, and ulcerated areas, or melanomas that don't produce pigment, increasing the number of false negatives and delaying treatment.
Some apps provide a calculation of the risk of having skin cancer. Users compare images periodically, and the apps tell them whether they should seek a dermatologist's review.
However, these apps run a risk of not being able "to differentiate between finer details" that a dermatologist can recognize and that a handheld dermatoscope would safely uncover, Charalambides said.
Fiona Walter, a principal researcher in primary care cancer research at the University of Cambridge, UK, who participated in a previously published review of smartphone apps for melanoma diagnosis, said she also found issues with apps for evaluating possible skin cancer.
That review was published in the British Journal of Dermatology in 2015 by Walter and her colleagues at the University of Cambridge, UK, University of Melbourne, Australia, and University of Aberdeen, UK. They identified 39 apps available to detect or prevent melanoma by non-specialist users, including "previously unaffected individuals, patients previously diagnosed with skin cancer, and generalist clinicians." More than half of the apps provided information or education about melanoma, ultraviolet radiation exposure prevention advice, and skin self-examination strategies.
Half of them helped users take and store images of their skin lesions either for review by a dermatologist or for self-monitoring to identify changes, an important predictor of melanoma. Almost half of the apps used reminders to help users monitor their skin lesions. Some offered expert review of images, and four apps provided a risk assessment to patients about the probability that a lesion was malignant or benign. One app calculated users' future risk of melanoma. "None of the apps appeared to have been validated for diagnostic accuracy or utility using established research methods," the researchers said.
They noted that there "was little evidence of clinical or research-based input into the design of these apps or of evaluation of their utility, so clinicians should be cautious about supporting the use of such apps to detect melanoma."
Apps that make it on the market only to disappear soon after also pose challenges.
"We re-ran the search 12 months later and found that nine apps were no longer available but 10 new ones were now available," Walter said. "With this rapidly changing access, it is not easy to summarize the quality, accuracy, and acceptability of available apps."
However, the validation of apps for their accuracy and clinical utility remain questionable. "This is disappointing, as we highlighted the lack of sufficient validation three years ago," she said.
The University of Birmingham researchers noted that with the surge in smartphone use, the field of telemedicine — and specifically teledermatology — is seeing growth in an evolving app supplier ecosystem, and skin cancer-related dermatology apps are broadly available.
Researchers in general are exploring a range of applications for the use of smartphones in diagnostics.
With an eye toward low-resource settings, for example, a research team from the University of Illinois at Urbana-Champaign has developed smartphone-enabled diagnostic technology that can perform many of the same testing currently performed with laboratory-based immunoassays.
However, as the number of such apps continue to skyrocket and gain acceptance among healthcare providers and patients, concerns are being raised about the accuracy and safety of some of the technologies. Further complicating matters is a regulatory environment that has, in large part, taken a hands-off approach, leaving users of the technology on their own to evaluate the devices.
A study published in JAMA Internal Medicine in 2016, for example, reported that both systolic and diastolic blood pressures measured by an app were "highly inaccurate," compared to a standard blood pressure monitoring device.
Education with vigilance
The University of Birmingham researchers found that despite concerns over the risk of inaccurate diagnoses, skin cancer apps overall have redeeming qualities that can complement the work of clinicians. Importantly, the apps can help educate consumers and raise awareness about skin cancer, Charalambides said.
The benefits of teledermatology include education, encouraging personal responsibility, and providing more effective services to people living in remote areas, the researchers said. Further, teledermatology is an effective triaging tool, and can be used to ensure that patients are seen by the appropriate clinician during a first appointment, leading to timely treatment.
In their study, the University of Birmingham researchers used publicly available search engines and databases, including PubMed and Medline, to search relevant literature. They found that some of the apps have shown success in the diagnosis of skin cancer. Applications that enable sending images directly to a dermatologist are among the best method of melanoma diagnosis, according to the researchers. Such apps could correctly diagnose 88 percent of people with skin cancer and 97 percent with benign lesions.
Apps that use fractal theory analysis algorithms which detect irregularities in a fractal pattern were the next most successful category, they noted. They correctly identify 73 percent of people with skin cancer and 83 percent of people with benign lesions.
The proliferation of skin cancer diagnostic applications comes as 50 percent of all referrals to dermatologists in the UK relate to skin cancer. Every year more than 230,000 new cases of non-melanoma skin cancer — the most common type — are diagnosed in the UK, and there are about 16,000 new cases of melanoma every year. About 5.4 million basal and squamous cell skin cancers are diagnosed each year in about 3.3 million Americans, as some people have more than one skin cancer occurrence within a year, according to the American Cancer Society. Basal cell carcinoma accounts for more than 90 percent of all skin cancers in the US.
Early diagnosis is important because the five-year survival rate approaches 97 percent if the cancer is detected in Stage 1A. That compares with 25 percent in women and 10 percent in men diagnosed at a later stage, the researchers noted.
The University of Birmingham research group said that further research into the efficacy and economic viability of teledermatology apps is required. Until then, users should be cautious using them, Charalambides said, and any software that claims to provide a diagnostic element should be subject to rigorous testing and ongoing monitoring.
Further, validation studies "should be set in the population for which they are intended to be used, [such as] the general population or people attending their family doctors," Walter said. Skin lesions are very common in the general population, but skin cancers are rare in comparison, she said.
Apps need to prove that they can accurately distinguish between common and rare conditions in these populations, she said, rather than among people with possible or probable skin cancer who are referred to specialists. "There is no evidence yet of these approaches to app assessment," Walter said.