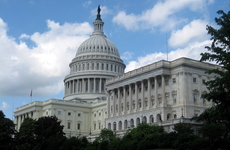 NEW YORK – Despite a lot of talk that 2022 was going to be the year that finally brought a legislative solution to the question of whether the US Food and Drug Administration can regulate lab-developed tests, the VALID Act was scuttled from inclusion in a must-pass spending bill at the end of December.
VALID sought to end the FDA's historic "enforcement discretion" over LDTs and create a new oversight framework. This included grandfathering provisions for currently marketed LDTs, though new high-risk tests would have to go through FDA premarket review and lower-risk tests could come on the market without premarket review after garnering "technological certification" for a representative test.
The debate over LDT regulation is particularly important for the future of precision oncology because so many tests for cancer therapy selection and for determining cancer risk are performed at single labs. In recent years, more and more academic cancer centers and large hospital systems have invested in developing in-house tests for cancer patients. And even though the FDA in 2022 continued to approve new companion diagnostics alongside precision oncology drugs (see related story), including some LDTs like Guardant Health's Guardant360 CDx and Myriad Genetics' BRACAnalysis CDx, the vast majority of genetic lab tests that cancer patients receive don't have FDA approval.
The FDA has for many years wanted to regulate LDTs, citing concerns that these tests are being broadly marketed and are harming patients because their accuracy isn't adequately overseen under federal lab standards, called the Clinical Laboratory Improvement Amendments. But the lab industry and pathologists have fought the FDA's attempts to regulate the industry, claiming the agency lacks statutory authority and maintaining that the agency's claims that shoddy LDTs are harming patients aren't backed by evidence.
VALID would have squelched any questions about the FDA's authority to regulate LDTs by giving the agency that power in statute. And for a while in 2022, it looked to some like VALID had a decent shot at passage, or at least a better shot than it did in years past. As such, stakeholders in the precision oncology space stepped up advocating for their position on the bill. Friends of Cancer Research, for example, was among the bill's supporters along with Pew Charitable Trusts and the in vitro diagnostic industry.
However, as expected, VALID had far less support among clinical labs that feared it would greatly increase their regulatory burden and slow their ability to quickly adapt and launch new tests. Even though the industry group American Clinical Laboratory Association worked closely with legislators to tweak VALID's provisions and lessen the burden of increased oversight on the lab industry, healthcare institutions, particularly academic medical centers that have in-house lab-developed NGS tests for guiding cancer treatment, for example, came out strongly against the bill in 2022.
Earlier in December, advocacy organization Personalized Medicine Coalition circulated a sign-on letter to collect signatures from members who supported including VALID in the FY2023 year-end legislative spending package. A week later, however, the PMC sent an email to members announcing that it would not send the sign-on letter to lawmakers after all, due to concerns that it represented "the views of only some of the coalition's members" and since the organization's position on VALID "is and remains officially neutral."
PMC has a diverse membership including drugmakers, IVD manufacturers, providers of LDTs, and industry groups like ACLA, but research, education, and clinical care institutions comprise 25 percent of its member roster. "I guess a lot of [PMC's] membership, including myself, let them know that, 'Hey, we're not in favor of this thing,'" said Howard McLeod, executive clinical director of precision health at Intermountain Healthcare. The healthcare system operates hospitals in Utah, Nevada, and Idaho and was an early adopter of genomic testing in cancer care, many of which are offered through its in-house lab.
Earlier this year, Intermountain partnered with commercial testing firm Myriad Genetics to launch a service through which doctors can order germline and somatic cancer tests. Through this offering, oncologists all over the US, not just in the locales that Intermountain serves, can order its in-house TheraMap NGS panel for identifying the treatments and clinical trials their patients are eligible for.
This type of marketing model, which allows far more patients access to an LDT that at one time was limited to patients more locally, is precisely why the FDA says lab tests need greater oversight. But health system and academic labs believe FDA oversight would be bad for patient care because it would make it much harder for them to keep in-house tests like TheraMap up to date with rapidly changing biomarker discoveries and guidelines. Companies that have garnered FDA approval of their NGS panels, McLeod observed, provide good tests but are "missing some things." For example, he noted that Foundation Medicine's FDA-approved FoundationOne CDx sequences DNA but, unlike TheraMap, "doesn't have an RNA component."
Gail Javitt, a director at the law firm Hyman, Phelps & McNamara and an expert on FDA diagnostics regulation, recently pointed out nuanced language in VALID that would have limited many LDTs with at-home sample collection from qualifying for grandfathering. Although many industry observers viewed VALID's grandfathering provision as a way of lessening regulatory burdens on labs, in Javitt's reading of the bill, it was clear that grandfathering wouldn't have extended to LDTs that rely on at-home sample collection, unless those sample collection kits were explicitly FDA authorized for at-home use — but few are.
Lots of labs collect a variety of sample types at home, and the practice became more popular among telehealth-based lab services as a result of the COVID-19 pandemic. In the early days of the pandemic, even some of the more traditional molecular diagnostics labs pivoted to at-home sample collection to ensure continued patient access to germline cancer risk testing, for example. At-home sample collection is likely to continue among lab testing services, in Javitt's view, even as the pandemic wanes.
"I don't think there was transparency that grandfathering would exclude most LDTs using home-collected samples," Javitt said regarding VALID. "But we know the FDA historically had a lot of concerns about consumers collecting their specimens at home."
Since VALID didn't pass in 2022, there are rumors that a legislative solution giving the FDA explicit authority to regulate LDTs may be dead. FDA Commissioner Robert Califf has said the agency may consider using the rulemaking process to oversee LDTs. In 2020, the US Department of Health and Human Services under former President Donald Trump said that the FDA cannot require premarket review of LDTs without notice-and-comment rulemaking. But well before that, industry players had been asking the agency for years to proceed with rulemaking, especially when the FDA was trying to regulate LDTs through guidance.
The FDA may still try to regulate certain components of lab-developed genetic tests through guidance, however. Last year, the agency finalized guidance on clinical decision support (CDS) software and provided examples of device software functions that it intends to oversee. One example of the type of software the FDA said it can regulate contains electronic files of patients' variants identified via an NGS analyzer and provides recommendations for FDA-approved treatment options. It's uncertain the extent to which the FDA intends to enforce the guidance in the types of cases it has highlighted, but industry observers have said that if enforced, this could have a heavy impact on labs performing clinical NGS tests. 
In a further confusing turn, at a Friends of Cancer Research meeting last year, the FDA's oncology drug division floated the idea of advancing "minimal performance criteria" for companion tests used to select patients for biomarker-targeted cancer drug trials. The idea is that when the drug is approved, it would not necessarily be tied to a specific FDA-approved companion test, as is typically the case now, but doctors could use the publicly available diagnostic standards to decide which tests on the market meet that criteria and use them to identify treatment-eligible patients. 
Industry, doctors, and the FDA have recognized for some time that the one-drug-one-test paradigm does not serve the best interests of patients. To try to address this problem, the FDA advanced guidance in 2020 outlining how test developers could get a CDx approved for a group of drugs with the same biomarker-guided indication, such as EGFR-mutated NSCLC. But this pathway hasn't been widely adopted, and the one-drug-one-test model has persisted. The FDA continues to approve checkpoint inhibitors, for example, with PD-L1 expression companion tests that have different performance metrics, antibodies, and PD-L1 expression cutoffs.
Susanne Munksted, chief precision officer at diagnostics data analytics firm Diaceutics, observed that the FDA's proposed minimal performance criteria could, at least in the short term, ease some of the biomarker test-related access barriers keeping patients from getting precision oncology treatments. For example, it could make it easier for doctors to identify the test they need to identify the appropriate treatments for their patients.
But the proposal also raises lots of questions for Munksted. For example, within clinical trials, whose responsibility would it be to collect the minimal performance criteria across sites? How will the quality of the LDTs that claim to follow the criteria be monitored? And what incentive do diagnostics companies have to establish these performance criteria in trials and then make them public for other competitors to follow?
Moreover, she observed that this idea of minimal performance criteria seems to almost go against the VALID Act. "With VALID, it seems like the FDA wants to control LDTs, and with this [pilot] idea, the FDA seems to be saying, 'We want to promote LDTs,'" Munksted said.
Even though 2022 brought no straight answers in terms of how to improve regulation of increasingly complex genomic technologies, some insurance companies seem fed up with the status quo, where in vitro diagnostic kits performed at many sites are overseen by the FDA, but the vast majority of lab-developed genomic tests performed by one lab are regulated under CLIA.
Highmark, for example, raised some eyebrows this year when it began asking in-network labs to demonstrate the accuracy of certain germline and somatic cancer tests beyond what they're required to show for CLIA certification and accreditation from the College of American Pathologists. Other insurers, like UnitedHealthcare, are exploring similar programs.
The lab and pathology community, which has for 30 years thwarted the FDA's attempts to regulate the industry, is evaluating how to address these new requirements from insurers. The Association for Molecular Pathology, for example, sent an email in October to members expressing concern about having to meet "layers of requirements" from different payors that are "in conflict with current regulatory policy."
AMP has said it is working with stakeholders to formulate an advocacy strategy and maintains that instead of FDA oversight or insurer requirements, updating CLIA is the best way to address any "perceived concerns" about LDT quality. The organization has also proposed a CLIA modernization plan.
Still, in the short term, the LDT regulation debate remains unresolved. And industry players may worry that in 2023, when the FDA has a public health concern, it might go back to sending labs warning letters and using other nontransparent methods to shut down tests, like it did a few years ago in the pharmacogenomics field. But if the FDA is serious about rulemaking, Javitt said she hoped the agency makes a concerted effort to publicly engage all players and truly listen to stakeholders' concerns. "I'm encouraged that FDA is talking about rulemaking as opposed to ad hoc oversight," she said.