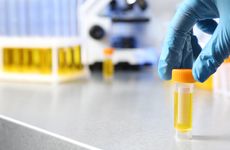 NEW YORK – Scienion has partnered with a research institute of Ruhr University Bochum to develop a bladder cancer test that will leverage 10 biomarkers to detect disease from a urine sample within minutes. 
Scienion envisions a 2024 worldwide market debut for the lateral flow assay called UroFast, which it plans for use at the point of care.
Talena Jarling, a project leader at Scienion, confirmed via email that Scienion will seek a CE-IVD mark for the UroFast test in two years. Commercialization plans are still under discussion with Scienion's academic partners, she stressed. The test will be submitted for clearance in accordance with Europe's new In Vitro Diagnostic Regulation.
Founded in 2001, Scienion is headquartered in Berlin and has over the years delivered to market a suite of instruments and services for liquid dispensing. These have found application in the manufacture of multiplexed arrays, lateral flow assays, and cell-based assays, for example. In 2020, Cellink, now called Bico, a Swedish company, paid about $95 million to acquire Scienion.
While Scienion has always served researchers, the company has also worked to bring tests to market with the help of partners for years. In 2014, for instance, it received a CE-IVD mark for a sexually transmitted infection panel it developed with Spanish company Genomica. Last year, it extended its partnership with Gilupi, a German firm, to develop a workflow for circulating tumor cell analysis.
According to Jarling, Scienion first began working with researchers at the Institute for Prevention and Occupational Medicine of the German Social Accident Insurance, or IPA, in 2017. IPA is a research institute of Ruhr University Bochum, located southwest of Dortmund, where Scienion also has an office. IPA specializes in developing methods for preventing and diagnosing work-related illnesses, and maintains five centers focused on medicine, toxicology, allergology and immunology, molecular medicine, and epidemiology.
The partners first participated in a competition, called LifeSciences.NRW, held in 2017 by the state government of North Rhine-Westphalia to develop new technologies.
"After promising results for identification and validation of urinary biomarkers for the diagnosis of bladder cancers, the IPA wanted to develop an assay with these multiprotein biomarkers," said Jarling. Though the project did not win the competition, Scienion and the IPA continued their work.
Multiple Scienion instruments were used in the collaboration. These included the SciFlexarrayer SX, an automated liquid dispensing platform for high-throughput production. The SX model can print 170 slides or 27 microtiter plates per batch, according to the company. The SX was outfitted with SciDrop Pico, a non-contact piezo capillary dispenser for spotting microarrays and lateral flow assays.
Jarling said that UroFast currently includes 10 biomarkers applied in duplicate and control spots on a 5 mm membrane, which "requires the highest precision and minimal volumes to ensure the necessary spatial separation of the spots for biomarker differentiation."
For its part, the IPA's scientists identified the panel of biomarkers used in UroFast, and then validated them, using more than 500 samples from an internal biobank. The work was described in 2017 in the journal Oncotarget, and again in 2019 in the International Journal of Molecular Sciences. The Oncotarget paper specifically focused on the biomarker CXCL16 as being correlated with high grade, muscular invasive cancer. The second paper detailed the use of antibody arrays to identify higher levels of the protein TGFBI with the same indication.
Kerstin Lang, a researcher at IPA and principal investigator in this project, noted that the institute identified its panel based on a literature search in scientific databases, as well as its own research experience in the field of bladder cancer diagnostics.
"Based on this preliminary work we have started to develop our multiplex assay and will validate our approach using urine samples of IPA's biobank," Lang said. She said the validation of UroFast will involve more than 500 urine samples. The IPA decided to partner with Scienion, Lang added, "because of their unique expertise on multiplex assays in a lateral flow format to enable fast testing with urine."
The validation of UroFast is being funded in part through a program for small and medium-sized enterprises through the Federal Ministry of Economics and Technology (ZIM) of the Federal Republic of Germany. Scienion declined to disclose the full budget of the project, but the ZIM will support 100 percent of IPA's costs and 30 percent of the company's costs.
As the partners move forward in the development of the test, they face challenges, including the complexity of the UroFast assay, which must be highly sensitive for each of the 10 markers included, as concentrations in urine can vary considerably, Jarling noted. Cross reactivities between the 20 antibodies on the test and their analytes in the lateral flow assay format also need to be avoided, she added.
The focus on bladder cancer
Scienion's interest in delivering to market a lateral flow assay for bladder cancer detection is guided by unmet need, according to Jarling. There were 550,000 new cases of the disease diagnosed worldwide in 2018, per the World Cancer Research Fund. Jarling noted that early-stage cancer can be treated successfully, but has a high recurrence rate, as nearly three-quarters of patients relapse within five years.
"This requires patients to participate in intensive follow-ups and monitoring leading the disease to be one of the most expensive forms of cancer over time," underscored Jarling.
Cystoscopy, which relies on inserting an imaging instrument via the urethra into the bladder, is the most common diagnostic tool in use today. By being noninvasive, Scienion is hoping to improve access to testing and reduce cost, as well as discomfort, associated with monitoring.
Scienion is not the only firm seeking to cater to this unmet need, though other companies' offerings differ in both approach and application. Elypta, a Swedish company, for instance, is developing a test for monitoring bladder cancer patients based on its metabolite-based liquid biopsy platform. Last year, OncoDiag, a firm based in Miserey, France, said it raised $3 million to support the domestic launch of a PCR test for recurrent bladder cancer. Nonacus, of Birmingham, UK, has developed a next-generation sequencing test for early-stage disease detection called the Cell 3 Target Bladder Cancer Panel.
Arguably more similar to Scienion's UroFast are products like BTNX's Rapid Response Bladder Tumor Antigen Test Cassette, a lateral flow chromatographic immunoassay for detecting the antigen in urine, sold by the Canadian company. Lionex, based in Braunschweig, Germany, has a lateral flow bladder cancer test in development on its Liodetect platform based on the human transcription factor Engrailed-2 marker. IDL Biotech, a Swedish firm, has developed a point-of-care in vitro diagnostic called UBC Rapid for bladder cancer detection. The test, which also uses a lateral flow format, measures the levels of fragments of the markers cytokeratin 8 and 18 in urine samples.
Jarling said that using a multiplex test that can detect up to 10 biomarkers at once should lead to a "safer diagnostic for the patient."
Another benefit of UroFast's approach is that it offers not only qualitative but also quantitative detection, she stressed. Turnaround time is also expected to be a few minutes, similar to other lateral flow tests, as Scienion will use its multiplex reader, the SciReader LFA for lateral flow test analysis.