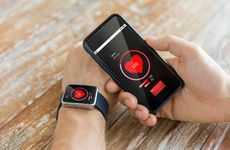 NEW YORK (360Dx) – No longer used solely for finding a doctor or counting the number of steps you've taken in a day, mobile health apps are increasingly being incorporated into medical decision-making, promising to shake up the healthcare landscape.
But as the number of such apps continue to skyrocket and gain acceptance among healthcare providers and patients, concerns are being raised about the accuracy and safety of some of the technologies. Further complicating matters is a regulatory environment that has, in large part, taken a hands-off approach, leaving users of the technology on their own to evaluate the devices.
According to Research2Guidance, a mobile app consulting firm, about 165,000 mobile health, or mHealth, apps are currently available, covering a broad range of healthcare topics. Many are relatively benign, focusing on promoting healthy lifestyles, while some help patients better manage their healthcare.
There are apps that offer information about exercise programs, the nutritional value of different foods, or meditation techniques. Other apps help people track their sleep cycle, manage their medications, or access their medical records.
More problematic are the apps that take things a step further, purporting to help diagnose disease or monitor serious health conditions, or to help customers repel disease and its effects.
In a study published in October, researchers described a tool they developed for assessing the effectiveness of mobile apps that address medication-related problems. Using their tool, they found that while some apps were "useful … many apps were found to have deficiencies in quality, among which was poor reliability scores for most of the apps," they wrote in the Journal of Managed Care & Specialty Pharmacy.
Other mhealth apps have the same issue. Take, for example, the Instant Blood Pressure app, which sold for $4.99 and was a top-50 seller in the Apple App Store before Apple removed it last year. By placing their smartphones over their chests and one finger over the phones' cameras, users of the app could measure their blood pressure.
But a study published in JAMA Internal Medicine earlier this year reported that both systolic and diastolic blood pressures measured by the app were "highly inaccurate," compared to a standard blood pressure monitoring device. As a result, nearly 80 percent of users of the app with high blood pressure will be told incorrectly that they have low blood pressure. 
The developers of the app defended their technology by calling the study flawed: The researchers did not implement national guidelines "that help ensure the reliability of comparative measures," they said, adding that the scientists failed to implement proper study controls.
Inapplicable regulations
Nonetheless, because so few mHealth apps have been clinically validated or approved by the US Food and Drug Administration, the accuracy of many, if not most, of the technologies is anyone's guess.
As of mid-2016, more than 200 medical and health apps have been approved or cleared by the FDA, an agency official told 360Dx. That's less than 1 percent of all such apps. One of the more recent approvals came in late November when Ascensia Diabetes Care's Contour Next One Blood Glucose Monitoring System, comprising a blood glucose meter and a mobile app, received 510(k) clearance.
But most apps don't qualify as medical devices, so the agency doesn't have the legal authority to regulate them, an FDA spokesperson said. 
The FDA defines a mobile app as a medical device if its intended use is for the diagnosis, cure, treatment, mitigation, or prevention of disease or other conditions. In early 2015, the FDA updated its guidance on mobile medical and health apps to provide clarity on its regulations, and included examples of mobile apps that the agency considers medical devices and that it will focus on from a regulatory perspective. It includes apps that use sensors or leads connected to a mobile platform to measure and display the electrical signal by the heart, for example, an electrocardiograph.
The guidance also includes apps that change the function or setting of an infusion pump, or connect to a nursing central station and display medical device data to a doctor's mobile device for review.
The FDA further said that there are mHealth apps over which it "intends to exercise enforcement discretion," such as those that help patients with diagnosed psychiatric conditions cope by providing certain behavioral techniques; apps that provide educational information, reminders, or motivational guidance to smokers trying to quit; and apps that prompt users to enter the names of drugs and herbs they plan to use concurrently and provide information about potential interactions.
But even if an mHealth app meets the definition of a medical device, the FDA may choose not to regulate it, as "most carry minimal health risks to patients and consumers," Bakul Patel, associate director for digital health at the Center for Devices and Radiological Health at FDA, told 360Dx. The FDA "focuses its regulatory efforts on a small subset of apps that pose a greater risk to patients if they do not work as intended."
With the mHealth space rapidly evolving, the FDA's 2015 guidance "provides mobile app developers with a clear, predictable, and reasonable understanding of the FDA's expectations," he said, adding the guidance is intended to provide clarity to encourage investment into the field and accelerate innovation. At the same time, "[a]ddressing mobile apps through this guidance provides flexibility that is needed with changing technology. FDA's approach to regulating devices focuses on device functionality, not specific platforms."
Patel declined to comment about any actions the FDA may have taken against an mHealth app or its developer resulting from safety concerns. But another US federal agency, the Federal Trade Commission, has shown a willingness to go after such technologies, although more from a consumer's rights perspective rather than a patient safety angle.
Last year the FTC cracked down on the makers of two apps, MelApp and Mole Detective, both of which said their technologies could detect melanoma, including in its early stages — claims that the FTC said were unproven.
In the past, it also has fined the developers of apps that said their technologies could treat acne, and it has gone after mobile technology companies that claimed their products could prevent health conditions. Most famously, Lumos Labs, which marketed brain games and puzzles under the Lumosity name, agreed to pay $2 million earlier this year as part of a settlement reached with the FTC, which said that Lumos' claims that its online products and mobile apps could prevent age-related cognitive decline was not supported by the science.
In the spring, the agency released guidance to help mobile health app developers comply with laws and regulations.
"Mobile app developers need clear information about the laws that apply to their health-related products," Jessica Rich, director of the FTC's Bureau of Consumer Protection, said in a statement at the time. "By working with our partner agencies, we're helping these businesses build apps that comply with the law and provide more protection for consumers."
In the meantime, much of the policing of mHealth technology has effectively fallen on the shoulders of Apple and Google, the two giants of the mobile ecosystem, through which many of the apps can be purchased. Each firm has guidelines for app developers that are routinely updated in response to changes in the market, and while neither Apple nor Google specifically voiced safety concerns about health and medical apps sold in their app stores, each recently took steps that could benefit users of the technologies.
A spokesperson for Apple referred a request for comment to the company's guidelines. As part of its revised policies to app developers, Apple said it can reject any app if the company determines that it may result in physical harm to the user. Similarly, Apple can reject an app if it provides inaccurate data or information used for diagnostic or treatment purposes.
The firm's guidelines for app developers also state that apps with medical diagnostics applications could face greater scrutiny, and if the app has received regulatory clearance, Apple wants documentation.
The company's guidelines also seek to address medical privacy issues, and apps included in the Apple App Store cannot use or disclose to third parties medical, fitness, or health data for advertising or other use-based data-mining purposes other than improving health management.
Apps used for human health-related research must obtain participant consent, as well as approval from an independent research ethics review board.
Meanwhile, a Google spokesman told 360Dx that the firm does not have specific guidelines by category topic, such as medical or health, for Google Play app developers, but all developers must comply with the firm's development program policies, which prohibit apps from publishing misleading or potentially harmful information.
He added that in March, Google introduced a "proactive app review process to catch policy offenders earlier in the process … in a matter of hours, not days or weeks."
"Finally, we rely on the community of users and developers to flag apps for additional review," he said.
High enthusiasm
As the regulators and guardians of the mHealth space sort out the technology, enthusiasm within the physician community runs high.
Scripps Translational Science Institute Director Eric Topol views mHealth apps as potentially transformative and uses several apps in his own practice, including an electrocardiogram app (Alivecor), an ultrasound app (Lumify), and blood pressure apps (iHealth and Withings).
"This field is moving quickly to affirm the smartphone's hub in the future of medicine," he told 360Dx. "The smartphone is going to be the center of most routine medical monitoring, and in diagnosis."
It's an expectation shared by many of his peers. In a survey released by the American Medical Association in September, 85 percent of 1,300 doctors surveyed said they believe digital health tools are advantageous to patient care and will favorably impact care, as well as improve practice efficiencies, patient safety, and diagnostic ability, while reducing physician burnout.
But AMA CEO James Madara acknowledged that mHealth apps so far have been a "mixed bag." He referred to a February study conducted by the Commonwealth Fund, which found that among more than 1,000 healthcare-related apps that target individuals with chronic illnesses, just 43 percent of apps developed for Apple's iOS system and 27 percent developed for Google's Android system were likely to be useful.
When electronic health records were first being talked about 20 years ago, Madara said, physicians were equally excited about the potential benefits of that technology. "And they're kind of struggling with the 1.0 state of that currently," he said, "so physicians as a group look forward to new technologies, but the [caveat] to that is technologies that actually work in practice."
To help push the development of mHealth technology, the AMA in November adopted a set of broad policies that calls for a clinical evidence base to support their use, as well as evidence that ensures the technology's safety and effectiveness. Additionally, the apps should support care delivery that is patient-centered and promotes care coordination, Madara said.
Along the same vein, Topol said that apps need to be "rigorously tested [and] validated, not just approved by the FDA, but also … have clinical utility [and] accuracy." Currently, patients don't have an easy way to distinguish apps that have been properly vetted from the ones that haven't. His suggestion is to create an independent entity, similar to Consumer Reports, to help patients do so.
The impetus behind the AMA's new policies, Madara said, was a sense that the mHealth app field was becoming unruly.
"This is an area that has great promise and … how it's going to be regulated is just not really well understood," he said. His organization is in the process of organizing various stakeholders, including regulators, manufacturers of the technologies, providers, and patient groups, to see if "this would be an area which would benefit from some self-regulation based on principles, and sharing this direction with federal agencies."
The AMA also adopted policies that seek to protect the privacy of data and encourages doctors and the mobile app industry to make patients aware of the "varying levels [of] data privacy and security" provided by such technologies.
"To best secure patients' personal health information, mHealth apps and associated devices, trackers, and sensors need to abide by applicable laws addressing the privacy and security," of patients, the AMA said.
Madara further noted that for mHealth apps to have full utility, they must be connected to a person's overall digital health record and organized so that the data can be presented simply and in an actionable manner.
Currently, "the analysis and the extraction of the important actionable data takes more time and effort than collecting the data itself," he said.
To date, the development of mHealth apps has been largely the domain of small shops and startups, but that could change in the very near future.
Fast Company recently reported that Apple is exploring the capabilities of its iPhone and Apple Watch to monitor Parkinson's disease in patients, while MobiHealthNews said that the company is working with the FDA on the development of an app for diagnosing Parkinson's disease. The Apple spokeswoman did not respond to a request for comment.
Google, meanwhile, is already taking definitive steps to move beyond being mere gatekeepers for mHealth apps. In late November, Google's artificial intelligence business, called DeepMind, reached a five-year deal with a UK National Health Service Trust to use a mobile app called Streams, which is designed to alert clinicians if a patient has acute kidney injury. If successful in the initial phase, the app could be developed for use in other conditions, such as sepsis and organ failure.
That development followed a wider plan announced by the UK in September to implement a system that would allow NHS patients to get a medical diagnosis through their smartphones. After typing in their symptoms, patients would receive advice or a callback from a clinical provider.
As part of the initiative, NHS plans to launch a library of approved health apps "to guide patient choice."
"We live in the age of the smartphone, and we want the NHS to reflect that," Health Secretary Jeremy Hunt said in announcing the initiative.
Other big-name tech firms, such as IBM, Microsoft, Intel, and Qualcomm, are similarly getting into mobile health technology, developing not just the apps but also the hardware, such as sensors, for them. Not long ago, such companies were reluctant to enter the mHealth space due to concerns about how the FDA would regulate the technology, as well as the general challenges of the healthcare market, Topol said. What's changed are the opportunities available to apply their expertise.
These companies, he said, could have a major impact on the mobile health landscape because they are not traditional medical and healthcare businesses bound by often anachronistic practices.
"They come at it totally fresh," he said. "They're not stuck with incumbent strategies that have not changed for decades."