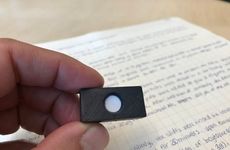 NEW YORK (360Dx) – A team of researchers at the University of Utah is developing a point-of-care platform using alpha-fetoprotein, a biomarker already in use in laboratory tests, to detect liver cancer. They have built a proof-of-concept system made possible by a nanoplasmonic coating that amplifies its signal and enhances its level of detection, the researchers said.
The nanoplasmonic-enabled proof-of-concept system, which is portable and would provide for low-cost testing, holds the potential to eventually drive broader screening and increased adoption of testing for hepatocellular carcinoma (HCC), a medical condition that tends to be asymptomatic and can silently progress to a fatal conclusion, Marc Porter, one of the test developers at the University of Utah's Nanotech Institute, said in an interview.
The researchers aim to eventually have the proof-of-concept system adopted as a POC diagnostic test in low- to middle-income countries where laboratories are either non-existent or located far from the point of need. And, they plan to evaluate the technology in a clinical setting in Mongolia, which has the highest rate of liver cancer in the world, in the spring of 2019.
A commercial launch of the test could then be possible assuming a favorable result of the clinical trials, Porter said.
He noted that the group has received inquiries from companies that could be interested in collaborating, but they are in the early stages of discussions with potential commercial partners.
"For commercialization, we need to develop reliable sources for the antibodies and other components, and decide on the best way to go into kit production," Porter said.
In a paper published in the August issue of the journal of Analytical Methods, they noted that they have demonstrated that their method could be applied to directly measure alpha-fetoprotein and provide a result within 2 minutes using around 10 mL of human serum.
"The study and development of a new potential point-of-need test for hepatocellular carcinoma by the University of Utah researchers is quite compelling," Theodore Welling, director of the liver cancer program in the Perlmutter Cancer Center at NYU Langone Health, said in an interview.
What is most interesting about the device, he added, is its potential as a point-of-need test, and that it could be easily brought to field sites for high-risk populations. "Thus, people with potentially high risk for HCC, but with difficulties in gaining access to care, will benefit from this type of testing," he said. 
Hepatocellular carcinoma is a primary malignancy of the liver that occurs predominantly in patients with underlying chronic liver disease and cirrhosis.
It is the most common type of liver cancer and the second leading cause of cancer deaths worldwide. Current surveillance and screening depends upon radiographic imaging and detection of alpha-fetoprotein in the serum of patients, Welling said. "As many as 60 percent of HCC patients will have an elevation of AFP in the blood," he said, adding that as a result "to date, AFP is still the most important blood biomarker for HCC." 
Alpha-fetoprotein laboratory testing is already available. ELISA, chemiluminescence, and other immunosensor formats are capable of quantifying the biomarker. But because laboratory tests are frequently out of the reach of patients in low- and middle-income countries, Porter and his colleagues have an objective to eventually launch affordable tests that broaden the adoption of screening.
The researchers are focusing development efforts on keeping costs low. If successful, the cost of materials for each of its point-of-need tests would be about $2, Porter said. The platform is being inexpensively manufactured using 3D printing. Therefore, it could be possible to provide a service at around $3 per test, he said.
Because the system uses a Raman spectrometer, however, the testing site using the current system would need to pay around $15,000. The maker of the spectrometer, B&W Tek, is considering methods to reduce its price for this application, Porter said, adding that a one-time fee even at the current price might not be problematic.
In practice, the proof-of-concept prototype combines solid-phase micro-extraction membranes, gold nanoparticle labels, and surface-enhanced Raman scattering measured by a spectrometer that determines how much of a biomarker is present.
In building the device, the researchers impregnated its microporous membrane with antibodies to the target for which they are testing. A wicking pad at the bottom of the platform pulls about 10 microliters of blood onto the membrane and into contact with the antibodies, and the Raman spectrometer provides a reading that quantifies the levels of biomarkers present in the sample.
Although the platform is liquid agnostic and may be able to accommodate other sample types, such as urine, the researchers are currently using serum as a sample medium.
"The platform takes advantage of how plasmonics amplifies the signal from a nanoparticle coating, and that's really what gives us the ability to do sensitive detection," Porter said.
Although the test is still relatively early in its development from a commercial perspective, it is nonetheless showing promise, he said, and the platform could be adapted to test for other antibody targets including markers for infectious diseases, such as tuberculosis.
In parallel with broadening the scope of the test platform, the researchers are also moving forward with plans for its clinical validation to detect liver cancer.
This is a necessary requirement for its commercial progress, Welling said. "This type of test and device will need to be prospectively validated in a population cohort at risk for HCC and compared to gold standards for HCC diagnosis — radiographic imaging and serological testing for AFP using standard-of-care methods," Welling noted.
Clinicians would need to provide "careful education" to such a population, he added, because "the absence of AFP in a test does not exclude the possibility of patients having HCC," and 40 percent of HCC patients are known to be negative for AFP.
Porter said that although the present work demonstrates the use of the platform with AFP, he recognizes that it is "not a perfect biomarker." To provide a more robust diagnostic test, the team expects to eventually launch a multiplex version with five biomarkers related to liver cancer, including markers for hepatitis C and B that can be precursors to patients getting liver disease.
"AFP is one of a family of markers we are studying as we attempt to take this technology and try to do a screening test for whether you are at risk for liver cancer or not," Porter said.
Porter is developing the test along with fellow Nano Institute researcher Jennifer Granger. Both relied on clinical advice associated with point-of-need testing requirements for liver cancer from Jill Shea and Courtney Scaife, researchers at the University of Utah's School of Medicine.
In general, early work with membrane materials focused on 'yes/no' measurement outcomes, but "recent work has begun to focus on extending these capabilities using small, light-weight electronic readers, which can improve the limit of detection and enable more exacting marker quantitation," the researchers said.
Porter noted that their past work relied on use of a handheld syringe to flow the sample through the membrane, and a handheld diffuse reflectance spectrometer for quantitative colorimetric readout. Its focus was to provide rapid identification of antibacterial additives used in the potable water distribution systems on the International Space Station.
"Our current proof of concept is a more mature version of the platform we've had on the International Space Station," Porter said. "The final embodiment of the current platform may have more of a mechanical than a capillary actuation process. It will depend in the end on what users like."