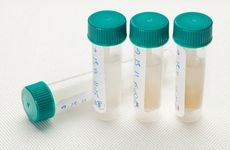 NEW YORK (360Dx) – Clinicians looking for a noninvasive diagnostic test that aids in detecting non-small cell lung cancer DNA could have a high-performance saliva-based laboratory-developed test within a year, according to its developers at the University of California, Los Angeles.
Based on EFIRM — short for electric field-induced release and measurement method — the technology uses a conducting polymer-based electrochemical chip with an array of 16 bare-gold electrodes and employs an electrical field to release and detect EGFR mutations in samples. A capture probe precoated with conducting polymer measures EGFR sequences, while a horseradish peroxidase-labeled reporter probe generates signals that represent the presence of a mutation.
In a pilot study last year, EFIRM's developers concluded that their liquid biopsy test "can be used in continuous monitoring EGFR mutation status during EGFR-TKI treatment."
In March, the National Cancer Institute awarded $1.5 million to UCLA to support development of the EFIRM-liquid biopsy test for use as a CLIA-certified laboratory-developed test in UCLA's Molecular Diagnostic Laboratories, which is CAP-accredited.
The researchers at the UCLA School of Dentistry Center for Oral, Head, and Neck Oncology Research have started work on a clinical evaluation, and are testing for EGFR gene mutations in NSCLC patients at the UCLA Medical Center and the VA Greater Los Angeles Healthcare System.
Research and development into NSCLC assays has taken on increased importance because of the discovery of a relationship between EGFR-activating mutations and EGFR-tyrosine kinase inhibitors (TKI) that has led to the release of drugs such as gefitinib or erlotinib that effectively extend the progression-free survival of lung cancer patients.
As a result, diagnostic companies are developing liquid biopsy techniques that detect non-small cell circulating DNA markers of lung cancers as substitutes for testing that requires invasive and painful biopsies. In most cases, clinicians select blood as their liquid biopsy sample. But the UCLA test for NSCLC could have broad implications within in vitro diagnostics for the use of saliva, which has great potential but is rarely selected as a test sample, David Wong, UCLA's project leader, said in an interview.
"Saliva is not what people think about in a respectful or scientifically credentialed way," Wong said, adding that "There's a lot of social, psychological, and behavioral negativity associated with it, and that's part of what has held back this field."
The clinical utility of blood as a sample medium has also held back saliva. Researchers and clinicians have tended to use blood as a main sample source because it has access to all the body's organs, Luis Diaz, a medical oncologist at Memorial Sloan Kettering, said in an interview.
"Circulating tumor DNA analysis has been done predominantly in blood because blood bathes all of the major organs in the body," he said, adding that when a developer is looking to provide a diagnostic test that is "most comprehensive," and covers the broadest number of the body's organs, "blood would be the most obvious source."
However, blood-based circulating DNA tests have been challenged in achieving a suitable level of sensitivity, he said, because "there are so many fragments of DNA in the blood that detection is difficult when you get smaller tumors." These blood-based tests are challenged because they are competing with so many normal fragments of DNA in trying to distinguish those that reflect cancer.
If you use saliva or urine, you have a chance to see systemic DNA, but at a lower concentration than is seen using blood, Diaz said.
Importantly for the potential use of saliva or urine as sample media, "you also can see DNA that's extracted from a tumor locally," Diaz added. He noted that saliva consists of around 98 percent local DNA and about 2 percent systemic DNA, while the concentration in urine is probably about 50-50.
The ability to detect tumorous DNA in a localized part of the body could open opportunities for the use of saliva in tests to detect head and neck cancers, he said, but probably not lung cancers.
But Wong and his colleagues are hopeful that their test and its technology will eventually boost adoption and broader acceptance of saliva-based testing in general, and expect to have a test that uses saliva samples available for clinical use as a lab-developed test in February 2018. Wong said that he expects to pursue obtaining a CLIA waiver and 510(k) clearance for his technology from the FDA.
He noted that he expects that a point-of-care commercial prototype using the technology that's currently in development will be available in June 2018. EZLife Bio, a startup, is developing prototypes, he added.
The UCLA test's potential also extends beyond its performance with saliva, as EFIRM operates with blood or urine samples, Wong said.
He noted that while he believes that saliva-based testing has the potential to provide advantages over other biofluids, EFIRM's versatility would enable physicians, patients, and potentially payors to decide whether they preferred to use blood, saliva, or urine.
However, he said that he expects that when — and if — the UCLA test "reaches clinical maturity, the world will look at saliva differently."
The ability to use saliva, blood, urine, or another biofluid is not unique to EFIRM.
"The good news is that any of these digital technologies that look for mutations in blood can also be pointed at any of the bodily fluids," Diaz said. The main difference among the tests lies in how to extract the DNA, he said, because the different types of samples use very different volumes of sample for each test.
To detect NSCLC mutations, clinicians looking to use liquid biopsy tests primarily rely on droplet digital PCR or next-generation sequencing technologies, or both, the UCLA researchers said.
In a perspective article published last year in the Archives of Pathology and Laboratory Medicine by members of the Pulmonary Pathology Society, the authors said circulating RNA-based testing, for example, "has been hindered by the need to fractionate blood to enrich for RNAs."
The researchers said that "the use of liquid biopsy in a patient population with a genomically defined solid tumor may potentially be clinically useful, [but] it currently does not supersede conventional pretreatment tissue diagnosis of lung cancer."
The article noted that liquid biopsy has not yet been validated for lung cancer diagnosis, and "its lower sensitivity could lead to significant diagnostic delay if liquid biopsy were to be used in lieu of tissue biopsy."
However, the authors also noted that in their research into the performance characteristics of mutant cell-free DNA assays, EFIRM had demonstrated sensitivity values between 94 and 96 percent and specificity values between 82 and 100 percent. They noted that the Roche cobas 4800 blood test demonstrated a sensitivity of 75 percent and specificity of 96 percent, and a droplet-digital PCR test had sensitivity values from 65 to 80 percent and a specificity value of 100 percent.  
When clinicians select among sample media for testing, they use performance as the primary criteria, Wong said, and before using a saliva-based test, they would need to ascertain that it has at least an equivalent performance to one that uses an alternate sample.
Apart from performance, saliva as a sample also comes with many secondary advantages, he noted. Humans unknowingly generate the equivalent of two bottles, or 1 liter, of saliva each day, he said. Unlike a blood draw, providing a saliva sample is not painful for patients, and you can, therefore, do continuous and repetitive testing as needed, he said.
In the pilot study in 2016, published in the journal Thoracic Cancer, the EFIRM technology detected EGFR mutations in patients with NSCLC with results that were comparable to those of the Roche cobas EGFR mutation test — which is a plasma-based liquid biopsy assay cleared by the US Food and Drug Administration in 2016.
The researchers collected saliva and plasma samples from 17 patients with lesions suspected of having lung cancer, who were being treated at three large hospitals in China.  
They applied EFIRM to detect exon 19 deletion and p.L858R mutations in the patient samples. The technology detected exon 19 deletion mutations with an area under the curve of 1.0 in both saliva and plasma samples, and it detected L858R mutations with an AUC for saliva at 1.0 and an AUC for plasma at 0.98. Strong correlations were found between pre-surgery and post-surgery samples for both saliva and plasma, the researchers said.
They concluded at the end of the study that EFIRM liquid biopsy is accurate, noninvasive, and rapid, and that it "can be used in continuous monitoring of EGFR mutation status during EGFR-TKI treatment."
Wong noted that he began working on saliva-based diagnostics when he moved to Southern California around 2003. At that time, "very little was known" about the use of saliva as a sample testing medium, except that you could identify HER2 in the saliva of patients at risk of breast cancer, he said.
"There were no organized efforts to look at what's in saliva and what could be done with it from a diagnostics perspective," he said.
However, the National Institutes of Health at that time funded projects to identify proteins in saliva that could be used for early disease diagnostics, and to develop a saliva-based diagnostic tool that could be used at the point of care in physicians' offices.
"The NIH has empowered this journey, and what we and others have done in this past decade or more is decipher the saliva proteome," and discover and validate other saliva-based omics disease markers, he said.
Point-of-care tools are being developed that will allow future clinicians and nurses in developing countries to detect disease discriminatory information, Wong added.
What is missing now for saliva-based testing adoption to occur is scientific credentials, which would come with the clinical validation in diagnostic tests of biomarkers that have been discovered, he said.
"As a scientist, you can say that you will develop biomarkers, but you might not take them to the FDA because [you believe] that is what industry should do, and yet industry hesitates to do that with early-stage technology," he said.
Beginning 13 years ago, the initial push was devoted to developing omics targets as saliva-based biomarkers for diseases, he said. That process of discovering and validating targets "is not trivial," he noted, and reaching a level of acceptance whereby a diagnostics industry vendor will license a test and take it to commercialization is a rare occurrence in saliva-based diagnostics.
There are exceptions, including OraSure Technologies' development of a rapid FDA-cleared saliva-based HIV test, Wong noted. "But to be able to, in a de novo manner, develop a saliva-based biomarker cancer test and go through a regulatory evaluation, that has yet to be done."  
Wong sees opportunity to elevate the profile of saliva-based diagnostics through developing and launching the test for non-small cell lung cancer.
"This adjacent landscape of liquid biopsy that has opened up in the last three years takes on a flavor that's entirely different from past efforts, because these fingerprints or biomarkers are already known for lung cancer and other cancers, and they are in the public domain," he said.
Circulating tumor information combined with EFIRM, which is achieving "unprecedented performance in detecting circulating tumor DNA," has the potential to open the door to other opportunities for saliva-based testing, he said.
Every human cancer has a mutation fingerprint that can be captured and utilized in this detection scenario, he said, adding, "Therefore, this technology is diversifiable and it has tremendous potential."
For now, however, proving the success of EFIRM in NSCLC is at the center of his team's commercialization strategy. "We have decided to first put an example out there and get it credentialed in a regulatory-approved evaluation," Wong said.
A more long-term opportunity could be to do instantaneous detection of cancer markers by adhering a graphene-layer sensor on a tooth, which is something his team is developing, he added.