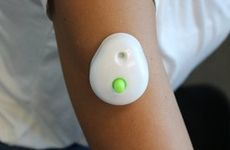 NEW YORK (360Dx) – A vast array of diagnostic tests are run using blood samples, leading to an estimated 350 million needle sticks annually in the US. Although the technology for blood draws has previously remained relatively unchanged for tens, if not hundreds of years, a number of companies have been making inroads into easier, safer, and more efficient ways to collect a patient's blood sample.
Blood can be collected from capillaries or veins from outpatients in clinics and physician offices, and, potentially, in a retail setting of pharmacy clinics or at home, or from already implanted intravenous lines from inpatients. It can also be processed whole or placed onto paper to create dried blood spots.
Two firms won US Food and Drug Administration 510(k) clearances for blood collection devices late last month. A push-button device from Seventh Sense called Tap fires an array of microneedles into the upper arm and collects capillary blood into a vacuum chamber. A needle-free device from Velano Vascular, called Pivo, takes blood samples from indwelling peripheral IV lines. Meanwhile, other firms such as Neoteryx, are pursuing microsampling of blood but focusing on dried blood.
Many modern diagnostic tests, such as some PCR-based assays, do not require large volumes of blood to run. An HIV viral load test from Alere, for example, uses a fingerstick blood sample and has shown good results in clinical trials. A firm called Circulogene is purportedly using fingerstick samples for next-generation sequencing-based liquid biopsy testing.
But the boast that panels of tests, including immunochemistry and hematology, could be run from fingerstick blood samples was also recently a big selling point for Theranos, and that firm's reversion to venipuncture samples in actual practice became a part of its downfall.
Fingerstick, or even capillary blood draws from other parts of the body, is an ideal technique for pharmacy clinics. The method eliminates the need for a trained phlebotomist and is more appealing to patients than venipuncture. One problem with fingerstick, however, is the potential for variation between droplets of blood.
Seventh Sense's Tap device, however, overcomes this obstacle by collecting up to 100 microliters from a ring of 30 tiny needles, CEO Stuart Blitz said in an interview. The firm is also planning to launch a larger volume device in the near future which will collect up to 250 microliters. It is "diagnostic agnostic," Blitz said, such that the collected blood can be used for many types of lab tests, and many assays and instruments are now validated for both venous and capillary blood.
The device is about two inches long and one and half inches wide, approximately the size of the head of a stethoscope. It is approved for use by a healthcare worker, but the firm intends to also seek a claim for home use. "We realize that is the trend," Blitz said, adding, "We're seeing a big shift in terms of testing being done in more decentralized locations — and people are now saying, why can't I do this testing at home or at a pharmacy." 
The only methods currently approved for whole-blood self-collection at home involve very large finger sticks and dripping blood into a tube. "It's a pretty gruesome and painful process," Blitz said, while the Tap device, on the other hand, is considered to be virtually painless.
The 250 microliters drawn by the forthcoming larger-volume collection device is likely to provide enough sample for many types of tests. "That's really all you need, both in the traditional lab testing space and even in the genomics space, as well," he said. "People are surprised to hear that, because when you go to a phlebotomist they will take out many tubes of blood, but that is actually mostly for historical reasons."
Seventh Sense hopes to partner with companies looking for more patient-friendly and more efficient methods to draw blood, including diagnostics manufacturers and corporate wellness screening organizers. Currently, the firm is funded by investment from Laboratory Corporation of America, Novartis, and Siemens, as well as two Boston-based venture capital firms.
And Theranos was right about the trend toward innovations in blood collection, Blitz said. "I think the one thing [Theranos Founder and CEO] Elizabeth Holmes doesn't get enough credit for is, she was right about the market trend a lot earlier than everybody else," he said. "Obviously, Theranos has had some troubles, and they haven't been able to deliver ... but at the same time retailers still want to do this." Safeway, an early Theranos partner, is now partnering with Quest Laboratories, for example, Blitz noted.
Competition for the Tap device currently includes Tasso, which has a similar device, although it is not yet FDA cleared. "Because this market is really critical, we're not surprised that there will be a lot of players trying to get in."
Meanwhile, Becton Dickinson, a global leader in the blood collection space, does not currently have any similar blood collection devices commercially available, a representative confirmed in an email.
Another firm developing products for microsampling is Neoteryx, with an FDA class I listed and CE-marked product called the Mitra. The device is, in fact, not just limited to blood, but can be used for biological fluids. For blood, the device collects 10 or 20 microliters, typically from a fingerstick, Cathy Cordova, the firm's senior marketing manager, said in an interview.
The device essentially combines two alternative methods — wet sampling and dried blood spotting. Dried blood provides an economical benefit over wet sampling, Cordova said, particularly in transportation, since dried blood does not require cold chain shipping and can be sent via standard mail. Also, individuals can collect their own specimens with minimal training using the device, whereas with dried blood spot cards it is hard to know if the blood collected is of sufficient volume and quality. The Mitra device reduces or eliminates issues of hematocrit bias, in which levels of hematocrit influence viscosity and spread of the sample on the card, which in turn determines the actual volume of blood in a punch from the dried blood spot. The device is also fully compatible with standard high-throughput liquid handling instrumentation, Cordova said.
Neoteryx primarily sells business-to-business, which at this point means to pharmaceutical companies, clinical research organizations, and academic institutions.
Following on the trend of self-directed healthcare, fingerstick collection and dried blood techniques allow people to bring specimen collection closer to home, which can potentially further empower the patient, Cordova said. Users of the Mitra microsampling sampling device include Ceders Sinai for a precision medicine initiative, Mayo Clinic for immunosuppressant monitoring, and Exagen Diagnostics, which has developed a commercial test for therapeutic drug monitoring of rheumatoid arthritis patients using Mitra.
Fingerstick and capillary blood are certainly trends in the outpatient setting and, potentially, in retail and home testing. But there are still millions of blood draws each year happening in hospitals, and some firms see that these too can be improved.
"Arguably the most common invasive medical procedure we do in a hospital every day is drawing blood," Eric Stone, CEO of Velano Vascular, said in an interview. "It's a critical procedure, as diagnostic test results inform upwards of 70 to 80 percent of clinical decisions," he said. Yet, "the process of drawing blood has not advanced in decades, and you could argue in some respects, centuries."
Even though many patients in hospitals tend to have short, peripheral IV catheters placed, phlebotomists still must typically draw blood from another vein, sometimes multiple times per day for different tests.
A short IV is essentially a small length of plastic tube that is inserted into the vein with a needle. It is usually connected to an infusion pump. Practitioners can sometimes draw blood from this site when the catheter is first placed, but over time they fail to draw lab quality samples, Stone said, because of platelet debris and dilution with whatever had been infused in that vein previously. The catheter tubing is also designed to soften with body heat, but this means that it tends to collapse or kink with the vacuum pressure of attempting to draw blood.
The Velano Vascular Pivo device overcomes this by injecting a narrower and sturdier length of tubing inside of the IV, essentially uncollapsing it, and extending this further into the vein to bypass any debris. It can be used to draw as many tubes as are needed, and then removed and disposed of so that the IV line can be used for its primary purpose.  
This avoids sticking patients repeatedly with needles and also accessing central lines, which can increase infection risk. This is also particularly useful for patients considered to be "DVA," or difficult venous access, who tend to be chronically ill, obese, or diabetic. The number of DVA patients is increasing, to the point that hospitals are sometimes creating dedicated vascular access teams to serve these patients.
Stone noted that there is no direct competition for Pivo currently commercially available. The firm has received $26 million since its founding five years ago, including $17 million earlier this month. It has received investment from institutional investment funds, about 40 angel investors, as well as three hospitals, and it has been partnering with Intermountain Healthcare, Brigham and Women's Hospital, University of Pennsylvania Health System, University Hospitals Cleveland, and others, to evaluate the Pivo device.
The recent FDA clearance was for a second generation of Pivo, that was enhanced for manufacturability and usability, Stone said, based on customer feedback. The firm is also developing new, as-yet-undisclosed products to improve efficiency and provide more humane care for hospitalized patients.
Although capillary draws and finger sticks for diagnostic work is a complementary space, Stone also noted that there are clearly trends and growth in this area.
In general, improving the patient experience and making the blood draws more efficient seem to be increasingly important to practitioners. As Seventh Sense's Blitz said, "It is a really big trend — everybody is so focused on diagnostics, and that is super important, but blood collection is the interface between the patient and all of the testing and results."