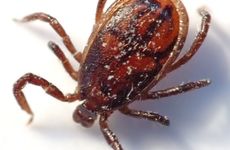 NEW YORK (360Dx) – Lyme disease and tick-borne diseases in general as a diagnostic testing segment is garnering greater interest from commercial diagnostic developers of late, driven in part by the increasing prevalence of such infections in the US.
Tick-borne diseases have had a large concentration in the Northeast, but the parasites are starting to move west, carrying disease with them, and countries in Europe are also reporting a lift in prevalence, Piper Jaffray research analyst William Quirk said in an interview.
This is providing market opportunities for diagnostic testing companies such as Oxford Immunotec, T2Biosystems, and startups such as Global Lyme Diagnostics.
The size of the market for Lyme disease testing is between $450 million and $500 million in the US alone, according to Oxford Immunotec, a major player in advanced tick-borne disease testing. 
In May, Oxford Immunotec reported a 26 percent jump in its first quarter revenues, aided by its new tick-borne disease franchise, which notched about $3 million in revenues in the quarter, or 14 percent of overall revenues. 
Achieving adoption in this space involves educating physicians about the prevalence of tick-borne infections and diseases, which include but are not limited to Lyme, and making sure that they are aware of the availability of testing options, Quirk noted.
"Oxford is training its existing US team to sell the products that they acquired last year," Quirk said. 
The company's offering for tick-borne infections includes molecular and immunoassay-based products.
In June 2016, Oxford Immunotec agreed to acquire substantially all the assets of Lyme disease test company Imugen in a transaction worth $22.2 million in cash. Imugen's PCR tests detect the presence or absence of causative organisms of not only Lyme disease, but also babesiosis, anaplasmosis, and ehrlichiosis.
Oxford Immunotec CEO Peter Wrighton-Smith said at the time of the acquisition that Imugen has proprietary techniques that track the evolution of the immune system's response to Lyme disease and its interplay with the pathogen. "The firm's immunological understanding enables it to better assist with the diagnosis of acute infections and assess the stage of the disease," he said.
The company also provides enzyme immunoassays and Western immunoblot — an enzyme-linked immunoelectrotransfer blot technique — for Lyme antibody analysis; an immunofluorescence test that uses fluorescent dyes to identify the presence of antibodies bound to specific antigens as part of its Babesia microti serology testing; and a microagglutination test used to determine the presence of antibodies in which Frabcisella tularensis antigen-coated latex particles are added to serial dilutions of a patient sample.
In December, Oxford Immunotec announced the results of a three-year clinical trial completed by Imugen and the American Red Cross to evaluate a serology and nucleic acid amplification testing regime for the presence in blood screening of Babesia, a parasitic protozoan transmitted by ticks that's particularly prevalent in the Northeastern part of the US.
Babesia, of which B. microti is most prevalent in humans, infects red blood cells and can cause a disease called babesiosis. In addition to being infected by tick bites, patients can also get the condition through blood transfusions from Babesia-infected donors.
It is a significant and growing cause of transfusion-associated infections, but no Babesia test is yet approved by the US Food and Drug Administration for blood screening.
The clinical trial for Imugen's test, the results of which were published in the New England Journal of Medicine, determined that Imugen''s testing regime is effective in detecting Babesia in blood samples, Oxford Immunotec said.
The trial, completed under an FDA investigational new drug application, screened approximately 90,000 blood samples to evaluate the effectiveness of Imugen's serology and NAT testing regime in detecting Babesia-infected donors. No reported cases of transfusion-transmitted babesiosis were associated with the 75,331 screened donations from high-risk states as compared to 14 cases per 253,031 unscreened donations.
Emerging competitors
According to the US Centers for Disease Control and Prevention, Lyme disease is the most commonly reported vector-borne illness in the US. By its estimates, the number of people diagnosed with Lyme disease in the US, based on medical claims information from a large insurance database, is around 329,000 annually.
The current standard of care for tick-borne infection testing requires that clinicians conduct an ELISA test followed by a Western blot test, said Mickey Ramchandani, CEO of Global Lyme Diagnostics.
However, one of the main challenges in testing for Lyme is that there are multiple variants of Borrelia bacteria in North America alone, "and there are also many other variants in other parts of the world," Ramchandani said.
Traditional tests are challenged in identifying these variants, and new variants continue to emerge.
The CDC recommends a two-tiered approach, but the interpretation of serologic tests can be subjective, and high variability in test results has been reported between laboratories, said T2Biosystems. This two-tiered approach detects two antibodies that require 1 to 2 weeks and 4 to 6 weeks to reach detectable levels, so there exists a window where diagnosis of early Lyme disease is not possible using the two-tiered method, T2 said.
Earlier this month, T2 Biosystems said that it expects to complete pre-clinical studies for its T2MR-powered T2Lyme Panel in 2017, and that it expects to then conduct a clinical trial in advance of submitting the panel for FDA clearance in 2018, in partnership with Canon USA.As the US enters a predicted bad tick season, research has demonstrated that T2MR can detect Lyme disease-causing bacteria in blood samples with high sensitivity and extremely low detection levels, T2 said. The T2MR technology deploys particles with superparamagnetic properties that enhance the magnetic resonance signals of specific binding events.
In a study published in late May in the Journal of Clinical Microbiology, the T2Lyme panel detected two cases of early Lyme disease that had been confirmed using multiple other methods. In addition, the test detected the bacteria in 17 of 54 samples, or 31 percent, of patients with probable Lyme disease based on presentation and symptoms.
In addition, in 21 clinical samples, a real-time PCR method detected one case of Lyme disease-causing bacteria, while the T2MR test detected that case plus seven others.
The expanding market is also providing opportunities for startup companies.
Global Lyme Diagnostics, based in Research Triangle Park, North Carolina, last week launched a diagnostic test service from a CLIA-certified laboratory that uses proprietary chimeritopes in identifying variants, or strains, of Lyme disease.
The firm said that the test, which relies on a blood draw, is an improvement over existing ELISA and Western blot tests that can exhibit false negatives as often as 45 to 50 percent of time.
Ramchandani noted that the Global Lyme Diagnostics test provides "an economic way to test for as many variants as possible."
"Chimeritopes, [a key component of the test], amplify productive immune response and due to their modular design can be configured to include numerous epitopes thus allowing for protection against diverse strains," he said. "These proteins can be used as antigens that create an antibody response, measurable using specific instruments, for all human and veterinary variants of Borrelia regardless of geographic location."
The firm said that its test eliminates regions of proteins that are not diagnostically informative, that it has highly-specific antigens, and is designed to detect diverse protein variants, strains, or species.
The test's inventor, Richard Marconi, a professor in the School of Medicine at Virginia Commonwealth University Medical Center, spent 25 years studying pathogenic spirochete bacteria specifically for Lyme disease.
His research led to the identification of the chimeritopes used in GLD's test. Marconi identified different components of OspC proteins within Borrelia that elicit an antibody response.
GLD has spent the past two years identifying those OspC proteins that work best in human samples, Ramchandani said. He added that he is hopeful that public screening for Lyme disease will become more widely available, because his company's test can screen for many of the most important variants within one platform.
Screening is vital because physicians quite often can't determine how long a patient has had a Lyme infection when they diagnose it, he said, and added that the longer it's been in the system, the more difficult it will be to treat and the greater the risk of complications and higher healthcare costs.
"In the same way that cardiovascular disease is called the silent disease because people don't know that they have it, Lyme disease is called the great imitator because it imitates other diseases," Ramchandani said. And that makes it a particularly suitable infection and disease for screening, he added.
"Once the condition progresses to complications, it has to be managed for the rest of your life," he said. "At that time, the cost of managing the patient's condition is immense, so taking a screening test like ours is a minimal expense when you consider it in this context."
GLD offers Lyme disease panels, which include Western blots, IgG and IgM and the firm's new test, for $395; and Lyme disease screening, which includes the new test and a known ELISA, for $195.