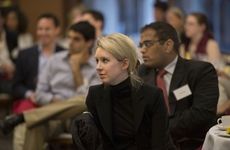 New York (360Dx) – A federal grand jury has indicted Elizabeth Holmes and Ramesh Balwani for alleged wire fraud schemes in connection with Theranos, the US Attorney's Office, Northern District of California announced late on Friday.
Holmes also stepped down from her position as Theranos CEO on Friday, to be replaced by the company's general counsel David Taylor. She will remain as chair of the board. Balwani is the former president of Theranos.
The defendants are charged with two counts of conspiracy to commit wire fraud and nine counts of wire fraud stemming from allegations they were part of a multimillion dollar scheme to defraud investors, and separately, a scheme to defraud doctors and patients.
According to the indictment unsealed on Friday, Holmes and Balwani used advertisements and solicitations to get doctors and patients to use Theranos' blood testing laboratory services even though they knew "Theranos was not capable of consistently producing accurate and reliable results for certain blood tests," the attorney's office said in a statement.
The office further said that Holmes and Balwani knew the representations they made about Theranos' testing platform were false. For example, they knew the company's analyzer had problems with accuracy and reliability, performed a limited number of tests, was slower than some competing technologies, and "in some respects, could not compete with existing, more conventional machines," the attorney's office said.
It alleged Holmes and Balwani defrauded doctors and patients through false claims about Theranos' ability to provide accurate, fast, and reliable blood test and test results, and by omitting information about the limits of and problems with the company's technologies. The attorney's office noted that the defendants knew there were problems with the company's tests for calcium, chloride, potassium, bicarbonate, HIV, Hba1C, hCG, and sodium, for example.
"The defendants nevertheless used interstate electronic wires to purchase advertisements intended to induce individuals to purchase Theranos blood tests at Walgreens stores in California and Arizona," the attorney's office said.
Meanwhile, Holmes and Balwani used a combination of direct communications, marketing materials, statements to the press, financial statement, and other information to defraud potential investors, according to the attorney's office.
"The conduct alleged in these charges erodes public trust in the safety and effectiveness of medical products, including diagnostics," Catherine Hermsen, acting director, FDA Office of Criminal Investigations, said in a statement.
Theranos was founded in 2003 by Holmes after she dropped out of Stanford University with an initial focus on developing a blood analyzer that could test for a number of indications, based on a finger prick. By 2014, Theranos had raised more than $400 million, and the company was valued at about $9 billion. It also attracted to its board such notables as former Secretary of State George Shultz, Henry Kissinger, former US Senate Majority Leader William Frist, and current US Secretary of Defense James Mattis.
A series of reports by The Wall Street Journal, however, poked holes in Theranos' image as a Silicon Valley unicorn and alleged Theranos' technology provided inaccurate results. Meantime, the US Centers for Medicare & Medicaid Services notified the company about deficiencies it found in its tests that it said posed threats to patient safety, as well as other concerns.
A deal to offer Theranos' testing in a limited number of Walgreens stores was also nixed by the retail pharmacy chain after it grew weary of Theranos' numerous regulatory issues.
In July 2016, CMS barred Holmes from owning or operating a clinical laboratory.
Later that summer, Holmes previewed a new technology platform by Theranos called the miniLab, which she claimed would make diagnostic testing broadly accessible in a decentralized manner. Speaking to attendees at the American Association for Clinical Chemistry's annual meeting in Philadelphia that year, Holmes acknowledged that the company had had its shares of problems, but the new technology and its unveiling marked "a new chapter for the company."
This past March, the US Securities and Exchange Commission charged Theranos, Holmes, and Balwani with fraud, saying they raised more than $700 million from investors by exaggerating the company's technology and its business and financial performance.
Holmes and Theranos, however, reached a settlement deal with the US Securities and Exchange Commission, which said it would pursue litigation against Balwani in US District Court, Northern District of California.