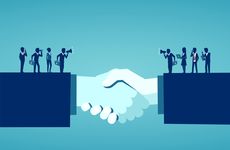 NEW YORK – As the COVID-19 pandemic has resulted in more eyes on the diagnostics industry, major players and midsize companies alike have developed a case of mergers-and-acquisitions fever.
Through the first six months of the year, 39 M&A deals have been announced or completed in the Dx space putting it on pace to eclipse the 54 deals done for all of 2020, as well as the most recent high of 58 deals in 2017.
Part of the reason for the uptick in deals is the result of increased investor interest in molecular diagnostics and point-of-care testing due to the coronavirus pandemic, along with continued interest in early cancer detection and liquid biopsy.
Included in the analysis are deals in the molecular and non-molecular in vitro diagnostic spaces that were announced or completed this past year. Only acquisitions of an entire company were included.
While there have been many smaller, tuck-in deals for less than $100 million, two significant acquisitions in the first half of the year totaled more than $1 billion: Roche's acquisition of GenMark for $1.8 billion and DiaSorin's acquisition of Luminex for $1.8 billion, also in April.
In 2020, there were three deals totaling more than $1 billion, all in the liquid biopsy space: Illumina's $8 billion acquisition of Grail, which has faced pushback from regulators in the US and Europe; Exact Sciences' acquisition of Thrive Earlier Detection for $2.2 billion; and Invitae's $1.4 billion merger with ArcherDx.
Hologic has also been a major buyer this year off the back of money from its COVID-19 business. It acquired Biotheranostics in January for $230 million, European molecular diagnostic test manufacturer Diagenode for $159 million in March, and Finnish diagnostic company Mobidiag for $759 million in April.
PerkinElmer joins Hologic as the most active acquirer in the diagnostics industry with its $591 million acquisition of Oxford Immunotec in January, the $260 million deal for Nexcelom Bioscience in May, and its purchase of Immunodiagnostic Systems for $155 million, also in May.
Other significant deals in the diagnostics space include Thermo Fisher's acquisition of Mesa Biotech for $550 million in January, Veracyte's $600 million deal for Decipher Biosciences, and Agilent's acquisition of Resolution Bioscience for $695 million. Bio-Techne also acquired Asuragen for up to $320 million, while NeoGenomics acquired Inivata for $390 million.
Many of the major deals are for molecular diagnostic and point-of-care testing companies or liquid biopsy and early cancer detection companies as acquirers look for "capabilities that they don't have in their core markets," said Puneet Souda, an analyst at SVB Leerink. "Companies are trying to acquire capabilities that they are lacking within their core or the areas they want to expand to," he said.
One example is Hologic's purchase of Biotheranostics early in the year to allow them to enter the complex genetic testing market. Chris Lin, an analyst at Cowen, wrote in a note that "there is limited technology and commercial overlap between Hologic's offerings in molecular diagnostics … and Biotheranostics' offerings."
He noted that "the market opportunity associated with Biotheranostics could potentially be meaningful" and that acquiring a CLIA-certified lab could provide the infrastructure "to develop or acquire additional genetic tests in the future."
In a separate note, Lin wrote that Hologic's acquisition of Mobidiag would likely expand its molecular diagnostic portfolio "into lower volume/near-patient settings and multiplex testing" and give it the "opportunity to participate in the rapidly growing syndromic testing market."
PerkinElmer has also followed this model with its acquisition of Oxford Immunotec. According to an analyst note from JP Morgan's Tycho Peterson, the deal "marks a continued shift in the product portfolio toward diagnostics" and allows the firm to enter the tuberculosis testing market. He added "the company will look to combine its channel expertise and leading workflow and testing capabilities" with Oxford's tuberculosis testing franchise "and T-cell immunology technology."
DiaSorin's interest in Luminex is also likely linked to a desire to "complement DiaSorin's molecular single/low-plexing capabilities" with Luminex's molecular multiplexing solutions, according to an analyst note from Sung Ji Nam.
Point-of-care demand
Vijay Kumar, an analyst at Evercore ISI, said he's noticed "tremendous interest" in the point-of-care space, particularly in hospitals and with healthcare providers. While some experts have pushed for at-home testing and are looking for a boom in that market, Kumar said he doesn't know how big the demand for at-home testing will be once the pandemic ends. "How many of us are walking to CVS … [and] picking up an antigen test without any reason?" He added, "The consumer angle is a little tenuous to me."
But the real opportunity for POC testing to take off is in transitioning volumes from the central laboratory to near-patient settings, he said. Aside from the convenience that a POC test can offer, there have been questions about "how much accuracy is enough," or even potentially too much, Kumar said. "What if you're picking up stuff and it doesn't matter clinically?" He said he's "not sure we need central lab-level kind of accuracy for all diseases."
There's also a demand for POC testing in the pre-operative area, as many hospitals have significant backlogs due to delays in routine procedures because of the COVID-19 pandemic. POC testing can help alleviate some of that backlog quickly without requiring a central lab, he said.
While there was a little interest in the point-of-care market before the pandemic, with Cepheid as the market leader, there were barriers to adoption in the form of pushback from providers who didn't want to switch from sending orders to a central lab, Kumar said. "There was a certain amount of inertia in changing people's behaviors … that is changed now post-pandemic," he said.
Another driver in M&A has been renewed interest in molecular diagnostics. Michael Anstey, a partner at venture capital firm Cambridge Innovation Capital, said that the molecular diagnostic space was "relatively quiet and perhaps less high-profile" before the pandemic, but more recently there has been "more activity in the space," including Roche's acquisition of GenMark Diagnostics, a key point-of-care molecular diagnostic test developer.
According to Anstey, molecular and POC diagnostics were a "tough play" for venture investors before the pandemic because of the need of a clear line of sight to reimbursement from payors, which can be a drawn-out process that requires significant validation. Many venture investors were "leery" of the space, he said, and companies going for reimbursement need a lot of time and energy to achieve it.
However, COVID-19 opened people's eyes to the need for POC testing, as well as increasing need for instrument-free testing. Centralized testing became a challenge during the pandemic, and the market has "seen the need," for alternatives, he said.
Decentralizing diagnostics is a key focus point for Anstey and CIC when looking to invest. The firm looks for "technologies to empower patients" to take control of their health, namely companies offering remote monitoring or instrument-free testing that is easily scalable, Anstey said.
The reimbursement landscape may be starting to change, making it easier for diagnostics companies to see a clear path to reimbursement and encouraging investors, he added. Payors are thinking more about the health economics of providing diagnostic tests, and Anstey said he's "optimistic we're moving toward improvement."
Blood-based and liquid biopsy tests
Another key market driving M&A activity is blood-based and liquid biopsy tests used for cancer screening, monitoring, and early detection. Interest was significant even before the pandemic and has shown no signs of slowing, Kumar said.
He cited the 2020 acquisitions of Thrive Earlier Detection by Exact Sciences, Grail by Illumina, and ArcherDx by Invitae as examples of prolonged interest in liquid biopsy and a willingness to shell out cash for the expertise — each of these deals was worth well over $1 billion.
In 2021, Agilent's $695 million acquisition of Resolution Biosciences in March is expected to provide Agilent with access to the next-generation sequencing-based liquid biopsy market, part of the company's long-term strategy to build NGS liquid biopsy companion diagnostic tests to accompany its tissue-based assays.
Anstey also emphasized the traction of liquid biopsy and early cancer detection, noting the acquisition of Inivata by NeoGenomics, which will expand NeoGenomics' liquid biopsy business. For companies that "want to be a real player in the diagnostics space, you need to have liquid biopsy," he said.
One other technology that has caught investors eyes, though not in the molecular diagnostics space, is liquid chromatography-mass spectrometry, Kumar noted. Interest in mass spec-based diagnostics is muted because the systems are "too complex" right now, he said, and using the instruments for clinical applications has proven tricky, but in the next few years there could be growing investment in the area.
For companies looking to get acquired, Anstey said it's necessary for them to be profitable and commercially advanced, since diagnostic acquirers are more sensitive to their bottom lines than in the biopharmaceutical sector. Companies that are "first to market" in certain areas are also highly attractive, more so than "me too" companies that come later, he said.
Acquirers and investors are looking for "differentiated, intellectual property-rich companies," he added.
And those acquirers range from traditional consolidators like Danaher and Thermo Fisher to more midsize companies, such as Exact Sciences, Guardant Health, Natera, and Invitae, according to an analyst note from Doug Schenkel at Cowen.
Anstey said he doesn't see significant changes in M&A activity coming for the rest of the year in the industry — while some valuations have been higher due to COVID-19 demand, he doesn't expect activity or valuations to dramatically increase.
But people's eyes are now "wide open" to the importance of diagnostics, so the steady pace of mergers and acquisitions will likely continue, he said.
                                             

 H1 2021 Top 5 M&A Deals in Diagnostics

 

 

Buyer

Seller

Price

Roche

GenMark Diagnostics

$1.8B

DiaSorin

Luminex

$1.8B

Hologic

Mobidiag

$759M

Agilent

Resolution Biosciences

$695M

Veracyte

Decipher Biosciences

$600M