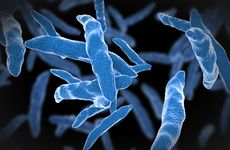 NEW YORK – The US National Institutes of Health has funded a new network to support developers of new tests for tuberculosis.
Investigators from the University of California, San Francisco, and the University of Heidelberg in Germany are coordinating the effort called the R2D2 TB Network. The NIH agreed to fund the nascent network at the end of last year. The project has a total budget of $20 million and is expected to run through 2025. It already is engaging 14 partner companies and institutes developing 15 tests with intentions to add more.
"We haven't reached our limit," said Claudia Denkinger, head of clinical tropical medicine at Heidelberg University Hospital and one of the principal investigators involved with R2D2. Should there be a spike in interest, the network might be more selective, she said, but in general, the aim of the project is to foster innovation in TB testing, and the network has welcomed test makers at various stages of development, from early prototyping through assay optimization.
 "What we really want to do is draw new developers into this space," Denkinger said.
The other two principal investigators in R2D2 are Adithya Cattamanchi, a professor of medicine at UCSF, and Payam Nahid, director of UCSF's Center for Tuberculosis. R2D2 also involves co-investigators from Stanford University, Harvard University, Johns Hopkins University, and the Foundation for Innovative New Diagnostics in Geneva. Denkinger previously served as head of tuberculosis at FIND, and in some ways, R2D2 has a mission similar to that organization's — to support the development of rapid, high quality, affordable tests that can be deployed in challenging settings in endemic countries.
"This is not meant to be competitive to the efforts of FIND," noted Denkinger. "FIND has a strong and important role in screening the TB pipeline and bringing it over to the World Health Organization," she said. "We are collaborating with them and informing them of the potential we are recognizing within the field, so that the way [for developers] to the WHO is already paved."
'The need is even bigger'
The WHO noted last year in its Global Tuberculosis Report 2020 that TB remains the leading cause of death from a single infectious agent, ranking above HIV/AIDS, and that about 10 million people fell ill with the disease in 2019. The WHO aims to reduce TB infections by 80 percent by 2030, and diagnostics and guided treatment, along with vaccines, are a component of achieving that milestone.
The ongoing COVID-19 pandemic, however, has introduced uncertainty as reporting of new TB cases has fallen, making it more difficult to treat new cases and curb infection. According to Denkinger the number of TB cases reported in some parts of the world has declined by 75 percent due to COVID-19.
"People are afraid to present themselves with symptoms that look like COVID but are due to TB." There is, therefore, an increased need for new tests. "The need is even bigger," she said.
The R2D2 TB Network is attempting to remedy the situation by offering test developers free access to international TB diagnostics research experts, including those with regulatory and policy experience. Partners also get to access R2D2's clinical trial network, which includes sites in 10 countries across Africa, Asia, Europe, and South America, and patient groups particularly susceptible to the disease, such as people living with HIV, diabetes, children, and prisoners.
Countries currently in the network include Brazil, Gambia, Georgia, India, Peru, the Philippines, Uganda, Vietnam, South Africa, and Zambia. During the first year of the project, the sites in India, the Philippines, South Africa, Uganda, and Vietnam will be active. "They are all well-established sites, with lots of diagnostics research experience," commented Denkinger.
R2D2 also offers partners access to reference standards, banked samples for preclinical studies and assay optimization, and feedback on prototypes from end users and stakeholders. The network also provides economic analysis and modeling to support the use case for diagnostics.
Seda Yerlikaya, the technology lead at Heidelberg University Hospital who is on R2D2's staff, noted the breadth of support offered by the network and said it was different than what has been offered previously.
"What's really special about this type of clinical platform is that, in the past, these efforts were always targeted and customized for each developer," she said. That meant that test developers needed to individually engage organizations like FIND or other clinical trial support organizations to set up an agreement and to access test sites.
"In this case, we have a master protocol that we can easily manipulate based on the needs of the companies, so that companies can come and be part of the network at any point depending on their needs, get what they want, and come back when they need more," Yerlikaya said. "It's much more flexible."
'Transparent selection process'
Currently 14 companies and institutions have become R2D2 partners to develop TB tests for triaging patients, diagnosing TB, as well as carrying out rapid drug susceptibility testing. A full list of partners is available on the R2D2 website.
Each test is different in approach and scope. In terms of triaging patients, Boditech, a Korean in vitro diagnostics firm, for example, is developing a point-of-care serum c-reactive protein assay, while Inflammatix, a Burlingame, California-based diagnostics company, is developing a gene expression test to measure host immune response. There are a number of triage tests that rely on artificial intelligence, as well. Hyfe, based in Wilmington, Delaware, is working with Seattle's Global Health Labs to develop an AI triage test based on cough sound analysis. Epcon, a Belgian firm focused on epidemic control and diagnostics, is developing an AI algorithm for triaging that uses chest X-rays as a data input.
R2D2 partners working on new TB diagnostics include Tokyo-based Fujifilm, which is developing a urine test for the mycobacterial lipoarabinomannan, or LAM, antigen; UK-based diagnostics firm Mologic, which is also working on a urine-based test for LAM; New Orleans' Nanopin Technologies, which is preparing a blood-based molecular test for TB based on its nanotechnology detection platform; and Sunnyvale, California-based Cepheid, which has been developing an oral-based swab version of its Xpert Ultra PCR-based test.
The drug susceptibility tests in development all rely on sputum samples. The three DST developers are GenoScreen, based in Lille, France; the UK's Oxford Nanopore; and Hayward, California's Paragon Genomics. All three rely on targeted next-generation sequencing analysis to predict antibiotic resistance and drug susceptibility.
A spokesperson for Oxford Nanopore said the firm is collaborating with the Quadram Institute in Norwich, UK, to develop a targeted nanopore sequencing test. According to the spokesperson, the test will target 16 single-kilobase amplicons across the M. tuberculosis genome that cover all important drug resistance-associated SNPs for first- and second-line anti-TB drugs. The procedure can be performed in a working day, and the sequencing time for 24 samples is about two hours, she said.
Denkinger said that R2D2 has a "very transparent selection process" for working with partners and allows companies and researchers to engage the network as they need. "We evaluate them with a principle that comes from oncology trials, where we look at both the product and its potential, as well as the results that we have," she said.
R2D2 supports iterative small studies, engaging cohorts of 50 to 300 patients, for those with early-stage prototypes, as well as larger studies for more mature prototypes. The network can also provide a qualitative research component. This assessment allows developers to understand if their product really meets the needs of end users and countries and provides access to stakeholders in countries to get that information, Denkinger noted.
In particular, Denkinger noted that R2D2 is looking to engage developers of loop-mediated amplification, or LAMP, tests. She noted that dozens of startups have emerged with LAMP-based tests for SARS-CoV-2, the virus that causes COVID-19, assays that could be repurposed for TB.
"We are reaching out to a lot of LAMP developers," said Denkinger. "I think there is huge potential."
'Positive experience'
Joe Fitchett, director of global access diagnostics at Mologic, said that his company has had a "positive experience" with the R2D2 network so far. He said the company will supply low-cost, high-performance lateral flow tests for TB LAM to five sites in the network, starting with prototypes at first.
"The idea is that the prototypes we send to the different sites will allow us to select the best prototypes over this coming year and progress next year to the design phase for the device," he said. While Mologic's assays will test urine for the LAM marker, the firm is also considering testing sputum and swabs. It may also add markers to its assays to improve test performance.
"Depending on the results we get, we will see if we can combine targets against LAM in the assay with host-response biomarkers to see if the biomarkers also boost performance," Fitchett said. Should development be successful, Mologic could transfer the product to Global Access Diagnostics, a social enterprise spinout from the Thurleigh, UK-based firm that provides tests to international markets at a fair price. It might also consider transferring the tests to DiaTropix, an affiliated diagnostics platform in Senegal, where it would be used in a high prevalence setting.
"This is important," noted Fitchett of deploying the tests to such areas. "It is irrelevant how good your technology and science is if it cannot be used."