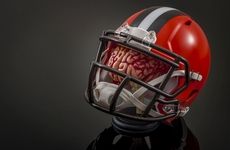 NEW YORK (360Dx) – Only the dead can be diagnosed with chronic traumatic encephalopathy.
But a test being developed at Boston University may one day offer an alternative to autopsies for diagnosis of the condition, which has been found in scores of former National Football League players, as well as athletes who participated in other contact, sometimes violent sports.
The test is based on the protein biomarker CCL11, whose levels have been elevated in American footballers with CTE, a degenerative brain disease, suspected of being caused by repeated blows to the head.
In a study published recently in the journal PLOS One, the BU researchers ran tests on brain tissue and spinal fluids of the former American football players with CTE, of people with Alzheimer's that hadn't played football, and of healthy people that hadn't played any sports.
They found that CCL11 could be a novel biomarker to aid in detecting CTE and discriminating CTE from Alzheimer's disease, Jonathan Cherry, one of the study's investigators and a researcher in the Boston University Alzheimer's Disease and CTE Center, said in an interview.
While additional studies are needed, their ELISA test, consisting of capture and detection antibodies designed to measure quantities of the biomarker of interest, suggested that "CCL11 was significantly elevated only in the footballers with CTE," Cherry said. "It should be noted that this is not the first diagnostic biomarker for CTE," and several research groups have identified other biomarkers in the past, he added.
However, being able to distinguish CTE from normal aging or other diseases, such as Alzheimer's, could open new avenues for treating CTE, he said. This is especially important because CTE tends to be combined in its understanding with other neurodegenerative diseases and conditions, said Cherry, but the treatments for each can be quite different.
"Although it's still early to speak about specific types of therapies, this is a step in that direction," Cherry said. "You're not going to be able to give people the same therapies for Alzheimer's as for CTE, for example, so to be able to identify and distinguish the disease is really important."
Steven Hicks, a physician scientist at Penn State University with training in neurogenetics and pediatrics, said in an interview that the identification of a potential CSF biomarker, CCL11, "represents an excellent initial step" toward the goal of developing therapeutic agents.
"Because CTE likely results from a pathophysiological process that is distinct from Alzheimer's, it may respond to treatment with different therapeutic agents," he said, adding that as the BU authors "correctly note, we first must have the ability to identify CTE in living patients."
Quanterix CEO Kevin Hrusovsky said in an interview that neurodegenerative conditions such as CTE and Alzheimer's, and other diseases such as Parkinson's and multiple sclerosis, "pose a unique challenge to researchers and clinicians because subjective forms of testing are still the primary means of making an initial diagnosis."
"In the case of concussions and CTE, an objective form of testing, such as a blood test, is vital to understanding not only the differences but also the linkages between the two — which has been shown in many recent studies," he said.
Repeated blows to the head
CTE is a progressive neurodegenerative disease in people with a history of participating in contact sports.
"It's not found in the general population in people that haven't had any sort of head trauma," Cherry said.
Some believe that CTE is caused by concussions, but his group has shown that it is a disease often developed by people who experience head injuries for years, even decades.
Concussions could be part of the cause, he added, but researchers are seeing that people who frequently get hit in the head playing sports are accumulating sub-concussive hits. "These sub-concussive hits add up over years," and the researchers have seen evidence in which people who have never been diagnosed with a concussion have developed CTE, he said.
Their results are important not only because they enable the ability to differentiate CTE from other neurodegenerative diseases, but because their findings also help prove "something that we've known for a long time," which is that this is not just normal aging, or is associated with another neurodegenerative disease, but that it is a distinct disease, Cherry said.
Increasingly, over the last decade, CTE has become recognized as a potential consequence for athletes participating in sports such as American football, soccer, boxing, and ice hockey, and military veterans exposed to blasts, the researchers said.
The Boston University researchers demonstrated how prevalent the disease might be in a separate study recently published in JAMA. They found that in an analysis of the brains from 111 National Football League players, 110 had evidence of CTE.
The BU team also determined that former NFL star Aaron Hernandez had CTE when he died by suicide at age 27 last April.
At present, the only way to diagnose CTE is through a postmortem exam, but an urgent need exists for a method to detect CTE during life, Cherry said. A lack of in vivo biomarkers that accurately detect CTE pathology has thwarted detecting CTE during life, the researchers said.
One of the major goals of the Boston University Alzheimer's Disease and CTE Center has been to identify CTE in living people. Cherry noted that the researchers had known in the past that neuroinflammation is associated with CTE, and they suspected that it could be involved as a disease mechanism.
"We thought about targeting agents that could be involved in neuroinflammation, and because CCL11 is a protein that's involved in brain inflammation and aging, it became one of our interests," Cherry said.
In their recent ELISA-based study, they tested brain tissue and spinal fluids of 23 American football players and 18 control subjects.
Hicks said that BU's three-group design of its study and its inclusion of both postmortem brain and CSF samples "are laudable strengths," but the sample sizes used will require validation in a much larger cohort.
"In those studies, it will be interesting to see if CCL11 levels are altered in peripheral biofluids such as serum or saliva, especially given the role of CCL11 in the immune system and its ability to cross the blood-brain barrier," he said.
Hicks and his team at Pennsylvania State University have developed a spit test that measures microRNA fragments released by brain cells and can gauge whether concussion symptoms in children will fade in days or stay around for weeks. "Our study had similar sample sizes to [the Boston University ELISA study], and we are currently collaborating with several academic centers to validate microRNA biomarkers in saliva," Hicks said.
Quadrant Biosciences, a biotech company, has licensed its technology and has plans to develop a rapid point-of-care test that can identify concussion and provide accurate prognoses for patients.
In a recent study by his group of noncoding RNA in the cerebrospinal fluid of children with severe traumatic brain injury, Hicks and his colleagues identified miR-1277-5p as directly targeting CCL11. "This microRNA was down-regulated in severe [traumatic brain injury], which could potentially facilitate CCL11 elevation. Thus, as the [BU] authors conclude, there are likely a host of factors that could serve to identify brain injury, both in acute and chronic states," Hicks said.
Traumatic brain injury testing
Brain injuries and particularly concussions have been the subject of intense recent interest in diagnostics.
Earlier this year, the US Army announced a contract for almost $11.3 million to Abbott to develop a traumatic brain injury assay. Abbott and the US Department of Defense had already been collaborating to develop portable blood tests for evaluating potential concussions.
The firm is also collaborating with researchers at Hennepin County Medical Center in Minnesota and the University of Minnesota to develop methods to identify a range of brain injuries in patients.
The blood biomarkers being used by Abbott are glial fibrillary acidic protein (GFAP) and ubiquitin c-terminal hydrolase (UCH-L1). Beth McQuiston, medical director of diagnostics at Abbott, recently told 360Dx that the firm is "looking at everything from mild, to moderate, to severe head injuries," and how they affect the blood biomarkers. 
Last August, Quanterix announced it had licensed two assays from Banyan Biomarkers to bolster its research-use test menu for traumatic brain injury. Under the terms of the agreement, Quanterix will develop the Banyan UCH-L1 and GFAP assays for its Simoa single-molecule array technology. It will also incorporate the biomarkers into multiplex assays for research use in neurology.
Quanterix CEO Hrusovsky said that biomarkers such as CLL11 are presenting researchers "with a remarkable opportunity to identify disease at their earliest stages and differentiate them from other conditions," and added that "this is creating the opportunity for earlier, better treatments and more positive patient outcomes."
From what is known, CCL11 appears to be a reliable biomarker for CTE and neurodegenerative diseases, he said.
Researchers have also seen promise from other neurological biomarkers, including tau, neuro-filament light, UCH-L1, and amyloid beta, he said.
"Together we feel these biomarkers hold the key for helping us cure the world's most problematic neurological diseases and bring us closer to diagnosing CTE in the living — but that's just the beginning," Hrusovsky said. "Our goal is to create a blood test that can noninvasively and accurately diagnose CTE, Alzheimer's, and other neurodegenerative diseases, but this will require increased collaboration from doctors, researchers, innovators, and other key industry stakeholders."
In the long term, validation of genetic and epigenetic factors as biomarkers of neurodegenerative disease "has the potential to drastically alter medical care — providing objective measures for diagnosis, prognosis, and therapeutic monitoring," Hicks said. 
Although the BU researchers don't have a time frame yet, the next step is to expand the sample size and move to testing living people, said Cherry.