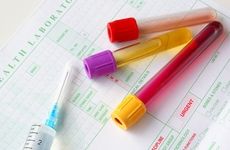 NEW YORK (360Dx) – With Roche's entry into the digital hematology space, the firm is looking to crack open a $2.8 billion market opportunity that doesn't even include point-of-care, or "specialty marker," hematology testing.
In January, the firm launched the Cobas m 511 analyzer with CE marking. A dedicated hematology testing solution, it produces test results in six minutes, far more quickly than competitor platforms, giving the Swiss diagnostics and pharmaceutical company an edge in a market dominated by a few, large incumbent players, Roche's International Business Leader for Hematology Jan Gerrit Hoogendijk said in an interview.
The analyzer's advanced architecture is expected to boost demand as it "addresses the need of customers in the most complex settings," a part of the market in which the value is particularly high, Hoogendijk said.
The Cobas m 511 uses Roche's Bloodhound technology — acquired when the firm bought Constitution Medical in 2013 — for printing, staining, and imaging, and requires only 30 microliters of blood. In one integrated system, it prints a monolayer onto slides, stains them for further analysis of the morphology, and enables classification of cells displayed on a viewing station, Roche said.
The analyzer identifies, counts, isolates, and categorizes white blood cells, red blood cells, and platelets, and then presents the digital images of the cell types. It provides direct images of individual cells, and it counts cells, analyses morphology, and then classifies each cell in the viewing area to provide a standard complete blood count and a five-part differential and reticulocyte count.
Providing results in six minutes enables a "significant reduction in time to the laboratories," where they can release the results and physicians can move on to treating patients, Hoogendijk said. "That may not make a great difference to the overall costs of a laboratory, but it may make a great difference to the patient lying in an expensive emergency room or intensive care bed, and releasing the results faster positively impacts the account of the emergency room or intensive care room," he said.
Market opportunity and competitors
The size of the market opportunity becomes clear when you consider that around 1 in 3 blood vials in a clinical lab is a hematology sample, Hoogendijk said. He noted that he currently sees the market growing at a compound annual growth rate of around 6 percent per year.
Current hematology testing, including systems provided by Roche's primary competitors require larger blood samples from patients, which then need to be run across separate systems — a digital morphology analyzer, cell counter, and classifier — and testing is labor and time intensive, Hoogendijk said.
The Cobas m 511 combines the separate testing components into a streamlined solution and process.
This, Hoogendijk said, provides a "significant advantage." The standard method can require a few minutes for counting, an additional 15 to 25 minutes for slide making and staining, and another 10 minutes for digital morphology, he said. Adding time for manual transportation from system to system, it "can be [a] very lengthy and cumbersome procedure," Hoogendijk said, adding that the majority of transportation from system to system is done manually in clinical laboratories.
Also, between 200 microliters and 500 microliters of blood are often needed by competing systems for a hematology test, he said. The volume of blood required is important in a number of medical applications, not the least of which is testing of premature babies. A baby can require a blood transfusion as a result of the volume of blood required during hematology testing, but the Roche analyzer, requiring only 30 microliters, may eliminate that need.
Hoogendijk noted that the Roche integrated test approach can also be especially important to patients being tested for cancer, who frequently receive sequential testing and more than one blood draw over the relatively long period for testing that's required using the classical approach. Providing a result with one test within minutes, from which a physician can decide on an appropriate therapeutic response, can have a profound impact on a patient's psychological process, Hoogendijk said.
The analyzer also reduces the need to retest or add tests, such as a white blood cell differentiation, in cases where results are outside the normal range, because the Cobas m 511 provides a differential reading immediately, he added. 
Hematologic disease testing
Testing for hematologic disorders is relevant in screening, diagnosis, prognosis and disease monitoring, Roche said. Hematology analyzers are used in the diagnosis of blood diseases as diverse as anemia, thalassemia, lymphomas, hemophilia, and leukemia. And there are more than 150 identified hematology-related diseases that are broadly classified according to the different components of the blood that are affected — red blood cells, white blood cells, platelets, and blood plasma.
Roche said that the Cobas m 511 Bloodhound technology is an approach that can provide greater accuracy and consistency of results compared to current technologies, partly because automation eliminates potential errors that can occur through human intervention during testing. Using the analyzer, medical technologists can concentrate their time on automatically finding and classifying abnormal cells within patient samples. Automation also reduces the need for resource-intensive manual microscope reviews, supports clinicians in sharing challenging cases around the world, and enables the delivery of quicker results, which ultimately aid patient diagnoses, the firm said.
For instance, manual sorting is eliminated for samples that could be malignant and that have been flagged for further analysis, Hoogendijk said, and added that slide samples are rendered immediately on a screen, allowing "significant workflow advantages."
Physicians also have the ability to work with pathologists in remote locations. The system enables combining multiple viewing stations to one instrument, or multiple instruments to one viewing station, and enables serving a laboratory network from one place. The ability to immediately collaborate and discuss challenging cases with colleagues can prove invaluable, as can the ability to immediately access a pathologist who works in the same facility, but is multiple floors away from the patient site, Hoogendijk said.  
The competitive landscape
The burden of blood disorders is high, not only for patients but for society as a whole, according to Roche. In Europe, 80 million people suffer from hematological disorders, and the economic impact of treating blood disorders there is valued at €23 billion ($24 billion) per year. By improving diagnoses, the costs and the healthcare burden to society from such disorders can be mitigated, the firm added.
Roche is preparing a submission to the US Food and Drug Administration for clearance of the hematology analyzer, which would allow the firm to market the system in the US. It is unclear when clearance may happen, however.
"We are entering a new area of innovation with Roche in hematology testing, supporting customers with integrated and efficient laboratory solutions, which deliver increased medical value," Roche Diagnostics CEO Roland Diggelmann, said in a statement at the time of the launch.
Hematology is a mature segment of the in vitro diagnostics market in which a number of competitors have an established market presence, including Sysmex, Danaher's Beckman Coulter, Siemens, Abbott, and Horiba.
Abbott is working on the development of a next-generation hematology instrument, and the firm currently offers a line of hematology analyzers that include, for example, the Cell-Dyn Sapphire system for automated complete blood-counting and monoclonal antibody analysis.
Sysmex, largely regarded as the market leader, said that during its fiscal year ending March 31, 2016, hematology accounted for 63 percent of its business sales, or $1.41 billion.
Market research firm Kalorama Information said that Roche's entry into the hematology space is notable as it reflects an effort to capture growth enjoyed by CellaVision's cell imaging systems, and "also compete more broadly in core lab hematology." 
Roche's analyzer is different from CellaVision's cell imaging systems that do cell morphological analysis, as well as differentials, but not blood sampling or counting.
Cellavision, however, employs an indirect sales model by distributing globally through Siemens, Sysmex, Abbott, Horiba, and Beckman Coulter, making coordinated complete blood counting and analyzer differentials available through those sources.
In a recent company presentation, Cellavision noted that Sysmex has 50 percent of the installed base of large-labs cell counters, Beckman Coulter has 26 percent, Siemens has 20 percent, Abbott has 3 percent, and Horiba has 1 percent. Cellavision added that it's digital microscope has a 14 percent share of the microscopy market, and that around 85 percent of hematology labs globally use manual microscopes.