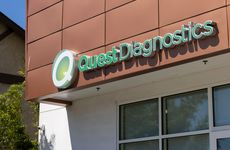 NEW YORK ­– Like much of the lab industry, Quest Diagnostics is closely watching federal government action on laboratory-developed tests (LDTs) and reform of the Protecting Access to Medicare Act (PAMA).
During an investor call Tuesday following release of the company's Q3 2023 financial results, Quest President and CEO Jim Davis noted that while it opposes the US Food and Drug Administration's plan to regulate LDTs, it would not expect such regulation to have a major impact on its business. He added that the company sees permanent PAMA reform as unlikely this year but is optimistic that Congress will pass an additional one-year delay of the law's implementation.
Davis said that Quest, like its trade organization, the American Clinical Laboratory Association (ACLA), believes that "the FDA does not have the statutory authority to unilaterally regulate LDTs under its existing medical device authority."
He suggested, though, that if increased FDA regulation of LDTs came to pass, its impact on Quest's business would be relatively modest.
"These are not the most significant part of our operations," he said, noting that by volume, LDTs account for less than 10 percent of Quest's testing business.
He added that the three labs out of which Quest does most of its LDT testing are ISO-certified, making them well prepared to handle increased FDA oversight.
Quest also has substantial experience taking its LDTs through third-party reviewers like the New York State Department of Health's Wadsworth Center, which regulates all LDTs offered for sale in the state. A recent analysis by 360Dx of the Wadsworth LDT database found that Quest has taken more than 2,000 LDTs through the Wadsworth approval process, considerably more than any other laboratory.
Davis said Quest will continue to work through ACLA to oppose the FDA's proposed rule on LDTs and arrive at a more suitable approach to LDT regulation but added that the issue "is not a huge deal for us right now."
Davis also touched on efforts around PAMA reform, specifically efforts to pass the Saving Access to Laboratory Services Act (SALSA). He said that "the current standstill in Congress" makes SALSA "more difficult to get through this year."
He expressed optimism that Congress would manage to pass another one-year delay of the PAMA cuts and price reporting requirements scheduled to go into effect at the beginning of 2024, noting that the Congressional Budget Office recently scored the budgetary impact of a one-year delay and found that it would provide "a significant cost savings."
Quest also reported an 8 percent year-over-year decline in Q3 revenues, though its base business grew 5 percent compared to the year-ago quarter.
Revenues were $2.30 billion for the three-month period ended Sept. 30, down from $2.49 billion in the third quarter last year and beating the consensus Wall Street estimate of $2.27 billion.
Revenues from the company's base testing business were $2.27 billion, up 5 percent from $2.17 billion in Q3 2022. COVID-19 testing revenues were $26 million, down 92 percent from $316 million the year before.
Requisition volumes were down less than 1 percent in the quarter, with organic requisition volume down 1 percent and revenue per requisition down 7 percent. Davis highlighted molecular genomics and oncology as particularly high-growth test areas and added that revenues in neurology, women's and reproductive health, cardiometabolic, infectious disease, and immunology testing grew at double-digit levels.
He added that the company's integration of Haystack Oncology remains on track, and that it plans to launch its first minimal residual disease liquid biopsy test in early 2024.
Davis also noted the growing importance of Quest's value-based contracts, which he said generated more than 50 percent of the company's health plan revenues and were growing at double-digit levels compared to its traditional health plan business.
For Q3, net income attributable to Quest was $225 million, or $1.96 per share, down from $256 million, or $2.17 per share, for the same quarter in 2022.
Adjusted EPS was $2.22 per share for the quarter and beat the consensus analyst estimate of $2.19.
During the quarter, Quest spent $380 million on SG&A, down 18 percent from $464 million in the same quarter last year. The company ended Q3 2023 with $143 million in cash and cash equivalents.
For full-year 2023, the Secaucus, New Jersey-based company revised its revenue guidance to a new range of $9.19 billion to $9.24 billion from a previous range of $9.12 billion to $9.22 billion. It projected full-year 2023 adjusted EPS of $8.65 to $8.75, narrowed from a previous guidance of $8.50 to $8.90.
In Tuesday morning trading on the New York Stock Exchange, Quest shares were up 1 percent to $122.49.