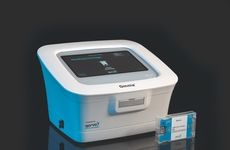 NEW YORK ─ Qorvo Biotechnologies has entered diagnostic testing by modifying cellphone technology and using it to develop a biosensor platform to compete with SARS-CoV-2 molecular and antigen tests at the point of care.
In April, Greensboro, North Carolina-based Qorvo Biotech received US Food and Drug Administration Emergency Use Authorization for its bulk acoustic wave SARS-CoV-2 antigen test, and the same month it announced an award of $24.4 million in funding from the National Institutes of Health Rapid Acceleration of Diagnostics, or RADx, initiative.
The company, a subsidiary of publicly traded Qorvo, recently began marketing the rapid SARS-CoV-2 antigen test leveraging its bulk acoustic wave technology. According to the firm, the technology forms the basis of radio-frequency filters in billions of cellphones and is used in defense radar and communications equipment, among other applications.
The technology also underpins a number of diagnostic tests in Qorvo Biotech's product portfolio, Bryan Bothwell, the firm's director of strategy and business development, said in an interview.
Bulk acoustic wave technology enables the detection of changes in resonance frequency and mass on a biosensor surface caused by the presence of a target analyte, and may be used instead of antigen tests based on other detection modalities such as optical fluorescence.
The firm's Omnia instrument translates the shift in frequency into an analyte concentration, and the relationship between frequency and sensitivity provides a limit of detection "near that of molecular testing," Bothwell said, adding, "The way to think about this is we're applying the typical chemistry you see in central lab testing but to a portable chip the size of a credit card."
The company's SARS-CoV-2 antigen test is suitable for both symptomatic and asymptomatic screening of people suspected of having SARS-CoV-2 because of its limit of detection and its rapid turnaround time of about 20 minutes, he said.
In that timespan, a lysis buffer added to a nasal swab releases the SARS-CoV-2 nucleocapsid protein if it is present. The processed sample is then added to a credit card-sized cartridge that slots into the Omnia instrument, and the instrument triggers the movement across the biosensor surface of the processed sample and reagents contained in a cartridge carousel. An enzyme-enhanced immune reaction occurs when antibodies to the SARS-CoV-2 nucleocapsid protein encounter SARS-CoV-2 antigens, enabling the instrument to detect the change in resonant frequency at the biosensor surface.
Overall, the use of bulk acoustic wave technology improves the performance of Qorvo's diagnostic test and simplifies product design over tests that use fluorescence detection, Bothwell said, adding that the biosensor's high frequencies, measured in gigahertz, contribute to its low limit of detection and enable the detection of low viral loads common in patients that are asymptomatic.
To obtain FDA EUA, the performance of the Qorvo Omnia SARS-CoV-2 Antigen test was established by testing nasal swabs collected from 89 patients suspected of SARS-CoV-2 infection. The swabs were collected within six days of symptom onset. The performance of the test was compared to results of testing by high-sensitivity, real-time PCR involving the collection of nasopharyngeal swabs from the same patients.
According to the instructions for use posted on the FDA website, the sensitivity of the Omnia SARS-CoV-2 Antigen assay was 89.47 percent and its specificity was 100 percent in a comparison with the real-time PCR molecular test.
Receipt of an FDA EUA is an important milestone for Qorvo Biotech in part because it facilitates the firm's entry into diagnostic testing, said Fred Apple, who for 25 years was the director of clinical laboratories at Minneapolis-based Hennepin County Medical Center, part of Hennepin Healthcare.
Further, for the healthcare community, bulk acoustic wave technology opens the door to the use of an antigen test with a very low limit of detection that can be an alternative to other point-of-care tests that have received EUA, said Apple, a professor of laboratory medicine and pathology at the University of Minnesota, and a member of Qorvo's advisory board.
He said that while the company's evaluations completed so far have revealed a limit of detection approaching that of molecular tests, Qorvo will need to conduct additional studies to compare the performance of its technology and tests with that of current SARS-CoV-2 PCR and antigen tests.
He noted that the technology has demonstrated "excellent analytic performance" and lends itself to the development of additional diagnostic tests.
Bothwell said that Qorvo Biotech is already "well along in the development" of a multiplex test for SARS-CoV-2, influenza A, and influenza B that uses the bulk acoustic wave technology and Omnia instrument. While the SARS-CoV-2 antigen test and SARS-CoV-2-influenza antigen test detect active infections, the company is also developing a semi-quantitative antibody test for past infection and the measurement of levels of antibodies produced by vaccines.
Qorvo is not disclosing the anticipated timing for the release of its SARS-CoV-2-influenza and antibody tests.
Multiplexing enabled by the bulk acoustic wave technology will be a central component of all of its tests, Bothwell said. Qorvo Biotech's antigen test already uses multiplexing to detect the nucleocapsid protein, internal control enzymes, and reference enzymes that eliminate the effects on results of variations in testing conditions such as temperature, viscosity, and nonspecific binding. The company is developing its antibody test to perform multiplexed detection of both the receptor binding domain of the SARS-CoV-2 spike protein and the virus's nucleocapsid protein, and it is developing the SARS-CoV-2-influenza test to detect antigens specific to SARS-CoV-2, influenza A, and influenza B.
In vitro diagnostic tests became part of Qorvo's pipeline about seven years ago after it conducted an evaluation of products and markets that had the potential to leverage its bulk acoustic wave technology. Qorvo Biotechnologies began developing diagnostic tests to detect infectious diseases and cardiac conditions, such as heart attacks, at the point of care, Bothwell said, adding that with the onset of the global pandemic, the company postponed those R&D initiatives and began developing the technology for SARS-CoV-2 testing.
With a commercial antigen test in hand, Qorvo Biotechnologies uses an internal sales team and external distributors for sales and marketing. It is targeting hospital and physician office laboratories as well as less traditional settings such as airports, pharmacies, cruise lines, sports teams, and events' organizers.
Because the company is targeting a mix of end users with varying preferences for purchases, the company uses different sales models including selling instruments and tests to customers; providing instruments for free when customers commit to purchasing specific volumes of test cartridges; and leasing instruments.
The company is not disclosing the price of its instruments or tests, but according to Bothwell, Qorvo has a "significant cost advantage" over competitors developing molecular tests.
Bothwell noted that the RADx initiative is funding its manufacturing expansion and providing expertise to help it commercialize its products. Qorvo Biotechnologies will seek payor reimbursement for its tests and is planning to publish peer-reviewed studies that describe the tests' clinical utility. The firm also plans to initiate clinical studies later this year for validation of the tests in its pipeline, and in the future, it intends to seek FDA 510(k) clearance for all of its tests.
More long term, the firm plans to seek regulatory approvals for its tests in Europe and elsewhere outside the US, but its "current strategy is US-centric to meet the national pandemic needs," Bothwell said.
The company also plans to return to developing assays for cardiac and infectious diseases that it was working on prior to the pandemic, including assays for sepsis and other respiratory conditions, he added.