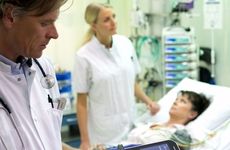 NEW YORK (360Dx) – When researchers at Uppsala University Hospital found a way to make the human neutrophil lipocalin (HNL) biomarker detectable in blood plasma, Philips' executives knew they were on to something interesting.
The research opened the potential to develop a test that could be used at the point of care to rapidly detect bacterial infection, leading to better use of antibiotics, according to Philips.
Earlier this month, more than a year after Philips and Uppsala University Hospital spinout Diagnostics Development began a collaboration to integrate an immunoassay, based on the biomarker, with the Philips Minicare I-20 point-of-care platform, the European Union awarded the partners a Horizon prize in recognition of their work to develop a test.
The collaborative work between Philips and Diagnostics Development may enable clinicians to rule in or rule out bacterial infections at the point of care, potentially leading to rapid and appropriate therapies for patients presenting with symptoms, Philips said. 
Lipocalins are proteins that are excreted from neutrophils when humans have been exposed to bacterial infections, so HNL is a very specific biomarker for bacterial infection, Jeroen Nieuwenhuis, senior director of business development and strategy for handheld diagnostics at Philips, said in an interview.
Nieuwenhuis credits early work on the biomarker assay to Uppsala University Hospital researchers, who were led by Per Venge, a professor of medical sciences at the hospital and owner of Diagnostics Development.
"It has taken quite a bit of time to understand [the HNL] biomarker," Nieuwenhuis said. "We learned that there are different isoforms of this molecule, and only one is specific for the neutrophils," so extensive work was needed to make the biomarker suitable for use in a diagnostic test, he added.  
Philips teamed with Diagnostics Development to determine if it would be possible to integrate the biomarker with the Minicare I-20 to not only provide superior diagnostic performance, but also create a form factor that would enable rapid adoption in primary-care settings, Nieuwenhuis said.
The collaborators are developing the test, which is still in the proof-of-concept stage, for use in all urgent care clinics, emergency departments, and physician offices.   
Early work on the biomarker at Uppsala made it possible to detect HNL in serum, but that didn't allow use at the point of care. In tests using serum as a sample, blood needs to first coagulate. That can take around half an hour, but for a point-of-care test, a more optimal time to result is between five and 10 minutes, Nieuwenhuis added.
Philips became most interested in the marker after the research by the development team at Uppsala allowed activation of the neutrophils so that the HNL biomarker could be detected in plasma.
"That immediately broadened the applicability of the test to use in point-of-care settings," Nieuwenhuis said. 
The potential to apply the HNL biomarker to POC tests was encouraging for the Philips executives because existing biomarkers, mainly C-reactive protein, "are not specific enough" so finding novel biomarkers that demonstrated better performance was a primary objective, Nieuwenhuis said.
In most cases, a body reacts to an infection by developing an inflammation, but there are many other causes of inflammation, so C-reactive protein is not a perfect marker, he added.
The HNL test running on the Philips platform will allow a clinician to get a measurement on the spot from a finger stick. In less than 10 minutes, measuring whole blood directly from a patient, the proof-of-concept test differentiates between patients with upper respiratory tract infections that require antibiotics and those who can be treated safely without antibiotics, Philips said.
"We believe that a fast turnaround is needed to make the result actionable in the first interaction between the doctor and the patient," which typically takes around 15 minutes, Nieuwenhuis said. "If you can provide a result within this initial 15 minutes, then the doctor can make the decision on the spot and decide on the therapy. Therefore, speed is very important for the adoption of these tests."
Although Philips and Diagnostics Development are pushing ahead with activities to develop the HNL test for eventual implementation in routine clinical practice, it will be "a number of years" before it can be made commercially available, Nieuwenhuis said.  
As a first step, the team needs to conduct more testing to prove that the test is robust, and then they will work to optimize the cartridge for manufacturing. After this, the collaborators expect to conduct clinical trials in advance of submitting the test for CE marking and US Food and Drug Administration clearance.
A formal clinical study requires a few hundred patients, while the test has been proven so far in around 24 patients. Nonetheless, its performance and capability to quickly identify bacterial infections could fill an unmet market need in an area that can be critical for patient care and reducing healthcare costs.
Several companies are developing testing solutions to quickly identify sepsis, for example, where detecting the presence or absence of infection may provide a significant benefit for the care of a patient and even save a life. Sepsis, a complication caused by a patient's overwhelming immune response to infection, can lead to tissue damage, organ failure, and death.
Being able to quickly detect the presence or absence of infection is also important for diagnostics companies that are hard at work developing test solutions that address overuse of antimicrobial agents, such as antibiotics.
AdvaMedDx, the industry association representing the world's leading diagnostic manufacturers, in January announced a global stakeholder initiative that stresses diagnostic tests' role in the fight to avert antimicrobial resistance.
A cadre of entities working inside and outside the diagnostics industry have signed a letter of commitment to work collaboratively to advance the fight against AMR.
T2 Biosystems and the BioFire business of BioMérieux are among several companies that have developed, or are developing, molecular tests to quickly and reliably identify bacterial infection. T2 Bio is developing a bacterial sepsis panel called T2Bacteria that it expects will detect pathogens in three to five hours.
For sepsis diagnosis, BioMérieux provides the BioFire FilmArray syndromic molecular test with multiple arrays, the Vidas BRAHMS PCT procalcitonin biomarker test, and a MALDI-TOF mass spectrometry test that identifies pathogens to confirm bacterial infections by determining the chemical structure of a molecule through analysis of its mass and the charge of its ions.
In July 2016, the US Food and Drug Administration separately granted 510(k) clearances to PCT assays from BioMérieux and Roche to test for the risk of severe sepsis or septic shock.
The assays measure patient levels of procalcitonin, a peptide precursor of the hormone calcitonin.
"We believe that procalcitonin is a good marker for therapy monitoring in sepsis, but not to diagnose the infection," Nieuwenhuis said. "Several publications demonstrate that when CRP, PCT, and HNL are compared for diagnosis of bacterial infection, PCT doesn't perform much better than CRP, but HNL is clearly superior for diagnostic purposes."
In April 2016, Philips launched a CE-marked troponin I-based blood test on the Minicare I-20 handheld system to detect acute myocardial infarction for use in emergency departments, ambulances, and cardiologists' offices. Within the next few years, the firm has plans to launch additional tests utilizing the platform for different diseases, and HNL will be one of those tests, Nieuwenhuis said.
Philips said that it also has a collaboration with Banyan Biomarkers to develop a two-biomarker assay that would run on the Minicare I-20 for the diagnosis of traumatic head injury. The primary application is for patients who present in the emergency department, but the test might also be deployed at the point of care to test for concussions among athletes, Nieuwenhuis said.
In general, the firm is looking at driving adoption of point-of-care tests not only in Europe and the US, but in developing countries. For example, it has established an Africa incubator with R&D facilities in Nairobi, Kenya, where the company is investigating the potential to deploy tests in those settings, which are lower cost or easier to use than existing tests.