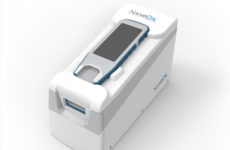 NEW YORK — PCR-based technology is the standard for detecting SARS-CoV-2, but NanoDiagnostics thinks its nanowire technology may be able to match the accuracy of molecular testing for the coronavirus, and at the point of care.
The company, which is changing its name from BioDirection, is finalizing validation studies to support a submission to the US Food and Drug Administration to obtain Emergency Use Authorization for its test which uses nanowires to detect a protein-based antigen for the SARS-CoV-2 virus.
If the company is successful, it could enable SARS-CoV-2 testing that is as accurate as RT-PCR assays that are currently used, and are considered the most reliable, for coronavirus testing, NanoDx's President and CEO Sharad Joshi said in an interview.
The company's test runs on a compact nanowire-based diagnostic platform, called the NanoDx System, and uses technology that the firm has also been developing for a few years to detect traumatic brain injury.
NanoDx is preparing for the European launch for its traumatic brain injury test in anticipation of soon receiving the CE mark and it is getting ready to launch a study to validate the test in the US. However, its top priority is to get EUA for the rapid antigen test for SARS-CoV-2.
"When COVID-19 changed the world, we changed with it," Joshi said.
The technology underpinning its platform consists of nanowires that are coated with antibodies against disease targets of interest. The technology has the potential to enable test results for TBI and for SARS-CoV-2 at the point of care within a couple of minutes, a turnaround time needed for diagnosing both conditions, Joshi said. In the case of SARS-CoV-2 detection, NanoDx believes its test has the potential to serve as an option for rapid screening as quarantine and lockdown procedures are relaxed.
The NanoDx System consists of a disposable cartridge and a portable handheld analyzer that connects electronically to a desktop-size instrument. Its SARS-CoV-2 test doesn't require reagents, RNA extraction, or thermal cycling ─ steps that contribute to the high levels of performance of current RT-PCR tests but that also add to the overall expense of testing and prolong the time to result to at least a few hours, Joshi noted.
During operation, a few target proteins trigger a change in the resistance of current running through the coated nanowires, which are embedded in electronic circuits. The electronic circuits enable resistance changes to be analyzed by the NanoDx System and detection of the analyte of interest.  
In the case of the SARS-CoV-2 antigen test, the nanowire is functionalized with an antibody to detect the spike protein that is specific to COVID-19. Because of the capability to functionalize the nanowire with many different types of antibodies, NanoDx is also looking into developing a multiplex test that would detect and differentiate between SARS-CoV-2 and influenza, Joshi said.
It is also further developing an antibody test for SARS-CoV-2 to detect past infection. For the antibody test, the development team is coating the nanowires with viral antigen proteins to detect levels of antibodies to the virus in the blood, Joshi said.
In support of a submission for EUA for its SARS-CoV-2 rapid antigen test, which the firm anticipates completing within a month, NanoDx is finalizing the collection of performance data and completing usage studies. The company is validating the antigen test for use with nasopharyngeal swabs, nasal swabs, saliva, and blood. It anticipates first seeking EUA to launch a laboratory test that uses nasopharyngeal and nasal swabs, and later seeking authorization for its use at the point of care in coronavirus screening applications.
Most tests for SARS-CoV-2 use nasopharyngeal and nasal swabs and, accordingly, NanoDx has selected those sample types as the first option for a SARS-CoV-2 antigen test EUA submission. However, the use of nasopharyngeal swabs, the most popular type of sampling medium, has been known to cause false results during testing, Joshi noted. They need to be collected from the back of the throat, which can be difficult, and uncomfortable for the patient, and they don't lend themselves to being easily applied at the point of care. Saliva, on the other hand, is a convenient sampling method and appears to be most in demand by potential customers for point-of-care use, he said.
A few saliva-based tests have thus far received FDA EUA. Most recently, on Saturday, the FDA granted authorization to Yale School of Public Health for its SalivaDirect COVID-19 diagnostic test, which uses a new method of processing saliva samples being tested for SARS-CoV-2.
The agency issued the first saliva test EUA to the Rutgers Clinical Genomics Laboratory at RUCDR Infinite Biologics in April and subsequently issued authorizations for saliva-based tests from Phosphorus Diagnostics in June and P23 Labs and Clinical Reference Laboratory in July.
In general, however, saliva sampling has been slow to catch on for large-scale coronavirus testing.
Antigen testing
Additionally, the FDA has so far granted EUA for only three antigen tests, to Franklin Lakes, New Jersey-based Becton Dickinson for a test that runs on its BD Veritor System and to San Diego-based Quidel for test that runs on its Sofia instrument. This week, LumiraDx, which has offices in London and Waltham, Massachusetts, received EUA for its rapid antigen test for SARS-CoV-2.
Rapid antigen tests typically are less sensitive than PCR tests, but as the number of coronavirus cases in the US remain alarmingly high and the country continues to struggle to meet testing demands, "antigen testing needs to be a critical component to the testing tapestry we are weaving in this country," William Blair analyst Brian Weinstein said in a recent research note. The investment bank remains "convinced that these types of tests will play a meaningful role due to their relative ease of use, portability, scalability, and established infrastructure," Weinstein said.
As a sign of demand, BD expects to make 10 million antigen tests through the end of the summer, and scale to manufacture 2 million tests per week, thereafter. Quidel CEO Douglas Bryant late in July emphasized the urgency of the availability of antigen tests during a conference call to discuss the company's financial results, saying that "demand for our Sofia rapid antigen point-of-care test continues to be strong, sustained, and frankly, more than we can satisfy."
NanoDx noted that as quarantine restrictions are lifted, demand is expected to increase for the screening of large groups, for example, in sports arenas, where social distancing is difficult to implement. Testing requirements for employees returning to the workplace and students returning to schools are also likely to drive demand additional demand, it said.
NanoDx expects to market its SARS-CoV-2 test for use in hospitals, ambulances, urgent care centers, physicians' offices, and elderly care facilities.
Joshi said that during preliminary testing, the firm is seeing accuracy levels equivalent to or better than laboratory-based PCR tests for SARS-CoV-2. Whether those levels of sensitivity are upheld in current validation trials remains to be seen. "We know that the nanowire technology is highly sensitive," Joshi said, "but it is premature to publicly speak about a set number [for sensitivity and specificity] until after the validation study is complete." 
He also declined to provide details about the price for the test but said it would represent a cost saving to the healthcare systems and patients.
Traumatic brain injury
The Southborough, Massachusetts-based company is also continuing to develop a test for traumatic brain injury on its nanowire-based platform. The TBI test, named Tbit, which would detect concussion using a drop of blood, has been in development for a few years.
The firm said it anticipates soon receiving CE marking for the TBI test that would enable its marketing in Europe and other countries that accept the designation. The test uses nanowires functionalized with monoclonal antibodies to measure two protein biomarkers — glial fibrillary acidic protein and S100 beta — that have been shown to increase in blood after traumatic brain injuries. The company is "very close to launching the test in Europe" and has a number of distributors there "who are specialized in diagnostic products for the [emergency department]," Joshi said.
NanoDx is also getting ready to launch a pivotal clinical trial involving "nine major trauma centers" to validate the test in the US in preparation for a submission for clearance to the FDA, Joshi said. The overall objective is to evaluate the safety and efficacy of its test as an aid in the evaluation of patients suspected of traumatic brain injury and for use as an adjunct companion test to radiologic cranial computerized tomography. The firm anticipates that its pivotal study for traumatic brain injury will be completed later this fall and include more than 700 participants who will provide fingerstick blood.
The company's testing platform can be designed to detect traumatic brain injury, SARS-CoV-2, and other conditions because it "is indifferent to the marker being chosen," said Teodore Forcht Dagi, a professor at Queen's University Belfast, in Northern Ireland. "Provided that the marker has been validated, the technology could be used for many types of tests."
Dagi, a director of the American Association of Neurological Surgeons, is not involved in the development of the NanoDx tests but he is familiar with the technology.
Being able to detect target analytes by coating a nanowire with a suitable antibody means the technology has the potential to be used in many diagnostic applications, he noted.  
Rapid TBI tests that can quickly determine whether an athlete, such as an American football player or rugby player, can return to the field of play are needed, he added. Similarly, an objective test is needed to determine when a person who has sustained a concussion can be allowed to drive a car or plane or take an important test. "In these circumstances, you need a test that enables a diagnosis right away, and this test has the potential to do that," Dagi said. 
Kevin Hursovsky, president, chairman, and CEO of Billerica, Massachusetts-based Quanterix, said he believes the NanoDx platform shows potential for improved SARS-CoV-2 antigen detection. "However, [for TBI], it's important to consider a full range of neurological biomarkers such as neurofilament light and p-tau 181 that could have implications as well, [because] the more complete picture that can be seen, the better."
Hursovsky is not involved in the development of the NanoDx System. Quanterix is developing its own tests to detect TBIs and COVID-19.
Last October, NanoDx announced that it had inked a multiphase technical collaboration agreement with Antwerp University Hospital in Belgium for the evaluation and development of its Tbit concussion testing system. The firm anticipates completing "the initial phase of testing early this fall," Joshi said. 
In July, the company raised $18 million via a Series C financing, bringing its total funding raised to $35.6 million. The firm anticipates that most of the funding will be allocated for the manufacturing of its TBI test and SARS-CoV-2 antigen test.