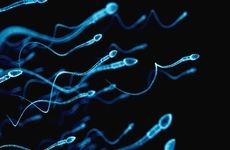 NEW YORK (360Dx) – A predictive test developed by Androvia LifeSciences has shown in clinical studies that it can outperform standard methods in measuring a man's fertility.
The assay was the subject of a recent prospective study published in the journal Molecular Reproduction and Development, which revealed that men who had a normal score on the new fertility test had a fourfold higher success rate at achieving pregnancy in a partner during their first attempt at intrauterine insemination over men with a low score.
According to Fady Sharara, a reproductive endocrinologist at the Virginia Center for Reproductive Medicine, the new test is a significant improvement over semen analysis, which has been the standard diagnostic tool for male infertility for several decades. "With this new test, we can move quickly from diagnosis and prediction of a man's fertility to discussing fertility treatment options, and that can save him a significant amount of time and money," said Sharara, an early adopter of the test, in an interview.
He said that knowing a man's Cap-Score, the percentage of sperm capable of producing fertilization as determined by localization of the ganglioside monosialotetrahexosylganglioside (GM1) lipid, can provide better insights into whether to direct couples to pursue intrauterine insemination, that can cost a few thousand dollars per treatment, or in vitro fertilization that can cost $12,000 or more per treatment.
Androvia's Cap-Score Male Fertility Assay is based on technology developed by Cornell University's College of Veterinary Medicine and licensed by New York City-based Androvia, which performs a laboratory-developed test in Mountainside, New Jersey. The laboratory is CLIA-certified, CAP-accredited, and has received Clinical Laboratory Evaluation Program (CLEP) clearance from New York state.
Cap-Score testing is currently being used by about a dozen clinics across the country to predict fertility and guide treatment. Urologists and other clinicians are also using the test to evaluate how different treatment regimens — such as nutritional supplements and surgery — can impact fertility.
The firm doesn't yet have a salesforce, but it is looking to achieve broader adoption of the test through its clinician network and educating third-party payors about its clinical utility.
"We are not currently charging for the test even though we have now exceeded 1,400 patients in just over a year and a half," Alexander Travis, professor of reproductive biology in the Department of Biomedical Sciences at Cornell and Androvia's cofounder and chief scientific officer, said in an interview. When firm decides to begin charging for the test, he said, clients will know in advance and the price point will be amenable to patients and physicians.
It has been important to establish the benefits of the test to the physician and the patient and at no charge, he said. "We would like to approach the payors with the data we have accumulated and have a discussion before establishing a price," he said, adding that payors are moving toward reimbursement for tests that demonstrate quality and improved outcomes, "which our data clearly show."
Currently, patient samples are shipped from a clinic or physician's office. However, the firm is also developing a home delivery system that would enable a patient to order a test at the firm's website and send the sample with a prescription directly to the Androvia laboratory.
In several research papers scientists have described the need for an accurate new diagnostic tool that measures a man's fertility, Travis said.
An opinion article, published in February in Human Reproduction, noted that for more than 50 years, there has been a "a lack of any real progress in developing robust methods for semen analysis, despite it being the cornerstone of infertility investigations."
Similarly, in a review article published in Fertility and Sterility, researchers at the Harbor-UCLA Medical Center noted that "routine semen analysis does not measure the fertilizing potential of spermatozoa and the complex changes that occur in the female reproductive tract before fertilization," and newer tests are needed to predict the success of fertilization in vitro.
The trouble with standard semen analysis is that it relies on descriptive parameters such as the number and concentration of sperm, their motility, and their morphology, all of which have limited predictive value, Travis said. "If the man has a low sperm count or the sperm has low motility, he is probably not going to be fertile, but men with those characteristics account for a very low percentage of the total population seeking to achieve fertilization, and overall these parameters don't lead you to a good understanding of a man's fertility."
The Cap-Score assay, by contrast, is a functional test based on capacitation — changes that occur in sperm cells as they migrate within the female reproductive tract and that enable them to fertilize female eggs.
The Cap Score tracks localization patterns of the GM1 lipid within the plasma membrane of human sperm. The pattern — tracked by obtaining images of changes in the sperm's fluorescence — is associated with the ability of the sperm to achieve capacitation.
To implement the Cap-Score assay, clinicians at a fertility clinic or a reproductive urologist's office, for example, conduct a standard semen evaluation for cell concentration, morphology, and motility. That is needed, Sharara said, mainly because clinicians and third-party payors are used to the traditional method of analyzing fertility and need time to complete their evaluation of the new system.
Following standard semen analysis, the clinicians add a fixative to the sperm sample and send it within a kit supplied by Androvia to the firm's laboratory in New Jersey.
There, Androvia's scientists use fluorescence microscopy to evaluate the location of the fluorescent signal in the sperm, and calculate the probability of a sperm achieving fertility. "Very different localization patterns are generated by cells that have undergone capacitation versus those that have not," Travis said.
In the Molecular Reproduction and Development study, clinicians collected semen samples from 208 men who had attended clinics with questions regarding their fertility. The clinicians separated the patients into a group of men predicted to have low fertility and another group predicted to have normal fertility based on their Cap-Scores. The clinicians obtained clinical outcomes for 91 of the original 208 men.
Men with normal Cap-Scores had an almost three times higher chance of achieving fertilization than men with low scores and more than four times higher success rate at achieving fertilization in their first attempt at intrauterine insemination. In the study, none of the elements of semen analysis — sperm morphology, motility, and concentration — showed any relationship with male fertility, the test developers said.
The test developers collected additional Cap-Scores and clinical outcomes from 124 men and generated a statistical curve that shows the probability of generating pregnancies based on the score.
Gianpiero Palermo, a professor of embryology in obstetrics and gynecology at Weill Cornell Medicine and a member of Androvia LifeSciences' clinical advisory team, said in an interview that it is too soon in the adoption cycle of the test to broadly quantify the clinical difference it is generating for patients. However, "as one of the early believers in the implementation and application of the procedure, I am very hopeful that this will be a tremendous tool" not only for clinicians but also to reduce uncertainty for patients. Further, the availability of the test can support reducing costs for these patients and for third-party payors because clinicians will be able to more precisely target fertility treatments, which will reduce reimbursements for unsuccessful procedures.
The ability to quantify the process that controls fertility within a sperm cell could also lead to new approaches to male contraception and help sperm banks improve how they handle and freeze sperm, Travis said.