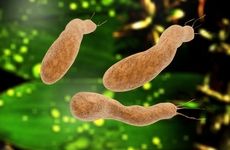 NEW YORK (360Dx) – Clinical guidelines that recommend noninvasive screening for Helicobacter pylori are among many factors contributing to rising sales of Exalenz Bioscience's point-of-care and laboratory breath test for the bacterial infection.
For the first half of this year, the firm reported a doubling in product sales for its BreathID Hp urea breath test, which has been available as a point-of-care diagnostic test since 2006 and was US Food and Drug Administration-cleared as a high-volume laboratory test in 2016. The uptick in sales may be a harbinger of greater adoption for breath testing in this application, Gavin Doree, Exalenz Bioscience vice president of sales and marketing, said in an interview.
In June, an update to a joint guideline of the American College of Gastroenterology and the Canadian Association of Gastroenterologyrecommended a noninvasive test for H. pylori, a type of bacteria that can live in the stomach and, eventually, cause dyspepsia or stomach cancer. The guideline, published in the American Journal of Gastroenterology, noted that clinicians should administer the test for patients who are less than 60 years old and suspected of having dyspepsia — a condition characterized by a group of upper gastrointestinal tract symptoms that include heartburn and nausea.
Doree said that his firm's sales would most likely rising further because of these guidelines but several factors are coming together to encourage revenue growth for noninvasive tests for H. pylori.
During H. pylori testing, a patient ingests 13C-urea, a synthetic urea contained in a granulated powder. In the presence of gastric H. pylori, a chemical reaction decomposes 13C-urea, which is absorbed in the patient's blood and exhaled by the breath, altering the patient's ratio of 13CO2 to 12CO2.
The Exalenz system consists of an electro-optical component and embedded software designed to measure and compute changes in the ratio of 13CO2 to 12CO2. In conducting its calculations, the system uses a technology called molecular correlation spectroscopy, which is based on optical absorption of specific radiation emitted from CO2 discharge lamps. The system tracks real-time changes in the isotope ratios at an accuracy level of single parts per million, and with 99 percent sensitivity and specificity.
In the absence of gastric H. pylori, 13C-urea doesn't produce 13CO2 in the stomach, and therefore the carbon isotope ratio is the same in the baseline test and the subsequent test, indicating a negative result.
Important stakeholders serving this segment of the market are switching from serological tests to breath or stool antigen tests for H. pylori bacteria, Doree said.
Quest Diagnostics, for example, offers a urea breath test for H. pylori, as well as other methods, including detection of H. pylori antigen in a stool sample or the use of an invasive upper gastrointestinal tract biopsy along with a histologic exam, rapid urease testing, or culture testing.
For breath diagnosis, Quest uses the BreathTek UBiT urea test supplied by Otsuka Pharmaceutical, among Exalenz Bioscience's closest competitors in breath testing, according to Doree. The Otsuka test, FDA cleared in 1996, offers a sensitivity of 95.2 percent and a specificity of 89.7 percent, Quest said. 
Quest noted that effective October 2015, it stopped offering H. pylori antibody-based serology testing because it "does not differentiate current or active infection from past infection and thus has an inferior negative-predictive value for diagnosis compared to stool antigen and urea breath tests," John Leake, a medical director for infectious diseases at Quest, said in an interview.
Leake noted that antibody tests also have a poor positive-predictive value in populations with low H. pylori prevalence, and serology tests cannot be used to confirm eradication of infection after treatment.
Either the stool antigen or the urea breath test should be used in place of antibody tests, he said. Both antigen and urease are present during infection, but not after resolution of the infection, Leake noted, adding that the tests can be used to diagnose active infection and to document H. pylori eradication after treatment.
The AGA and ACG also recommend both the urea breath and stool antigen tests as the most accurate noninvasive tests for diagnosis of H. pylori infection and for confirmation of eradication after therapy.
Doree noted that he expects that given the choice, patients will opt for the convenience of a breath test over the inconvenience of a stool test.
In the US, several insurers — Cigna, Aetna, Anthem Blue Cross Blue Shield, and Geisinger Health Plan, who reimburse for urea breath testing for H. pylori —have stopped reimbursing H. pylori serological tests.
Doree said that he expects that by the end of 2018 most insurers will stop paying for the serological test.
He noted that this combination of factors should have an impact on companies in the market offering non-serology tests for H. pylori, and that Exalenz is already starting to feel this effect.
For the first half of 2017, the firm reported revenues of almost $4 million, up from $1.9 million in the first half of 2016, and it is forecasting that revenues from the test will continue to double through the rest of this year and then again in 2018. Most of the revenue this year is attributed to the high-volume lab test, Doree said.
The firm is forecasting $25 million in revenues from its breath test in 2019, Doree said.   
Internal Exalenz estimates put the total available market for H. pylori breath tests at "several hundred million dollars per year."
The firm prices its POC analyzer starting at $9,500 and its laboratory analyzer starting at $25,000. Reagent prices for both analyzers start at $51 per test.  The Medicare reimbursement for CPT codes 83013, for breath test analysis, and 83014, for drug administration and sample collection, is $103.18 per test.
Exalenz, whose stock trades on the Tel-Aviv Stock Exchange, was established in 2006 as a spinoff from Oridion Systems, which Covidien acquired in 2012. The firm's controlling shareholder Mori Arkin, with 77 percent ownership, has invested NIS 100 million ($27.8 million) into Exalenz since 2007.
The firm said that it is discussions with US underwriters with a view to conducting an IPO on the Nasdaq stock exchange.
Exalenz is using its platform to develop three types of diagnostic tests for liver disease. A test for non-alcoholic steatohepatitis fatty-liver disease would analyze the severity of acute liver dysfunction; a predictive test for portal hypertension would screen for a common liver indication involving an increase in blood pressure within the portal venous system; and a test for acute liver failure would diagnose a rare condition reflecting the rapid loss of liver-cell function in patients without a prior history of liver indications.
Exalenz is providing companion diagnostics that support the development of liver disease therapies through collaborative initiatives with a few pharmaceutical companies, Doree said.
The diagnostic company's commercial objective is to begin rolling out cleared liver disease tests toward the beginning of 2018, and continue to launch tests for a few years thereafter, he added.