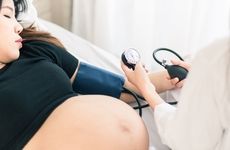 NEW YORK (360Dx) – Metabolomic Diagnostics is accelerating plans for next year's launch of a metabolic biomarker panel to detect preterm preeclampsia, part of its long-term strategy to provide interpretation of a broad panel of pregnancy risk markers from a single blood sample.
The firm this week announced that the European Union awarded €2 million ($2.4 million) to support its launch of the metabolite panel, PrePsia, which uses the four biomarkers along with mass spectrometry to calculate a pregnant woman's risk of developing preterm preeclampsia, a condition that kills thousands of mothers and babies each year.
The commercialization of PrePsia is the first component of a longer term strategic plan to develop a broader panel, Charles Garvey, CEO of Metabolomic Dx, said in an interview.
"From a single specimen and a single analysis on a mass spec instrument, we will eventually provide an interpretation using different combinations of biomarkers that reveal different things about what's happening during a woman's pregnancy," Garvey said. While the firm eventually expects to provide a diagnostic test that investigates subgroups of overall pregnancy risk, including the effect of obesity on preeclampsia, the firm is currently focusing on accelerating its go-to-market strategy for the PrePsia, which it intends to launch next year, he noted.
The test uses four metabolic markers because preeclampsia is syndromic and has several contributing factors. Each of the four markers by itself contributes little to the test's capability, but when the markers are combined they enable a sensitivity level of at least 90 percent, and do a better job of diagnosing the complex disease, Garvey said.
Because of its many contributing factors, preeclampsia is tricky to diagnose, he noted. Clinicians now realize that causes of the preterm form of the disease, which is most severe and occurs at less than 37 weeks into pregnancy, are generally believed to be related to placental abnormalities, Garvey said. Term preeclampsia, which occurs during the last four weeks of pregnancy, have more to do with general maternal health, he noted. To complicate matters further, clinical symptoms don't arise until four or five months after the onset of the preterm form of the disease.
"With PrePsia, clinicians will be able to identify early signals that something is not quite right with the woman's pregnancy," Garvey said. Next year, Metabolomic Dx expects to begin offering PrePsia as a commercial laboratory-developed test, and it is seeking collaborators interested in working with it to commercialize the test.
Using patient blood specimens taken 15 weeks into pregnancy, clinical laboratories with LC-MS/MS capabilities will produce quantitative measurements of the biomarkers, and a Metabolomic Dx algorithm will interpret the results, separating patient specimens into groups at high risk or low risk of preterm preeclampsia.
About a year ago, the firm's executives realized that they could successfully identify women with preterm preeclampsia in a commercial test at about the time an important study demonstrated an effective treatment, Garvey said. Women who are deemed to be at high risk of preterm preeclampsia can immediately benefit from taking aspirin, based on evidence produced by a multicenter clinical trial published last year in the New England Journal of Medicine. In the trial, taking 150 mg per day of aspirin from 11 weeks to 14 weeks until 36 weeks of gestation resulted in "a significantly lower incidence of preterm preeclampsia than that with placebo."
Metabolomic Dx has a plan in place for obtaining regulatory approvals. By 2020, the company expects to have CE marking for PrePsia, and by 2021 it expects to have clearance from the US Food and Drug Administration, Garvey said.
The firm will commercialize PrePsia with the European Union funding, which it secured under the Horizon 2020 SME Instrument, an initiative to accelerate growth in small- and medium-size companies. In June 2016, the firm raised €1.6 million in venture capital to complete development of the test, and in February 2015, it raised €750,000 in a second funding round that brought the total amount of investments in the firm at the time to €1.5 million. 
Garvey said that the firm is seeking collaborations with companies at opposite ends of the diagnostics supply chain — those who are discovering biomarkers that could complement Metabolomi Dx's own roster of markers, as well as others interested in work with the firm to commercialize its tests.
PrePsia, he said, has the potential to become part of pregnancy screening programs worldwide. According to Metabolomic Dx, preeclampsia is among the greatest risks that women face during pregnancy, claiming the lives of 75,000 mothers and 500,000 babies annually, and survivors have a lifelong increased risk of developing a range of health problems. When clinical symptoms escalate, clinicians try to prolong the pregnancy as much as possible, but the ultimate solution is to deliver the baby, and because that can come too soon, it's a primary reason for the death of the babies, Garvey said. Worldwide, about 140 million women become pregnant, and each should be screened for preterm preeclampsia, he said.
Pregnancy risk
The PrePsia test could broaden screening for preterm preeclampsia because it should be affordable enough that it puts testing in reach of more health centers, Garvey said. He noted that the company's ultimate mission is "to make pregnancies safer by identifying early in her pregnancy a woman's risk of developing complications later in her pregnancy."
The firm aspires to develop a capability that provides a personalized risk profile for a pregnant woman so that her clinician can use it to ensure the best possible outcome, and PrePsia is the first step toward achieving that objective, he said.  
"In general, where we are adding the most value is in the translational part of this process," he said. "It has taken five years to get to this first product, but now with the tools that we have developed, we can do similar projects a lot faster."
The firm is looking into identifying biomarkers that evaluate the effects of obesity on preterm preeclampsia and others that are linked to the broader area of preterm birth and its causes.
The early biomarker discovery work to detect preterm preeclampsia was conducted at University College Cork by Louise Kenny, a professor of obstetrics at the university, and Philip Baker, now dean of medicine at the University of Leicester. Kenny and Baker, who are also principal investigators with Metabolomic Dx, published a paper with colleagues in 2010 in the journal Hypertension about robust early pregnancy prediction of later preeclampsia using metabolomic biomarkers. Last November they teamed up to describe a method for interrogating receiver operating characteristic curves for assessing prognostic tests in the journal Diagnostic and Prognostic Research.
Over the next few months, the firm's investigators expect to publish two papers — one related to analytical techniques for measuring up to 70 metabolic markers in a single test using mass spectrometry, and a second related to the clinical utility of the PrePsia test, Garvey said.
Although its scientists have identified protein biomarkers suitable for disease diagnostics, it is predominantly a metabolomics firm, Garvey said. Its researchers have found that metabolomics has the most significant effect on diagnostic performance, and is particularly well suited to detecting syndromic diseases, he said.
Over the past five years, the company has built a set of analytical and bioinformatics tools to look at large numbers of metabolomic biomarkers and to interpret the results in a way that is specific to syndromic diseases, he said. Different biomarkers are sensitive to different subgroups of preeclampsia. "We are seeing that you can drill down further and analyze large numbers of biomarkers and be able to interpret the data in novel ways," he said.
To develop its tests, the company has been using the Agilent 6460 Triple Quad Mass Spectrometer, which Garvey said is one of Agilent's workhorse mass-spec instruments. Metabolomic Dx wanted to ensure that its service was compatible with use of "routine workhorse mass spectrometry tests for laboratories," Garvey said, adding that the expense or availability of mass spectrometry equipment in labs wouldn't restrain adoption. Most large labs are equipped to measure the firm's markers, and mass spec systems are becoming more common in labs, he said.
Garvey noted that other than screening diagnostic services offered by PerkinElmer, he is not aware of other firms offering testing that will compete with PrePsia. PerkinElmer offers a preeclampsia screening service to physicians through its labs in Melville, New York. According to the firm, its screening test measures three biochemical markers in the mother's serum associated with preeclampsia: PAPP-A (pregnancy-associated plasma protein-A); PlGF (placental growth factor) and AFP (alpha fetoprotein). Together, these markers can contribute to accurate prediction of risk for early onset pre-eclampsia, the firm said.
University researchers are also actively investigating preeclampsia diagnostics. For example, University of California, San Diego researchers are developing technology to noninvasively detect both protein and microRNA biomarkers that can signal potential complications in pregnancy impacting maternal and fetal morbidity and mortality. The researchers are collaborating with Sera Prognostics, which will provide insights into biomarker selection gleaned from its mass spec studies and literature analyses.
In 2017, LifeCodexx and Charité–University Medicine Berlin announced that they had partnered to develop an assay for the early detection of preeclampsia. The planned test will be based on LifeCodexx's methylation-specific quantitative PCR technology, which exploits the different methylation profiles of maternal and fetal DNA found in maternal plasma.
In the same year, a team of researchers from the UK, Iceland, Finland, Norway, Kazakhstan, and Uzbekistan, writing in Nature Genetics, said that they had uncovered variants near the FLT1 gene that were associated with preeclampsia risk in mothers. They further found that this association was strongest among children whose mothers developed preeclampsia late in pregnancy.