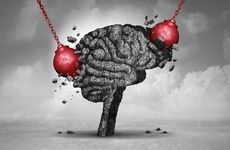 NEW YORK – Sports organizations and paramedics need effective diagnostic tests that they can use at the point of care to decide quickly how to respond to a suspected concussion.
To address this need, Medicortex Finland is developing a diagnostic testing platform that uses an undisclosed glycan molecule marker whose levels were elevated in testing samples from brain-injury patients during two clinical studies, according to the firm's CEO Adrian Harel.
By enabling users to see a color change, the test, called ProbTBI, may enable sports teams and paramedics who are helping civilians or military personnel with suspected head injuries to quickly decide whether there's a concussion or not, Harel said.
Though the device is currently a proof-of-concept test demonstrated in the laboratory, Medicortex is using its findings as the basis of an inexpensive lateral flow test that changes color similar to a pregnancy test.
In a patent filing with the World Intellectual Property Organization, the firm described its test as a noninvasive brain injury diagnostic device that includes an indicator formulation on a porous matrix. The matrix consists of at least one lectin or antibody capable of selectively binding to the glycan-based biomarker that is indicative of brain injury.
Harel declined to provide additional details about the technology, citing confidentiality for competitive reasons, but he said particulars, including the name of the glycan biomarker, would be made available after the firm receives its first regulatory clearance.
The firm, based in Turku, Finland recently announced that it had received a $1.1 million grant from the US Department of Defense and anticipates using the funding to continue with the development of its rapid detection kit for use by civilian and military paramedics and others. The grant was awarded by the US Army Medical Research and Materiel Command, or USAMRMC, through the congressionally directed Combat Casualty Care Research Program.
The company anticipates engaging with an undisclosed US-based partner to move the test closer to commercialization and integrate it into a lateral flow format, Harel said.
Most biomarker tests in development for concussion detection use blood as a biomarker. Medicortex tested its assay using blood but decided to eliminate the sample type from its product development plans because obtaining a blood sample can slow down testing for brain injury at the point of care, Harel said.
Instead, the Medicortex test will operate from a urine sample or from a saliva coating on a lollipop, a design that should prove beneficial for healthcare workers looking to quickly and easily obtain a sample so that they can diagnose children with suspected brain injuries, he said.
Though it needs to take its test through further clinical studies, Medicortex anticipates pursuing CE marking so that it can market the device in European countries. Targeting CE marking will be "easier, cheaper, and quicker" than obtaining US Food and Drug Administration clearance for marketing in the US, Harel said. However, after the firm has launched the test in Europe, it anticipates doing post market validation studies that would enable it to apply for regulatory clearance in other geographic regions, such as the US, that require a larger number of clinical samples than have been used in the current studies.
Last year, the company inked a deal with Pro-Lab Diagnostics, based in Richmond Hill, Ontario, aimed at commercializing the brain injury detection kit in Canada. Under the terms of the agreement, Pro-Lab will be responsible for clinical validation and distribution of the kit in that country in return for royalties.
With a view to obtaining regulatory clearances, Harel and his colleagues have evaluated the proof-of-concept test with urine, saliva, and blood samples provided by Turku University Hospital and taken from 12 healthy volunteers and 12 patients with brain injuries.
In the clinical study the firm saw elevated levels of the target glycan molecule in patients with brain injuries but not in healthy volunteers. Further, the investigators saw elevated levels during a second study of samples from 24 patients with brain injuries but no elevation of the marker in 29 healthy volunteers and 60 patients with orthopedic injuries.
Medicortex is preparing to participate in another study in which it will test samples from 24 children with brain injuries and 24 children who are healthy. All of the clinical studies completed so far have involved adults who are 18 years, or older. Children need to have their own clinical studies, Harel said.
Harel noted that when he first began seeking capital to develop his point-of-care diagnostic test for brain injury a few years ago, he encountered financial backers who were hesitant to invest in a concussion test. However, in recent years, investors' attitudes toward the clinical and economic potential for the Medicortex test has shifted, he said.
The potential market size for concussion-related diagnostic testing is significant with nearly 5 million people in the US visiting emergency departments for evaluation of head injuries each year, and up to 90 percent of the injuries subsequently classified as mild traumatic brain injury.
An increasing number of companies has announced plans to develop tests using mild traumatic brain injury biomarkers.
Richmond, Virginia-based BrainBox Solutions is positioning its tests for use after a CT scan to identify patients with mTBI missed by the head CT and to aid in monitoring those patients for adverse effects. ImmunArray spun off BrainBox in 2018 behind an $18 million Series A funding, and the firm received FDA Breakthrough Device Designation in June this year.
BrainBox Solutions CEO Donna Edmonds said in an interview that her scientific team believes the Medicortex test cannot be developed as a standalone diagnostic for concussions.
Glycans are nonspecific biomarkers "involved in a myriad of biological processes and therefore can't be considered standalone biomarkers" in this application, she said.
Brain biology is so complex that an effective diagnostic test requires use of "probably between three and five biomarkers," Edmonds said. "I wouldn't discount saliva and urine as additional samples, but [by themselves] they are not going to provide accuracy for brain injury. Blood provides an earlier and more complete picture."
Abbott is also developing a TBI test and in a paper published on Friday in The Lancet Neurology, researchers participating in a prospective multicenter study reported encouraging results from the analysis of glial fibrillary acidic protein (GFAP) concentrations in blood. They used prototype research assays on the Abbott iStat point-of-care platform within 24 hours of injury. The study shows that such a test might improve detection of traumatic brain injury and identify patients who might need subsequent MRI and follow-up, the researchers said.
With the National Institutes of Health, the US Department of Defense is also partnering with Abbott to launch a clinical study that will evaluate a point-of-care blood test for traumatic brain injury.
In March, the US Army awarded Abbott a contract worth more than $35.2 million to develop the assay, extending an $11.3 million contract awarded in 2017. 
Beth McQuiston, a neurologist and medical director for diagnostics at Abbott, said in an interview that following a decade of research from DoD, the firm is developing a blood test using GFAP and UCH-L1 on its next generation i-Stat Alinity point of care platform to help doctors assess brain injury.
"The one important thing is that any technology being used, considered, or being introduced into the standard of care should be built on robust proven research and validation," McQuiston said. The new research published in The Lancet Neurology, "shows blood tests have the potential to help physicians triage patients suspected of brain injury quickly and accurately to get them back to better health," she said.
Other companies developing TBI tests include Quanterix, ABCDx, and BioDirection.
Despite the various work aimed at developing TBI tests, only one firm has received FDA's nod to market a test. Last year, the agency allowed Banyan Biomarkers to begin marketing its Brain Trauma Indicator, which measures the levels of the protein UCH-L1 and GFAP, to evaluate mild mTBI.
Along with the ProbTBI assay and based on its biomarker research, Medicortex anticipates developing a drug that takes aim at halting the progression of brain injury. However, for now, the firm has a focus on further developing and commercializing its glycan biomarker tool and anticipates a prototype diagnostic kit could be available in about two years.