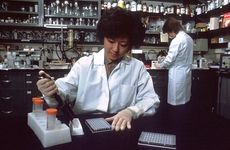 NEW YORK (360Dx) – While molecular diagnostics may be a fast-growing segment in the in vitro diagnostics space, industry analysts and executives from the leading companies note that immunochemistry diagnostics continues to drive revenue growth for IVD firms.
Next to immunochemistry, molecular diagnostics and point-of-care, which encompasses both immunochemistry and MDx tests, are among the fastest growing segments.
Piper Jaffray analyst William Quirk said in an interview that he believes that a lot of the dominance of immunohistochemistry "has to do with assay development across what I would consider to be the central lab, which includes the five principle diagnostic methodologies — immunochemistry, clinical chemistry, hematology, coagulation, and microbiology."
He noted that immunochemistry assays have "received a fair amount of R&D support," so a relatively regular flow of new tests has been added to a number of new systems.
"Additionally, you've seen an expansion of that methodology into parts of the developing world, so there's been multifaceted growth drivers for that particular segment," Quirk said.
The immunochemistry and molecular segments are seeing significant growth and in some cases, there is a shift from immunochemistry methods to molecular, particularly in sexually transmitted disease testing, Quirk said. Similarly, there is a shift from some microbiology methods to molecular in bacterial testing, he added.  
Nonetheless, Quirk noted that he does not consider the interplay between molecular and immunochemistry to be a zero-sum game, as both methods can provide complementary information.
According to Piper Jaffray estimates, in 2015, the molecular diagnostics industry was valued at $7.3 billion, growing 11.5 percent in constant currency from 2014. In 2016, it grew in the range of high-single digits to low-double digits, Quirk said, which puts estimates for the size of the molecular diagnostics segment at around $8 billion at the high end of the range.
According to Frost & Sullivan analyst Divyaa Ravishankar, the global IVD market was worth $62.3 billion last year. Of that, immunochemistry revenues comprised the lion's share, or 41.5 percent of total revenues in the space, with a compound annual growth rate of 7 percent.
Point-of-care diagnostic tests, which in some cases include molecular tests, accounted for 13 percent of the global IVD market, she added.
From a geographic perspective, the US led the way in 2016 with a 31 percent share of the world market for diagnostics, followed by Western Europe with 26 percent, and the Asia-Pacific region with 17 percent of the revenues, Ravishankar said.
Ravishankar noted that immunohistochemistry testing is dominating the growing area of companion diagnostics, and she sees "the pairing of drugs and diagnostics" as having a significant impact on the IVD industry.
Market leaders
In the IVD space, Roche is recognized as the leader and during the American Association for Clinical Chemistry Annual Scientific Meeting last summer, the firm noted that it held a 20 percent share of the space, while its competitors Abbott had an 11 percent share, Siemens 9 percent, and Danaher 8 percent. The remaining companies held a 52 percent share among them.
In recent conference calls to discuss their financial results, both Roche and Abbott talked at length about their diagnostics businesses.
In 2016, Roche's diagnostics division reported revenues of CHF11.47 billion ($11.4 billion), up 6 percent from CHF10.81 billion in the prior year.
Within Roche Diagnostics, centralized and point-of-care solutions recorded CHF6.70 billion in revenues in 2016, a growth of CHF523 million, or 8 percent, compared to 2015. Immunodiagnostics product revenues, part of the firm's centralized and point-of-care solutions segment, were up 13 percent year over year. Companion diagnostics sales, part of tissue diagnostics, surged by 46 percent.
Roland Diggelmann, CEO of Roche Diagnostics, said during a webcast after the release of the firm's 2016 earnings that revenues from the centralized, molecular, and tissue segments of the diagnostics business grew 9 percent, which is "far ahead of the market," and these segments contributed CHF700 million in additional sales in 2016.
Reflecting on the company's point-of-care and molecular businesses, he said that the company's Liat, lab-in-a-tube diagnostic test platform — "the only point-of-care solution that can do a PCR reaction with lab-like results" — has been well-received by the market since it was introduced at the end of 2014.
He also noted that the firm has an US Food and Drug Administration-cleared and CE-marked full respiratory panel running on the Liat, and that the full panel was a necessary component in finding customers for the instrument.
"We've focused deliberately only on the US," Diggelmann said, and added that the company not only knew it needed to have the respiratory panel running on the LIAT, but it also wanted to make sure it "got the US right," because it represents the largest geographic market for this type of test.
Roche said that it has plans to expand the instrument's menu to include testing for hospital acquired infections, and, later, infectious diseases. Because the flu season has been "less pronounced than in previous years," uptake had been "a bit softer" than anticipated, he added.
Providing a view of investments into potential future products, Diggelmann said that Roche Diagnostics R&D spending was up 9 percent over 2015 to CHF 1.33 billion, but it will not increase at the same rate going forward. The company will continue to invest in R&D for existing businesses, he said, but the firm's investment priority is in sequencing. "There's been a significant increase in sequencing as we continue to grow that franchise, and we want to build an end-to-end solution" for that technology, he added.
For the overall industry, however, Ravishankar said that during the next two to three years, "we expect that most of the innovation in the IVD industry will go into point-of-care and molecular testing." Some innovation is emerging in clinical microbiology where automation is reshaping what was an "old-school" segment that has traditionally relied heavily on manual methods, she added.
Automation emerged as a key driver for Abbott's product launches in 2016. The company initiated the global launch of Alinity, an integrated family of next-generation diagnostic systems, and in Q4, it obtained the CE mark for its point-of-care, immunoassay, clinical chemistry, and blood screening systems, and launched them in Europe.
On a conference call to discuss 2016 financial results, Abbott CEO Myles White said that the next-generation systems would provide automation, throughput, space efficiency, and ease-of-use in response to customer challenges related to higher testing volumes, constrained staffing and space, and complex, disparate processes and instruments.
"Over the next couple of years, we'll launch the full Alinity suite across Europe and into additional geographies including the US in the 2018 timeframe," he said, and added that the launch represented an unprecedented level of innovation and extremely ambitious undertaking that would strengthen the firm's competitive position in years to come.
Continued adoption of Abbott's i-STAT handheld system in the US, and ongoing international market expansion, drove point-of-care sales growth in the fourth quarter, the firm said.
Abbott saw significant growth in point-of-care diagnostics in 2016, but molecular sales were down a notch.
Molecular diagnostics sales totaled $456 million, down 2 percent on a reported basis from 2015. Core laboratory sales were $3.84 billion, up 4 percent from 2015. And point-of-care sales were $513 million, up around 9 percent from the prior-year period.
Its worldwide diagnostics sales for 2016 were $4.81 billion, up 4 percent on a reported basis from the year-ago period.
In a recent 10k filing with the US Securities and Exchange Commission, Abbott noted that it achieved continued market penetration by "the core laboratory business in the US and China, and growth in other emerging markets, most notably in Latin America" over the last three years. The firm added that the point-of-care diagnostics business continued to expand its geographic presence in targeted developed and emerging markets.
Abbott said that excluding the unfavorable impact of foreign exchange, total diagnostic products sales in the past two years "were primarily driven by share gains in the core laboratory and point-of-care market segment in the US and internationally," and added that immunochemistry products was the largest category in this segment. The firm reported that in 2016, its immunochemistry business revenues were $3.68 billion, up 6 percent from 2015 excluding the effects of foreign exchange.