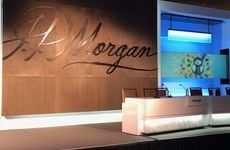 SAN FRANCISCO (GenomeWeb) - The 36th annual JP Morgan Healthcare Conference wrapped up on Thursday here with Natera and Luminex presenting. Reports from day one, day two, and day three can be found here, here, and here.
Luminex
Luminex President and CEO Homi Shamir was bullish about the company's molecular diagnostics business, driven by the company's acquisition of Nanosphere in mid-2016, the continued expected growth of Luminex's sample-to-answer platforms, and the development of the Verigene 2 instrument.
Earlier in the week, the firm reported preliminary full-year 2017 revenues of more than $306 million. At his presentation on Thursday, he noted that its Licensed Technology Group recorded preliminary revenues of $142 million, which would represent mid-single digit growth year over year. 
Meanwhile, the Molecular Diagnostics Group is anticipated to post $162 million in revenues for 2017, which would represent a 25 percent year-over-year increase, Shamir said, adding that historically the LTG business historically has been the bigger business, but recently, MDx has become the main revenue generator.
Between 80 and 85 percent of MDx revenues come from Luminex's razor-razor blade business model, which Shamir said that the company will continue to invest in, as it provides Luminex with stability and the ability to better predict demand and revenues for the future. For 2017, sample-to-answer MDx revenues are estimated to be $47 million, up 48 percent from $32 million in 2016, Shamir said, including $18 million in Q4, a 40 percent year-over-year increase.
Some of that growth can be attributed to the Nanosphere deal, which added the Verigene system to Luminex's MDx portfolio, and provided the company a full year's worth of Verigene-related revenues in 2017, compared to about a half-year's worth in 2016.
Luminex is in the midst of developing the Verigene 2 platform and Shamir said that the company plans to launch the new system early next year, with clinical trials for Verigene 2 expected this year. During Luminex's Q2 2017 earnings conference call, he noted that the firm would delay those trials citing several reasons, including the acceptance and success of Verigene; an objective to reduce cartridge failure rates for Verigene 2 below 5 percent prior to starting clinical trials; and uncertainty related to pricing and reimbursement for molecular panels caused by a recent non-coverage draft decision on large syndromic respiratory and gastrointestinal test panels by Palmetto GBA, a Medicare contractor. 
After Verigene 2 is launched, and a few assays are made available to run on the platform, Luminex will stop marketing the original Verigene platform, Shamir said on Thursday. Meanwhile, more than 220 Verigene and Aries systems have been placed under contract, he said, with more than 425 active customers. The average annual revenue per active customer for Verigene is $95,000, and $45,000 for Aries. 
On Aries, Shamir said that the main growth drivers this year will be methicillin-resistant Staphylococcus aureus, and C. difficile. In 2018, Luminex expects to run seven clinical trials targeting its sample-to-answer systems, four for Aries and three for Verigene 2. 
Of the LTG business, the company has sold about 14,900 systems to date, and Shamir said that Luminex has more than 70 partners investing in the technology. The business has been growing at a stable rate and is highly profitable, he added.
The five-year revenue target for LTG is between $175 million and $400 million, while the five-year target for MDx is between $250 million and $300 million, for a total companywide range of $425 million to $500 million, Shamir said.
Natera
Natera is optimistic about demand for its cell-free DNA assay, Signatera, and has already signed deals with eight unnamed pharmaceutical companies with roughly another seven or eight deals in the works, CEO Matt Rabinowitz said during his presentation.
The trials with pharmaceutical companies span a wide range, Rabinowitz said, including using the assay to identify disease recurrence, and thus begin treatment earlier; to assess therapy response, in the neoadjuvant setting to assess personalized therapies; and to optimize patient selection for clinical trials.
Rabinowitz said that there's been especially strong interest from pharmaceutical companies developing personalized cancer vaccines as well as in the immunotherapy space.
The company is separately initiating collaborations with academic partners to validate Signatera in different clinical settings. Those have been especially fruitful since in many cases principal investigators have longitudinal patient samples that enable Natera to retrospectively test its assay.
Steve Chapman, Natera's chief operating officer, elaborated in an interview following the presentation that such studies have included, for example, a cohort of 150 patients with blood collected serially at 400 time points and another with up to 300 patients and 900 time points. "Each one of those would have been three to four years of work," he said. But, because the samples were already available, Natera and its collaborators will be able to start reporting results this year.
The firm is first looking to demonstrate Signatera's assay in niche indications where it will have a high economic benefit. For instance, Chapman said, one area will be muscle invasive bladder cancer. Currently, physicians must determine whether a patient has responded, or not, to therapy; and if the patient has not responded, or is at high risk for recurrence, whether removing the bladder could be a primary option. This can be a $20,000 life-altering surgery. "The idea with Signatera is to help the doctor determine if the therapy is working," Chapman said.
Aside from oncology, Natera plans to launch new products in the women's health space. Its current products – including its noninvasive prenatal tests, carrier screening test, and cord blood banking service – encompass a $10 billion total addressable market in the US, Rabinowitz estimated. However, the total addressable market for women's health in general, is estimated to be more than $15 billion, and the additional products would tap into that remaining $5 billion market. He did not disclose what those products would be or a timeline for their launch.
As previously reported, the company is eventually interested in entering the consumer market, Rabinowitz said.
He also reported the firm's preliminary full year 2017 testing volume at 551,000 tests.
Oxford Immunotec
While Oxford Immunotec is eyeing the autoimmune/inflammatory and immune oncology markets as future growth drivers, for now the firm's main focus remains in tuberculosis testing and tick-borne disease testing, CEO Peter Wrighton-Smith said. 
TB is a $1 billion market opportunity for the firm, and in particular, the company sees an underpenetrated latent TB market opportunity. Oxford Immunotec markets its T.Spot.TB test, an interferon gamma release assay (IGRA), for latent TB, and according to Wrighton-Smith, IGRA testing has only about a 20 percent market-penetration rate. 
To increase that, Oxford Immunotec plans on expanding the number of sales personnel targeting TB, while also increasing other resources to that business. It also plans to expand its efforts in Asia, where South Korea issued new screening guidelines in 2017, and China expanded its TB testing guidelines.
The company also will leverage testing guidelines developed a year ago in the US, and enter new markets and segments, Wrighton-Smith said. 
He further noted reimbursement changes in France, as well as in the US, and said that the company plans on improving its test flow and automation components to grow out its TB business.
Last month, Oxford Immunotec and Qiagen settled a patent infringement lawsuit, under which Oxford Immunotec is granting Qiagen a royalty-free, non-exclusive license that extends to all current and future customers of Qiagen's QuantiFEROn-TB Gold and QuantiFERON-TB Gold Plus in exchange for a one-time, lump-sum payment of $27.5 million.
In tick-borne diseases, Wrighton-Smith said that the US alone represents a $400 million to $500 million total addressable market and said that the number of such cases reported are probably underreported due to misdiagnosis, nondiagnosis, or other reasons.
In 2016, Oxford Immunotec acquired Imugen's PCR test for detecting a range of tick-borne diseases, including Lyme disease, babesiosis, anaplasmosis, and ehrlichiosis, in preparation of its push into the space.
As it proceeds, Oxford Immunotec's focus will be on sensitive tests for the early detection of disease. "We still see ourselves in the very early innings," Wrighton-Smith said, and the company's multiyear plan in the space includes building its test menu; publications in support of its products; educating clinicians and patients; influencing guideline updates; and engaging with thought leaders. 
The company has in its late-stage pipeline a test for babesia blood screening, to be marketed under the Imugen and Immunetics brand. Oxford already has three assays for blood donor screening, Wrighton-Smith said.
The firm hopes to obtain babesia lysate antigen-approval from the US Food and Drug Administration this year, and potential draft guidance from the agency on tick-borne screening. 
Also in the company's pipeline is as cytomegalovirus assay, and Oxford Immunotec plans on publishing clinical data on its T.Spot.CMV assay, Wrighton-Smith said.
Earlier in the week, Oxford Immunotec announced preliminary fourth quarter revenues of between $24.9 and $25.4 million.