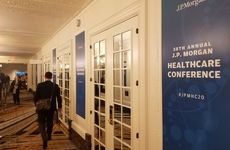 SAN FRANCISCO – The 38th annual JP Morgan Healthcare Conference wrapped up on Thursday here with a handful of diagnostics and biotech companies presenting. Below are brief reports on the presentations and breakout sessions of Biocartis and Oxford Immunotec covered by our reporter at the conference. For our previous coverage this week, please see this page on our site.
Biocartis
Biocartis CEO Herman Verrelst said his firm is well positioned through continued menu expansion and new partnerships to achieve "substantial volume growth" over the next few years.   
The Belgium-based molecular diagnostic test developer placed 337 new instruments in 2019, well within its guidance, he noted.
As of Dec, 31, the installed base of its Idylla molecular diagnostic instruments reached 1,310, and the number of cartridge sales hit 175,000, representing a year-over-year increase of 32 percent.
In 2019, Verrelst noted, the firm received CE-IVD marking for and launched the Idylla MSI Test and launched the Idylla ctEGFR Mutation Assay on a research-use-only basis. The company also announced a collaboration agreement with Bristol-Myers Squibb focused on MSI testing and inked a commercialization agreement with Kite, a Gilead Sciences subsidiary, aimed at development of molecular-based assays on the Idylla platform to support Kite's therapies.
The agreement with Kite is part of Biocartis' ongoing plans to expand its presence in oncology with a series of immunotherapy and liquid biopsy assays on the Idylla platform, Verrelst said.
He said that with a high double-digit growth rate each year, oncology is the fastest growing segment of a global MDx market worth $6.5 billion.
Biocartis' partnership with Genomic Health will add high value genomic signatures to its menu, and partnerships with pharma giants, such as Amgen, Merck KGaA, AstraZeneca, Bristol-Myers Squibb, and Kite, are providing further validation of its technology.
The firm rolled out a go-to market strategy for the US in the third quarter of 2019 that involved establishing a direct sales team to drive commercialization, Verrelst said.
In partnership with Nichirei Biosciences during Q4, Biocartis completed registration of the Idylla instrument and console with Japan's Pharmaceuticals and Medical Devices Agency. Nichirei is marketing the platform in combination with Idylla research-use-only assays to local pathology laboratories in Japan.
The molecular diagnostic test developer also completed a joint venture with Wondfo in Q1 2019, with the aim of achieving Chinese market penetration. Under the terms of the deal, the two companies will share a 50/50-owned joint venture that will license Biocartis' Idylla platform in China.
For 2020, the firm is expecting US market clearance for its Idylla MSI Test for colorectal cancer via a 510(k) submission to the US Food and Drug Administration.
Oxford Immunotec
Oxford Immunotec's partnership with Quest Diagnostics is proceeding according to plan and enabling placement of its tests in previously underserved settings, Peter Wrighton-Smith, the firm's founder and CEO, said Thursday. 
"The whole premise of the transaction for us was to increase our reach and access in the US market," Wrighton-Smith said.
One of Immunotec's concerns was whether as a small entity partnering with a larger company it would "get the degree of attention and commitment that you would like for your product."
In November 2018, Quest Diagnostics closed the acquisition of Oxford Immunotec's US laboratory testing business for $170 million in cash.
As part of the transaction, Oxford Immunotec is selling its T-Spot.TB test kits and related accessories to Quest through a long-term supply agreement. In addition, the parties have entered into a strategic collaboration agreement to drive continued growth of T-Spot.TB testing in the US.
More than a year after the transaction, it is clear that Quest has done a "a phenomenal job" with the integration of Immunotec's business into its processes, he said. "We're eagerly waiting to see the net result of those steps in terms of improved revenue growth in the US and improved access to the market," he added during a breakout session after his presentation Thursday.
Oxford Immunotec received test orders from 19,000 new providers in 2019, he said, "a hopeful sign for the future that indeed demonstrates that Quest can give us access to part of the market we didn't have before."
Wrighton-Smith said during his presentation that the US provides the largest single addressable market for latent tuberculosis screening at around 17 million tests per year. Quest is helping it penetrate a segment of that market, physicians' offices and clinics, which provides the potential for large growth but also has been largely underpenetrated, he said. Oxford Immunotec believes the size of that market segment is about 7.3 million tests per year for its T-Spot.TB test, which is an interferon-gamma release assay (IGRA).
Though the firm is focused squarely on further penetrating markets for TB testing, IGRA technology is enabling Oxford Immunotec to develop other medical testing applications, Wrighton-Smith said.
At the root of the firm's TB test is a technology to measure the function of effector T cells that are prominent in a host of human diseases and disease processes, he said, adding that "there is a potential for wide application of that technology in different disease areas."
The firm has started to develop a test to measure infections, such as cytomegalovirus, in patients who have received transplants. In that application, the technology is measuring the immune response against opportunistic infections, Wrighton-Smith said.