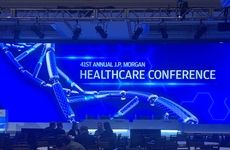 SAN FRANCISCO – The 41st Annual JP Morgan Healthcare Conference continued with more firms in the diagnostics and genomics tools spaces providing updates on their businesses. 
Below are brief reports on individual presentations from the conference on Wednesday. Summaries from Day 1 and Day 2 are available here and here. 
Invitae 
Invitae CEO Ken Knight said that over the coming year, the company will move away from a broad and "somewhat disconnected" portfolio of individual tests to an integrated and connected portfolio of solutions, in which competitive advantages will come from synergies between patient services, enriched data, and sales and marketing. He also said Invitae would be focusing on high-margin, long-term growth opportunities, in keeping with its rationale for pulling out of numerous businesses and geographies over the past year. 
Knight said that the company's portfolio is stabilizing and that Invitae plans to "double down" on its oncology franchise. To this end, it plans to make improvements to its oncology and pharmacogenomics offerings with respect to predicting therapy response and disease recurrence; identifying potentially dangerous drug-gene interactions; and introducing additional digital tools to help clinicians reach diagnoses. 
Invitae's patient base has grown to over 3 million, with data from more than 2 million available for sharing. The company expects its data-sharing policies, such as a greater focus on transparency and enabling patients to control their data, to bolster consumer and client confidence and to help drive more business volume. It will also help achieve the company's goal of moving from a "one test, one patient" model to one described as "one test, many patients." 
"The ability to leverage the data from our integrated network will allow for collective insights for many patients to provide multiple solutions for multiple use cases and customer types," Knight said. 
Another potential tailwind over the coming year may come from a trend toward shorter intervals between guideline inclusion and reimbursement. 
"What we're seeing is that the path from guideline to adoption to reimbursement is shrinking," Knight said, adding that the company's reimbursement rate in its hereditary cancer business is "very strong." 
Finally, while Knight mentioned that Invitae had not built a 2023 plan that is dependent upon high minimal residual disease testing revenue, the company's MRD business nonetheless shows growth potential, differentiating itself from competitors via "specific aspects" of how patients and tumor samples are analyzed. 
"Our analytical studies have shown that the performance of our product is as good if not better than anybody else's," Knight said, "and we're looking forward to getting clinical validation to confirm that." 
Bio-Rad Laboratories 
Bio-Rad Laboratories President and CEO Norman Schwartz on Tuesday touted the firm's new wave of instruments, including a single-cell analysis platform to be launched before the end of the year, and company officials addressed macroeconomic conditions including supply chain issues and inflation. 
Schwartz mentioned by name the QX One, QX600, and QX Continuum PCR instruments. 
The QX 600 "really sets a new standard for multiplexed rare event detection," he said, while the QX Continuum, a "lower-end [droplet digital PCR] system" due out later this year, could even be making an impact in the qPCR market. 
Overall, the firm sees the ddPCR market as a $10 billion opportunity, split between its clinical diagnostics and life sciences businesses. "A significant portion of the diagnostics world is molecular, PCR-based," he said. "We've got product development initiatives to pursue and access that. It's going to take a few years to get the product introductions initiated, but we see it as a great opportunity." 
Bio-Rad officials did not provide more details about the single-cell instrument, except to say that it could be introduced "towards the end of the year." The firm acquired single-cell analysis firm Celsee in 2020. 
As company officials discussed new products, the firm is dealing with a backlog of orders caused by supply chain disruptions. "In spite of the macro challenges of the last year, we all feel good about where we're headed," Schwartz said. "I think we're making measurable progress … customers, to a large extent, have been very patient while we work to get their orders filled." 
During the Q&A session, Chief Operating Officer Andrew Last suggested that working through the backlog on the clinical side would be more challenging, and it could persist through the first half of the year. "Alternative sources have to be fully validated," he said, and the products are more complex and take longer to build. Order cancellations have not been a material factor to Bio-Rad, though, he said. 
Bio-Techne 
Bio-Techne CFO Jim Hippel noted in his presentation that the company aims for about $2 billion in revenues within five years with a compound annual growth rate of 7 percent in core products, such as antibodies and diagnostics reagents and controls, 15 percent in proteomic analytical instruments, 18 percent in spatial biology, and 50 percent in liquid biopsy and molecular products and cell culture and gene therapy. 
The company has seen users of its proteomic analytical instruments expand their applications, particularly in cell and gene therapy and diagnostics. Hippel cited the Simple Western instrument, which has traditionally provided fully automated western blot testing, expanding to more quantitative immunoassays and mentioned that the Simple Plex machine for automated multiplexing of ELISA for research use could make inroads into the clinical diagnostics market. 
And in the liquid biopsy and molecular sphere, the firm's flagship ExoDX Prostate Test has seen 100 percent growth each quarter over the last six to seven quarters after a bumpy road during the COVID-19 pandemic. Hippel said Bio-Techne has a huge target market in the prostate cancer space as only 15 percent of urologists have used the test, and there is an opportunity for continued growth by increasing the usage rate of the assay by urologist per quarter. 
Opko Health
Opko President and Vice Chairman Elias Zerhouni emphasized in his presentation the transformational year the company and its subsidiary BioReference Laboratories had in 2022 as COVID-19 testing declined significantly and the business returned back to its core and specialty diagnostics segments of oncology, women's health, and urology. BioReference's COVID-19 testing dramatically stopped growing as a result of both a slowdown in the pandemic and the increase in at-home tests, which ate into lab-based PCR testing such as that offered by BioReference. 
BioReference underwent a cost restructuring program that reduced the number of full-time employees from 8,000 to 3,100, Zerhouni noted, and reduced its infrastructure costs by $100 million in 2022. 
Almost exactly a year ago, Opko also reached a deal to sell its molecular diagnostics business GeneDx to Sema4 for $623 million. 
BioReference has a wide testing menu of more than 3,000 tests but is also focusing on its high-growth, high-margin specialty diagnostics, as well as strategic ventures. Each segment is growing more than 10 percent per year, and about 50 percent of the business is strategically focused on high-growth areas, Zerhouni said.