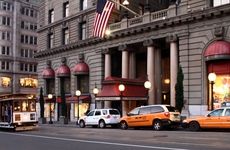 SAN FRANCISCO – The 41st Annual JP Morgan Healthcare Conference is being held here in person again after going virtual in 2022 due to the coronavirus pandemic. On the first day, a bolus of companies in the diagnostics and genomics tools market provided updates to their businesses and previewed what may be coming down the pike. 
Below are brief reports on individual presentations from the conference on Monday. 
Guardant Health 
Guardant Health executives emphasized the deployment of the company's so-called "smart" liquid biopsy platform, which Cofounder and co-CEO Helmy Eltoukhy called a "quantum leap forward." The platform combines liquid biopsy with new multimodal chemistry that allows one to see genomics and epigenomics data simultaneously to improve performance, making it 50 times more sensitive than Guardant360 CDx and expanding the breadth of genomic data at the same cost of goods. 
The Guardant Shield screening test and GuardantInfinity research test already utilize the technology, and Eltoukhy announced that Guardant Reveal will be upgraded to the platform this year. The upgrade will provide a "massive sensitivity boost" by looking at more than 1,000 biomarkers, and the firm is also planning on upgrading the rest of its portfolio, he said. While the Reveal upgrade is "intricate" because it involves many lines of the business, such as reimbursement, Eltoukhy said the firm has mapped the transition out well and is confident it can go smoothly. 
"We're really excited about the consolidation … and the leverage this gives us across our entire portfolio, because it's a unified technology base, unified operational base, and it's really kind of leverage that few companies have seen in this industry," he said. 
Meantime, co-CEO AmirAli Talasaz said that the firm plans to complete its FDA premarket application for the Guardant Shield test for colorectal cancer screening in Q1 2023 and expects approval and the launch of the test as an in vitro diagnostic in 2024. Last month, the company released data from its ECLIPSE trial showing the test had sensitivity of 83 percent and specificity of 90 percent, with 13 percent sensitivity for advanced adenomas. Guardant's share price took a beating after the announcement as sensitivity came in below expectations, but the data will still support regulatory approval and Medicare reimbursement, Talasaz said. 
Enrollment for a multisite, 10,000-patient study for the Shield test for lung cancer began in 2022 and will have its first endpoint readout in 2025, he added. The test will possibly be submitted to the FDA in 2026. Guardant is also expecting a data readout from the 600-patient NCIRE-LUNG prospective study on the test toward the end of 2023 or beginning of 2024, Talasaz said. The company is working on a Shield panel for other cancer indications, as well. Eventually, the firm expects potential volume of 10 million Shield colorectal cancer screening tests per year in 2032 with a $5 billion sales potential, Talasaz said. 
Expanding on Guardant's preliminary Q4 earnings results announced Monday morning, Talasaz said that this was the firm's "peak year in terms of cash burn," but now that its core infrastructure is established, Guardant can start to gain material leverage from it. The company expects to reduce its cash burn by about $50 million in 2023, from $400 million in 2022, he added. In addition, the Guardant360 business is on track to break even in about a year. The precision oncology business, encompassed by the Guardant360 franchise, saw revenue growth of 28 percent year over year. 
Guardant also saw an acceleration of volume in 2022 for the Reveal test, with clinical volume growth of more than 250 percent year over year, Eltoukhy added. 
Exact Sciences 
Exact Sciences CEO Kevin Conroy emphasized the company's growth and momentum, particularly with regards to profitability. The firm is expected to become profitable in 2023, ahead of previous guidance of achieving profitability in 2024, he noted. In its preliminary financial results released on Monday, the firm reported a year-over-year increase of 16 to 17 percent in Q4 revenues, and an 18 percent increase in full-year 2022 revenues. Conroy said he believes the results are sustainable and that some of the key drivers of the Q4 growth come from longer-term investments, such as brand awareness, test quality, and the commercial team. Exact CFO and Chief Operating Officer Jeff Elliott added that, because of those longer-term investments, sales and marketing costs should be flat or down in 2023. 
While market penetration of the Oncotype Dx Breast Recurrence Score is strong in the US, Conroy noted, the company is also planning to expand the assay to more countries in 2023, where there is opportunity for growth. 
Exact Sciences is planning to launch the test in Japan and will try to increase uptake in India and Brazil, he said. Japan could also potentially be the largest source of revenues for the test outside the US, Elliott added. The test received approval from Japan's Ministry of Health, Labor, and Welfare in 2021. Elliott noted that the firm already does business in 90 countries, so the foundation is there to build out further uptake of the test. 
In addition, Conroy provided more information on the multi-cancer blood-based test Exact is developing. He said the timeline for the test is unknown but will take "a number of years," and noted that the company will likely seek approval from the US Food and Drug Administration for the assay, rather than offering it as a laboratory-developed test. 
QuidelOrtho 
QuidelOrtho CEO Douglas Bryant said in his presentation that the integration of Quidel and Ortho Clinical Diagnostics is ahead of expectations from a financial perspective and in terms of future opportunities. The combined firm has more than 100 total R&D projects in the works, an installed base of approximately 100,000 instruments, and a $48 billion addressable market, he noted. Bryant said he "couldn't be more pleased with the progress" the company has made since the closing of the merger in May. 
QuidelOrtho's preliminary Q4 revenues beat analyst estimates, and Bryant said that the firm's standalone influenza test and combination influenza/COVID-19 test were key growth drivers. The company had about $350 million in revenues from influenza tests for full-year 2022, which was a "little bit higher than normal" thanks to the heightened respiratory season in the Northern Hemisphere. QuidelOrtho CFO Jeff Busky added that the molecular business unit also had strong growth in the quarter, excluding COVID-19 revenues. 
As for QuidelOrtho's laboratory business, the growth rate is as predicted, but the firm is trying to catch up on its instrument backlog. It currently has more orders than it can ship, Bryant said, adding that he's not sure if the company can get through the entire backlog in 2023 but is hoping to cut it down to well below the 600 instruments it reported as part of its Q3 earnings in November. Bryant said that getting down to around 150 instruments on back order would add approximately two percentage points in terms of the growth rate for the segment. 
QuidelOrtho has plans in place with its primary third-party provider to address supply chain challenges contributing to the backlog, but the real issue is around semiconductor chip availability, Bryant said. Chips are becoming more available as demand for certain consumer products that require them decreases, he added. "We're in the same boat … as everybody else," he said. "Our ability to solve this probably is no worse or greater than anybody else's at this stage." 
The firm's Savanna multiplex real-time PCR testing instrument, which launched in Europe last year, is still in the early phases of its launch with a "handful of customers," Bryant said. However, he added that the company has seen strong demand expressed by US customers and that there is a waitlist for the platform. Most of Savanna's near-term revenue potential will likely come from the respiratory viral panel — the only assay currently available — but other tests are in the works that will likely have long-term potential, including those for sexually transmitted infections, gastrointestinal disorders, and vaginitis. 
QuidelOrtho is also expanding the menu for its Sofia immunoassay product line, although Bryant declined to give many details beyond saying that the company has about 20 R&D projects in the works around this platform. He added that the firm is working on a gastrointestinal test to launch in the next one to two years. 
Bryant said that from 2023 to 2025 the company is estimating 6 to 9 percent above-market growth. He predicted 5 to 6 percent growth in the lab business, unless the instrument backlog is solved sooner than expected; 2 to 4 percent growth in the transfusion medicine business; and high-single- to low-double-digit growth in the point-of-care segment. The molecular business unit will also drive growth in the future despite being small now, Busky added. 
Adaptive Biotechnologies 
Adaptive Biotechnologies CEO Chad Robins presented his company's focused strategy, emphasizing the twin pillars of minimal residual disease (MRD) testing for hematologic cancers and immune medicine. The goals, he said, are to increase the penetration of the firm's next-generation sequencing-based ClonoSeq test in both the clinical testing and pharmaceutical markets and to drive opportunities in drug discovery. 
Full-year 2022 revenues for the company's MRD testing segment, which includes the ClonoSeq test for physicians and ClonoSeq assay for pharmaceutical companies, are estimated to be greater than $80 million, up 45 percent from $56 million in 2021. The company's compound annual growth rate from 2022 to 2027 is expected to be in the 20 to 30 percent range, Robins said. 
The firm is also working to expand the use of ClonoSeq with blood instead of bone marrow, Robins said. About 30 percent of ClonoSeq tests are used with blood but working with blood samples makes the assay easier to adopt and can increase testing frequency, he added. The company has nine ongoing studies over the next three years to generate more data about ClonoSeq's use with blood samples, he said. At least one of the studies validating the use of the test with blood in multiple myeloma is expected to have a data readout this year. 
Nitin Sood, the company's chief commercial officer for MRD, said that he expects 50 percent growth in MRD test volumes and single digit growth in average selling price in 2023. 
Adaptive is also planning to expand ClonoSeq's indications to non-Hodgkin's lymphoma. About 50 percent of patients eligible for ClonoSeq have non-Hodgkin's lymphoma, with 30 percent of those patients having diffuse large B-cell lymphoma, Robins said. Adaptive already offers the test in its CLIA laboratory and has Medicare reimbursement, but it plans to seek FDA clearance for the indication in 2023. The firm is pursuing FDA approval because it will help with guideline inclusion and because pharmaceutical partners want a test with regulatory approval, Robins said. 
On its immune medicine side, the company is aiming to drive growth in immune receptor sequencing for pharma services and in target discovery, T-cell therapeutics, and antibody therapeutics for drug discovery, he said. Pharmaceutical companies are able to use Adaptive's ImmunoSeq solution to look at a patient's immune profile to see how a drug is impacting the person, Robins said. 
Robins said the company's drug-discovery efforts are focused on cancer and autoimmune disorders and that its platform is able to both validate novel disease-specific drug targets and then find immune receptors that can be used as therapeutics against those targets. The firm has two cancer products: a T-cell therapy containing a T-cell receptor that targets a shared cancer neoantigen, and a T-cell therapy with multiple receptors targeting a patient's unique tumor neoantigen. The first therapy was developed with Roche subsidiary Genentech, which is pursuing an investigational new drug application with the FDA, Robins said. 
For autoimmune disorders, the firm is targeting irritable bowel disease and multiple sclerosis, Robins said. It has two platforms, the T-cell platform being used for cancer and an antibody platform developed during COVID-19. Robins said the company will consider partnering with others to advance the drugs or moving them forward itself. 
In August, Adaptive said it would stop the commercialization of its T-Detect franchise, but on Monday Sharon Benzeno, Adaptive's chief commercial officer for immune medicine, said the firm will re-deploy T-Detect toward work with pharmaceutical partners. The company has a number of projects in place looking at Crohn's disease, irritable bowel disease, and multiple sclerosis. The long-term strategy is to apply T-Detect signatures in multiple sclerosis and IBD to inform biomarker discovery and potential companion or complementary diagnostics with pharma partners.