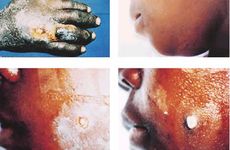 NEW YORK (360Dx) – A point-of-care diagnostic test that could determine within minutes whether a patient has been infected with the bacterium that causes anthrax is moving forward in research and development with the support of the US Department of Health and Human Services.
Under a three-year, $8.1 million contract, the HHS Biomedical Advanced Research and Development Authority (BARDA) will work with Seattle, Washington-based InBios International to develop a diagnostic test and conduct studies needed to apply for clearances with the US Food and Drug Administration.
InBios, which develops and manufactures immunodiagnostics for infectious diseases, already has a proof-of-concept lateral flow immunoassay that detects polyglutamic acid capsule, one of the principal virulence factors of the Bacillus anthracis bacterium — the causative agent of anthrax. Through a collaboration with the US Centers for Disease Control and Prevention, the firm could obtain use of a prototype developed by CDC that detects a second principal virulence agent, the lethal factor enzyme, which is a component of the anthrax toxin, Joe Larsen, director of the division of CBRN medical countermeasures within BARDA, said in an interview. 
Being able to detect two proteins of the bacterium will increase the specificity of the assay, and that could support the developers' efforts to obtain regulatory clearances, he added.
The three-year contract requires that the test developers participate in studies needed to support its submission for a pre-emergency use authorization from the FDA. Such a pre-EUA is a pre-requisite to producing a diagnostic test that BARDA would stockpile and then use in the case of an emergency, Larsen said.
The FDA receives a pre-EUA submission for review prior to an emergency or potential emergency. It is designed to reduce the time needed during an emergency to review the submission and consider authorization of the product.
"Only when the secretary of HHS declares a mass public health emergency could we mobilize and use products," that have been granted FDA pre-EUA clearance and have been through late-stage development under an HHS initiative named Project Bioshield, Larsen added.
BARDA Director Rick Bright said in a statement that inhalational anthrax, from breathing B. anthracis spores into the lungs, "is a significant biological threat to our nation."
"To save lives during an anthrax emergency, healthcare providers must be able to screen patients rapidly to provide treatment as quickly as possible. That's our goal in supporting development of point-of-care tests like this," he added.
In studies to date, InBios' test, a lateral flow immunoassay, has identified anthrax bacterial proteins within about 15 minutes.
The alternative method to detecting anthrax, growing cultures in blood, has a significant disadvantage in that it can take at least a day to get a result, Larsen said. "We don't have the leisure of time during these kinds of events. That's why having a rapid point-of-care diagnostic that reveals results in 15 minutes from blood would be so game-changing in our ability to triage patients and diagnose, detect, and control the use of countermeasures that we have stockpiled," he added.
According to the CDC, if inhalation anthrax is suspected, chest X-rays or CT scans can confirm if the patient has mediastinal widening — or widening of a membranous partition between the lungs — or pleural effusion, an unusual amount of fluid around the lungs. However, it noted that culturing B. anthracis from clinical specimens is the gold standard for diagnosing anthrax, and clinical specimens should be collected before starting antimicrobial therapy.
According to the Johns Hopkins Center for Health Security, rapid diagnostic tests exist for identifying anthrax at reference laboratories, but "none is available widely in ordinary hospital laboratories."
In a B. anthracis fact sheet, the Center for Health Security refers to a consensus statement published in JAMA in 2002 entitled Anthrax as a Biological Weapon, 2002.
"The determination of individual patient exposure to B. anthracis … is complex due to the uncertain specificity and sensitivity of rapid field tests and the difficulty of assessing individual risks of exposure," the Work Group on Civilian Biodefense said in the JAMA paper.  
BARDA said that the test has the potential for use in hospital emergency rooms, local health clinics, and at a patient's bedside, and it could also be used by first responders. It noted that for use in local health clinics and by first responders, the developers would seek a CLIA waiver that would be exercised only in an emergency.
There have been no reported deliberate attacks with anthrax since October 2001 when B. anthracis spores were sent in letters through the US postal system. The attack resulted in 22 confirmed or suspected cases of anthrax infection, and five people died from inhalational anthrax.
Since then, there have been incidents of accidental exposure. In December 2009, for example, two cases of injectional anthrax were diagnosed in heroin users in Scotland after B. anthracis was detected in blood cultures. Over the following months, 119 anthrax cases were suspected among European heroin users and 14 anthrax deaths were confirmed.
"Intravenous drug users were [unwittingly] injecting anthrax spores into their circulation, which led to several severe infections," Larsen said. Some of the HHS stockpiled products were deployed and released in treating those patients, he added.
Protecting health after anthrax exposure requires not only detecting but also preventing and treating anthrax infections, BARDA said.
"In the diagnostic and medical devices division, we are pursuing several different areas for anthrax diagnostics," John Lee, a health scientist at BARDA with expertise in vaccines and diagnostics, said in an interview.
"We are conducting animal studies to better understand the disease and its course so that we can better design a diagnostic that can reach the levels that are necessary," Lee said, adding, "We are also working on laboratory-based PCR and other types of assays. And we are working on point-of-care lateral flow devices, such as the InBios International instrument."
BARDA noted that HHS also has several medical countermeasures ready for use in the event of an anthrax incident, including stockpiles of different antibiotic formulations for treating infections; antibody-based therapies that would bind to and eliminate the anthrax toxins produced during an infection; and vaccines that would be administered post-exposure to people that had been around an anthrax attack but hadn't yet developed symptoms.
"As a component of this holistic response to an anthrax incident, we have long sought the development of a diagnostic tool that would allow us to rapidly triage patients that thought they had been exposed but could be ruled out as not having anthrax," Larsen said. "This would preserve and extend the medical countermeasures that we have stockpiled and ensure that they are getting to the right patients at the right time to treat anthrax infection or exposure."
In about three years, the developers hope to be ready to obtain regulatory clearances and do late-stage development on the point-of-care test in preparation for its stockpiling and to support its readiness in the event of an emergency.
InBios did not respond to a request for an interview for this article.