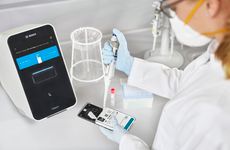 MADRID (GenomeWeb) – Bosch Healthcare Solutions, a subsidiary of German engineering and electronics company Bosch, for the first time unveiled its entry into the rapidly crowding market for automated benchtop molecular testing systems at the European Congress of Clinical Microbiology and Infectious Diseases.
The cartridge-based platform, named Vivalytic, automates all sample prep steps and integrates four of the most commonly used molecular technologies — endpoint PCR, quantitative real-time PCR, melt curve analysis, and microarray detection — thereby enabling single-target, low-plex, and highly multiplexed tests to run on the same system.
In addition, Bosch has partnered with UK-based in vitro diagnostics firm Randox Laboratories and German diagnostic developer R-Biopharm to build out a test menu for Vivalytic, including a 22-plex respiratory pathogen panel from Randox that will be the first assay for the system when it launches in Europe in the third quarter of this year, Thomas Berroth, a Bosch Healthcare Solutions spokesperson, said at ECCMID.
The core microfluidics technology behind Vivalytic has been under development for several years, and in 2014 scientists from Bosch along with collaborators at the Massachusetts Institute of Technology and Germany's Institut für Mikro- und Informationstechnik published a series of peer-reviewed papers on the technology, only hinting at its potential as the basis for a molecular diagnostics testing platform.
Seeing the potential of the technology, parent company Bosch began pumping R&D funding into its development in 2015. Parallel to this, Bosch Healthcare Solutions was formed in 2016 primarily to commercialize biomedical products based on Bosch engineering breakthroughs. Vivalytic was one of these projects, but had been in stealth mode until this past weekend as the firm developed working system prototypes and assays with its partners.
"We did a lot of user experience research to try and design a very intuitive system," Berroth said.
The workflow is indeed easy and intuitive. The box, about the size of an older desktop computer, is sleek, completely self contained and features only a touchscreen, cartridge bay, and scanner on its front side. A test tube containing raw sample is scanned, and the contents of the tube are pipetted into the bay of a cartridge — about the size of a notepad — for a specific test. The cartridge is then placed in the system and the test starts automatically, with the screen providing real-time feedback on its progress.
Ultrasound-assisted sample prep homogenizes and lyses a variety of sample types including most liquid samples, tissue, stool, and sputum. Typical sample volumes are between 50 uL and 2 mL. PCR is performed either qualitatively or quantitatively using three isothermal temperature zones and microfluidic processing. A universal optical detection unit uses both fluorescence and chemiluminescence to enable readouts of PCR (up to eightplex), melt curves (16-plex), or endpoint microarrays (10- to 50-plex). According to the company, results may be available within 30 minutes, depending on test complexity.
Bosch is transparent about its business model: it is an engineering company, and as such its expertise lies in "miniaturization, sensing, and large-scale production," Berroth said. It has minimal assay-development expertise in house, and as such it plans to partner with as many external entities as possible for test development as well as distribution.
Its first partner, whose scientists also contributed to the development of the platform, is Randox Biosciences. Randox, which recently announced plans to invest £50 million ($70 million) in three new centers of excellence at its Northern Ireland headquarters, has traditionally specialized in all manner of in vitro diagnostics, and has in the past demonstrated a particular knack for multiplexed molecular testing.
As such, it has collaborated with Bosch to develop a respiratory panel to simultaneously test for 22 bacterial and viral pathogens, which will be the first assay for Vivalytic; as well as a 10-pathogen sexually transmitted infection cartridge, which will be the second test on the system. Randox will also be Bosch's distribution partner in the UK.
A second partnership with Germany's R-Biopharm is expected to yield several lower-plex tests for the system. That company will also serve as Bosch's German distributor. Berroth noted that Bosch hopes to forge partnerships with multiple assay-development companies and distributors in order to quickly develop Vivalytic's test menu.
Performance metrics for the first tests are not yet available, as the assays are currently undergoing verification testing with partner labs in Germany, Berroth said. The company hopes to present performance data in the coming months.
Berroth said that Bosch and Randox are aiming for a Q3 EU launch of the platform and respiratory test. US Food and Drug Administration filing is part of the plan, but the company does not yet have a timeline.
When Vivalytic launches, Bosch and partners will face stiff competition, including BioFire Diagnostics, Cepheid, Luminex, GenMark Diagnostics, BioCartis, and Curetis.
Perhaps the most immediately comparable competitor, though, is Qiagen, which in February announced the acquisition of Spanish molecular diagnostics firm Stat-Dx for up to $191 million. Stat-Dx had also developed an automated, sample-to-answer molecular testing platform with the ability to run both low- and high-plex tests, and eventually immunoassays, and received CE mark for the system along with a respiratory pathogen panel prior to the acquisition. Qiagen officially launched the platform, rebranded as QiaStat-Dx, also at ECCMID over the weekend.