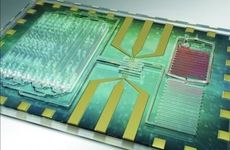 NEW YORK (360Dx) – Researchers from the University of Illinois are developing a test that they say can help clinicians diagnose and monitor sepsis in its early stages. If successful, they added, it could potentially be turned into an at-home test.
In collaboration with the Carle Foundation Hospital, the UI researchers are developing the test based on a microfluidic chip that targets the immune system by measuring CD64 expression levels, a biomarker of the onset of sepsis that surges in response to the arrival of the infection.
Currently, they are conducting clinical studies to validate its sensitivity and specificity and have developed a prototype that provides results in less than 30 minutes. It could eventually be made available as a commercial test for around $10 per disposable cartridge, according to its developers. It would be suitable for use in hospitals and physicians' offices at the point of care within resource-rich and resource-poor settings, and eventually, for use by patients at home when an infection is first suspected, Umer Hassan, one of the test's developers and a research affiliate at the Carle Foundation Hospital's Biomedical Research Center, said in an interview.
The test could be available in two to three years, said its developers, who launched a startup, Prenosis, in 2014 to commercialize it. They've raised an undisclosed amount of capital through seed and Series A rounds, and they are currently seeking additional investments from venture firms, Hassan said.
"We are currently doing more multicenter clinical studies," he said, adding that "the first product could be used at the patient bedside or in the physicians' office."
The company plans to seek regulatory approvals, with a more long-term goal of positioning the test for at-home use. Results would be sent remotely to a patient's physician, who could immediately recommend the appropriate next step.
"From talking to patients and physicians, we found that patients start to feel abnormal one to two days after the onset of infection," Hassan said. "Sometimes they wait another few days before feeling sick enough to go to the hospital, and during this time their condition keeps deteriorating."
Because the biochip would quantify biomarkers that are representative of the onset of infection, it should be implemented as soon as patients come to a physicians' office or to the hospital, but if patients were able to take the test at home, they could get treatment even earlier if needed, Hassan said.
To monitor the immune system's response during infection or inflammation, the test prototype uses a fingerstick of blood and looks for an increase in the expression of the CD64 protein marker on specific types of white blood cells called neutrophils. Among many pro-inflammatory biomarkers, blood cell counts and CD64 expression levels are the most dominant at the onset of infection, and "our biochip is designed to quantify these biomarkers," Hassan said.
Using 10 microliters of whole blood, a microfluidic biochip counts white blood cells and measures CD64 on the neutrophils' surfaces.
Sepsis infection triggers an increase in the concentration of neutrophils, measured by counting cells per unit of blood volume, and it increases the expression level of cell-surface antigens, Hassan said, adding that among these antigens, CD64 is "the most critical."
The researchers published their findings recently in the journal Nature Communications, and wrote that they count cells before and after the cells absorb anti-CD64 antibodies in a microfluidic chamber.
The biochip has three modules — one for cell lysing, another for electrical counting, and a third for immune-affinity capture.
During testing, lysing and quenching reagents lyse red blood cells, but preserve white blood cells. The chip electrically counts the total number of cells. The cells, flowing through the microfluidic chip's capture chamber, then absorb anti-CD64 antibodies, and those that have exhibited specific levels of CD64 expression are counted. To provide a result, the biochip calculates the difference between the first and second cell counts and correlates that value with the cells' levels of CD64 expression.
The test not only helps doctors identify sepsis at its onset, but could provide a prognosis in which it would be used to monitor a patient's progress, and determine the risk of developing adverse stages of disease progression, the researchers said.
Although the main objective in developing the biochip was to diagnose sepsis by looking at the response of the immune system, the researchers found that by monitoring the biomarkers, they could obtain an evaluation of whether patients were recovering, Hassan said, adding that their work, in this respect, "is still ongoing" and requires "more extensive clinical studies" that they are currently implementing.
Sepsis is among the most serious and life-threatening problems in the intensive care unit. The body's immune system releases chemicals that fight sepsis, but it can also produce widespread inflammation that can rapidly lead to organ failure and death for the patient.
Hospital-acquired and out-of-hospital sepsis infections affects roughly 20 percent of patients admitted to hospital intensive care units, yet it is difficult to predict the inflammatory response in time to prevent organ failure, said Karen White, an intensive care physician at Carle Foundation Hospital, who led the clinical study.
"[A] bedside test that can monitor [a] patient's inflammatory status in real time would help us treat it sooner with better accuracy," she said.
Doctors routinely try to detect sepsis infection by monitoring patients' vital signs — including their blood pressure, oxygen levels, and temperature. They perform systemic inflammatory response syndrome and quick sequential organ failure assessment tests, but these methods rely "on clinical signs and symptoms that may only point to infection," White said, adding that no gold standard exists to quickly identify septic patients. 
Hematology analyzers conduct complete blood cell counts and flow cytometers do leukocyte counting and perform antigen expression-based cell quantification, the researchers said. Flow cytometry measurement and hematology testing require "both a well-equipped laboratory and significant technical expertise, which are impossible to maintain 24/7 in ICUs," the researchers added.
Further, flow cytometers are expensive and require manual sample processing, both of which hinder their use at the point of care in performing sepsis tests at high frequencies, Hassan said.
Apart from potentially improving screening techniques and providing a greater choice of therapeutic options, the researchers said, this type of system could "reduce lengthy stays in critical care units, priced at [greater than] $20,000 per stay on average for septic patients in the US."
By monitoring a patient's immune response leading to earlier diagnosis of sepsis, clinicians can provide early and more tailored antibiotic treatments, which also leads to economic benefits, Hassan said.
The researchers noted that while existing diagnostic tests are available that enable detecting and identifying sepsis pathogens, their test would complement rather than compete with the commercial tests. Both types of tests "are critical to improving clinical outcomes in septic patients," Hassan said.
Several types of tests are available for sepsis identification. In February, the US Food and Drug Administration cleared Accelerate Diagnostics' test kit and instrument platform for identifying organisms that cause bloodstream infections. For some organisms, the test — in about 6.5 hours after the organisms are detected from blood cultures — provides crucial information to guide treatment recommendations.
BioMérieux's FDA-cleared FilmArray Blood Culture Identification panel tests for 24 pathogens and 3 antibiotic resistance genes associated with bloodstream infections, including sepsis.
Procalcitonin-based assays for managing sepsis have also received FDA clearances. In 2016, BioMérieux received 510(k) clearance for the expanded use of its Vidas BRAHMS PCT assay for managing sepsis patients with elevated risk of mortality.
Roche, Thermo Fisher Scientific, and Beckman Coulter also received nods from the FDA for their PCT assays for diagnosing sepsis.
The UI researchers noted that they believe their test "will complement" tests that provide pathogen detection diagnostics, such as FilmArray, and diagnostic and therapeutic information, such as Accelerate Diagnostic's PhenoTest BC Kit and Pheno System.
They expect that their test will be affordable, and made available via a disposable cartridge at a cost of around $10. The system on which the cartridge runs would be available at about $1,000, Hassan said.
The researchers said that they are also working to incorporate measurements for inflammation markers other than CD64 into the rapid-testing device to give a more complete picture of the body's response, and to enable earlier detection.
"We are looking at certain circulating proteins in blood and adding this capability in the biochip, which will provide us with a more comprehensive picture of the immune system," Hassan said.
The biochip's ability to quantify the expression levels of cell surface antigens has potential for application outside detecting sepsis infection, White said, including quantifying the expression of Ki67 as a predictor of high grade malignancy; quantifying CD71 expression, which is correlated with activated circulating tumor cells during tumorigenesis and is a biomarker for cell proliferation; and detecting expression levels of CYP1A1 and CYP1B1, members of the cytochrome P450 protein family, in human endothelial cells that are indicative of pro- or anti-atherogenic endothelial cell functions.