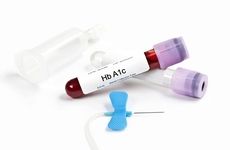 NEW YORK (360Dx) – Growing demand for diabetes care has spurred the launch of high-volume diagnostic tests for large laboratories, while also driving adoption of point-of-care diagnostic tests in clinics, hospitals, and physicians' offices, according to clinicians and diagnostic company executives.
With the number of people with diabetes surging, forcing large laboratories to take on higher testing volumes, diagnostic test providers are developing and launching higher-throughput systems and growing their diabetes care businesses. And for healthcare providers and systems, hard-pressed to keep up with testing demands, advances in HbA1c testing, including the development of POC technologies, can't come soon enough.
About 415 million adults have diabetes, including 193 million who are undiagnosed, according to the International Diabetes Federation, whose latest edition of the IDF Diabetes Atlas estimates that a further 318 million adults have impaired glucose tolerance, which puts them at high risk of developing the disease. The Atlas noted that the condition causes about 5 million deaths each year, at a cost between $673 billion and $1.20 trillion in healthcare spending.
Low-, medium-, and high-volume instruments and HbA1c assays used in clinical laboratories are firmly established. In the US alone, laboratories perform more than 100 million HbA1c tests each year, said Roche Diagnostics, whose Cobas c 513 analyzer and HbA1c assay were cleared by the US Food and Drug Administration in December.
But according to Heather Whitley, a clinical pharmacy specialist who has a focus on diabetes care and works in the Baptist Health System in Montgomery, Alabama, point-of-care HbA1c assays are fast gaining traction to make quicker treatment decisions, as clinician-performed POC tests are facilitating more immediate and open interactions between physicians and their patients, and enabling diabetes screening programs that identify people who are unaware that they have diabetes.
For people unknowingly living with chronic hyperglycemia, HbA1c POC testing can be deployed for early identification of diabetes through reliable and convenient screening tests.
A recent study coauthored by Whitley and published in the Annals of Family Medicine analyzed test results of almost 500 patients between April 2013 and March 2014. Using POC HbA1c point-of-care testing to systematically screen adults, aged 45 and up, the researchers found that 63 percent of the patients were "unknowingly living in chronic hyperglycemia." By contrast, they found that standard testing, primarily consisting of blood glucose measurements, identified 40 percent of these patients.
Most impactful was the point-of-care test's ability to identify prediabetes for the HbA1c screening versus standard care, the researchers wrote, adding that the "difference in hyperglycemic detectability between screening arms is best explained by test utility."
POC HbA1c devices improve patient care by allowing for immediate assessment, patient education, and early management initiated by the practitioner, Whitley said. She noted that a point-of-care test is invaluable because it enables important and immediate discussion of the diagnosis in face-to-face interactions with patients.
"That type of discussion is often not possible to replicate by phone the following day after a test has been sent to the lab and a result returned," she said, adding that POC HbA1c tests are not only useful for physicians in their clinics, but beneficial to hospital clinicians who can use the tests near the patient.
Another study, coauthored by Whitley, concluded that A1C POC devices "may improve patient adherence by lessening transportation and cost barriers associated with extra office and laboratory visits."
Among the HbA1c POC products available in the US are the A1CNow produced by Chek Diagnostics, which is a handheld device, and the Axis-Shield Afinion Analyzer and the Siemens DCA Vantage, which are benchtop systems.
But not everyone is convinced that a POC HbA1c test is necessary or even beneficial. In its guidelines, the American Diabetes Association recommends against using POC assays for HbA1c testing for diagnosing diabetes, and argues that the devices have not yet received enough proficiency testing.
However, a letter published in the Annals of Clinical Biochemistry, and written by coauthors at Connolly Hospital in Dublin argued that the ADA guidelines are contradictory in that they "cite evidence that two of eight POC instruments meet the generally accepted analytical performance criteria, and a recent update … reported that four of seven meet the same performance criteria."
Whitley also noted that in her studies and daily practice, the point of care assays performed as well as high-volume lab tests. She has used several testing methods —  including laboratory testing — in diabetes care, and said that her interest in HbA1c POC was spurred by learning that many people have diabetes and don't know it.
"If they don't know it, and they don't do anything about it," there may be serious health consequences, she said. What that means is that testing practices need to be improved, she said.
Nonetheless, the ADA's stand could have an effect on whether firms seeking POC HbA1c tests will get clearance. Alere, which is being acquired by Abbott Laboratories, submitted a 510(k) application to the FDA in December 2015 to obtain a diagnostic claim for its Afinion HbA1c Dx product to aid in the diagnosis of diabetes and for use in clinical laboratories and moderate complexity point-of-care settings.
In its response, though, the FDA said that it "wishes to get further input from the clinical community, via our advisory panel, to determine whether the concerns that prompted the ADA to recommend against the use of POC HbA1c tests for diabetes diagnosis, may be adequately addressed or mitigated."
A patient uses a blood glucose monitor to manage levels from day to day, and depending on the type of diabetes and its severity, the patient periodically attends a clinic for laboratory-based HbA1c testing. It is normal, for example, for a patient with type 1 diabetes to attend a physician's office for HbA1c testing quarterly, and a patient with type 2 diabetes to attend every six months, Delena Carite, group marketing manager for systems in Roche's HbA1c business, said.
While there may be some disagreement about the appropriateness of POC technology for HbA1c testing, high-throughput testing continues to meet a growing demand as diabetes is fast-approaching epidemic proportions in the US, Alan Wright, chief medical officer of Roche Diagnostics, said in a statement.  
The firm's and HbA1c assay cleared by the FDA in December importantly received an aid-in-diagnosis claim from the FDA, which means it can be used not only in continuous monitoring of a patient's levels of HbA1c, but also to identify patients that previously had not been diagnosed, said Michelle Bostock, Roche's HbA1c reagent product manager.
Roche's high-volume HbA1c instrument and assay is most relevant for reference and hospital laboratories that receive large orders for hemoglobin A1c testing, Roche said. Carite noted that laboratories running more than 500 tests per day are most likely to use the test. Large laboratories and health networks can routinely run 1,000 or more tests per day, and for laboratories running 500 orders per day, or less, Roche offers the HbA1c assay on its lower-volume systems.
Brittany Greiner, marketing manager for low volume and specialty products in the same business at Roche, said that its new analyzer provides double the throughput within the same footprint of its second-generation analyzer, the Cobra Integra 800. Roche said it has plans to offer the Cobas c513 as a replacement option for the Integra 800.
Other major players in the high-volume HbA1c testing space include Abbott, which received 510(k) clearance in 2014 for its Architect Clinical Chemistry Hemoglobin A1c test for diagnosing and monitoring diabetes. They also includes Sebia, which uses capillary electrophoresis in a test CE marked for HbA1c monitoring, and BioRad and Tosoh, which provide HPLC-based testing.
For people with diabetes, better health management can increase lifespan and enhance quality of life, according to the Centers for Disease Control and Prevention. Up to 25 percent of US adults who have diabetes don't know that they have it, the CDC said, and they could be developing serious complications, including heart disease, stroke, blindness, kidney disease, and amputations.