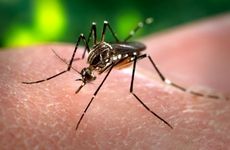 NEW YORK (360Dx) – Copenhagen-based BluSense Diagnostics is developing a test that may solve one of the most challenging issues in the accurate detection and measurement of Zika — false positives triggered by cross reactivity from closely related infectious diseases to Zika, such as dengue and chikungunya.
The company expects to complete the development of a dengue assay this year and launch it on a centrifugal microfluidic immunoassay platform early next year. Later in 2018, it plans to release a combination assay on the same platform that can differentiate dengue from Zika.
The firm, a spinout from the Technical University of Denmark in 2014, is also developing assays for chikungunya and yellow fever, as well as additional infectious disease tests, said Filippo Bosco, CEO and founder of BluSense.
"We have developed a pure point-of-care platform that's different from traditional lateral rapid flow tests," he said. If successful, BluSense's device would enable medical facilities to run the tests for less than $20 a patient.
Among its features, the diagnostic platform uses an inexpensive Blu-ray reader, using off-the-shelf components already in mass production and used in the electronics industry, which Bosco adapted for diagnostic testing while doing research at the Technical University of Denmark.
Company cofounder Marco Donolato, the firm's chief scientific officer, developed a nanotechnology-based immunoassay technique that formed the basis for the core patent underpinning the BluSense technology, and a third founder Robert Burger, the firm's chief operating officer, conducted research on centrifugal microfluidics.
The three projects became the cornerstone of the BluSense technology, Bosco said.
The researchers described the technology platform in a study describing their dengue biomarker assay in the journal Scientific Reports.
They coated the instrument with magnetic nanoparticles that consisted of high-affinity monoclonal antibodies against NS1, a dengue fever biomarker. The presence of the target antigen triggered magnetic nanoparticle agglutination and formed nanoclusters. The number and size of the nanoclusters correlated with the target's concentration and were quantified by an optomagnetic readout.
In distinguising Zika from dengue and chikungunya, "the single-use cartridge splits the sample automatically and is thus able to perform a differential test," Bosco said. A physical separation within the cartridge enables the liquid sample to be diverted among different channels. This is accomplished without the use of pumps and through rotational forces, he said, adding that spinning the sample at different speeds and in different directions separates the desired volumes of the sample and diverts it to different chambers. 
Using its optomagnetic reader, the machine then quantitatively measures the quantity of virus-specific biomarkers in blood.
The microfluidic platform, which provides the basis of all BluSense assays, has the same level of accuracy, including specificity and sensitivity values, as a laboratory-based ELISA, and it provides results in about nine minutes, Bosco said.
In practice, a user loads 30 microliters of blood from a fingerstick or pipette into a single-use cartridge.
From there, the measurement process is automated. The machine creates plasma from blood and mixes magnetic nanoparticle antibodies with the plasma. An optomagnetic reader provides a quantitative readout.
Bosco noted that the test's ability to discriminate between Zika, dengue, and chikungunya in a single platform was a key reason the company was recognized by the US Agency for International Development in August 2016.
In all, 21 firms were recognized for their "potentially game-changing solutions to mitigate the spread and impact of the Zika virus." Four diagnostic companies received awards. In addition to BluSense, the J. Craig Venter Institute was recognized for the development of peptides to speed the development of Zika diagnostics; Abbott's Ibis Biosciences business was recognized for a rapid, handheld point-of-care diagnostic for Zika, dengue, and chikungunya viruses; and SystemOne was recognized for its Aspect IoT software and portability pack to diagnose patients in the hardest-to-reach areas.  
"We received the award because we are able to run multiple tests for related infections within the same cartridge," Bosco said.
They are tackling, "what is now the biggest issue restraining the adoption and use of these tests in the market, which is the cross-reactivity," he said. "We purchase a lot of competitor assays for comparison, and when we load dengue positive samples in Zika tests, they sometimes test positive for Zika. We know that precharacterized dengue samples are Zika free."
Zika virus is an arbovirus that is transmitted to humans by Aedes mosquitos. It can be carried by a variety of Aedes mosquitos, but the principal species responsible for current outbreaks is thought to be Aedes aegypti.
Zika is a flavivirus and a major challenge in diagnosing the disease is that it is similar to other flaviviruses such as dengue, West Nile, and others. Conventional diagnostics have not been able to tell one flavivirus from the other.
A study in the journal Nature Immunology used a panel of human mAbs generated from dengue virus to demonstrate substantial cross-reactivity between dengue virus and zika virus. "Using a panel of human anti-dengue monoclonal antibodies, we showed that most antibodies reacting to dengue envelope protein also reacted to [zika virus]," the researchers wrote.
In parts of Brazil, A. aegypti is also spreading dengue virus and chikungunya viruses concurrently with the Zika virus. And, in the past 20 years, dengue virus has spread through areas of South America. The seroprevalence of dengue virus in some areas affected by zika virus exceeds 90 percent, the researchers wrote.
BluSense has 27 employees between its headquarters in Copenhagen and subsidiary in Taipei, Taiwan.
For funding, the firm has leveraged startup grants and private equity investments, Bosco said, and it will seek an additional round of equity investment at the beginning of next year. The value of the required investment has not yet been determined, he said.
The company expects to target customers in Latin America and South-East Asia for both its Zika and dengue assays.
"We will either apply for CE marking and then to the local regulatory bodies, or go through a [US Food and Drug Administration] Emergency Use Authorization application," he said. "Certainly, if we decide to market the test in the US, we will apply for an FDA EUA, but we need to see what is the best approach market by market," he added.   
Bosco and his colleagues have plans to travel to Brazil next week to run the "last set of preclinical tests," on the platform with its dengue and Zika assays.
The firm expects that clinical trials will being in September and end in December in time for a first quarter 2018 launch for the dengue assay.
The firm intends to conduct trials in Thailand, Vietnam, and Malaysia — all countries that the US Centers for Disease Control and Prevention has identified as being "with risk of Zika," — and potentially Brazil.
Companies other than BluSense are investigating new approaches to testing for Zika and other related infections. Molecular diagnostics developer GenArraytion, for example, has launched two assays to detect four regions on the Zika virus' DNA and discriminate it from other arboviruses and pathogens in mosquito vectors.
The Rockville, Maryland-based firm is among the first to launch such a multiplex test and is initially targeting public health labs performing vector surveillance.