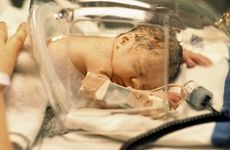 NEW YORK (360Dx) – An integrated microfluidic prototype that uses a multistep process to capture and identify peptides could detect the risk of pregnant women having preterm births, according to its developers at Brigham Young University.
The research, funded by the National Institute of Biomedical Imaging Bioengineering, has yielded a microfluidic chip and nine biomarkers that the developers hope could one day can be incorporated into a single panel in a clinical test.  
Describing the preliminary results of their work in the July issue of the journal Electrophoresis, they called their device an integrated microfluidic platform that uses solid-phase extraction and electrophoresis in the detection of preterm birth biomarkers.
The goal of the development team is to develop a clinical test that would enable placing a single drop of blood on a chip, and recognizing after processing whether a peptide is present that indicates increased risk of preterm birth, the leading cause of neonatal morbidity and mortality.
Although the timeline for launching the test is unclear, because further development work needs to be completed, the researchers don't expect competitive threats to their test's adoption if they are successful. That's because there's a dearth of diagnostic biomarker tests that measure preterm risk, said Adam Woolley, a professor in the department of chemistry at Brigham Young University, and one of the developers of the test.
"In fact, that's an important clinical challenge," he said. "There's ongoing research in companies and academia, but there has not been a suitable combination of biomarkers to effectively determine preterm risk," he said.
If the mother has an infection or if she has had a previous preterm delivery, "you can say that those are risk factors, but because diagnostic biomarker tests are not available, the first symptom of a preterm birth is often the onset of contractions," he said.
If it were possible to test all women for risk at 16 to 20 weeks of pregnancy — and the researchers hope to make it so — "there would be a huge market for the test, and a huge potential benefit," Woolley said.
Although they describe the use of the preterm birth biomarker P1 in their paper, the investigators are developing a broader panel of nine biomarkers, which are thus far undisclosed, and they are working to integrate them into an in vitro diagnostic assay. The assay would identify all the biomarkers and measure the concentration of each of them, Woolley said.
From a testing perspective, demonstrating the ability to detect minute amounts of P1 and other preterm biomarkers is among the most challenging parts of the microfluidic test process, Woolley said.
The researchers noted, however, that their use of "sample pre-concentration integrated with separation can have a substantial impact on rapid analysis of low-abundance disease biomarkers."
In practice, a fingerstick sample of blood flows through a porous media that consists of antibodies that capture the preterm birth biomarkers of interest.
"We then transfer the biomarkers from this affinity capture region to a second column where we further concentrate and fluorescently label them," Woolley said, adding that in the final, and third, stage, "those purified, concentrated, and labeled biomarkers undergo an electrophoretic separation so that we can identify and quantify them." 
In conducting a diagnosis, the test measures the concentration of biomarkers and the speed at which the biomarkers migrate during electrophoresis.
Woolley noted that the test's potential to enable early detection of pregnancy risk could give clinicians a tool to begin medical interventions that would delay birth or increase fetus viability, potentially saving lives and reducing lifelong disabilities.
Each year, about 15 million babies are born prematurely worldwide and almost 1 million die due to the associated complications, said the Brigham Yong researchers, quoting World Health Organization statistics. In the US, about 12 percent of babies are born prematurely. Of those who survive, many face a lifetime of learning disabilities and problems with vision and hearing.
A range of interventions are available for pregnant woman that can reduce the risk of preterm birth. If the risk is identified early, clinicians can inject the mother with steroids that strengthen the lungs of the fetus, Woolley said, and a mother could take preventive measures, such as optimizing nutrition and implementing other changes to her lifestyle.
The speed of the assay developed by the BYU team is a key advantage of their approach, Woolley said. "Since we are using an integrated microfluidic system, the total assay time should be one hour or less. At present, a couple of steps take most of that time, but the electrophoresis separation step that we do at the end takes a minute or less. So, there's potential to further speed up [the total time to result]."
A second advantage to the microfluidic device format for preterm birth applications, he said, is that the test would operate using only a few microliters of a blood sample that can be derived from a fingerstick.
When clinicians are working with pregnant women, drawing blood samples yields "risks that are minor, albeit real," he said.  As a result, "we think that our approach can be more prevalent if it does not require something more invasive like a blood draw through venipuncture."
Woolley said that several internal initiatives are underway to advance the test on its path to commercialization. Testing the prototype on a large set of clinical samples that validate its sensitivity and specificity is one objective, he said, adding that "there are still some things to improve upon, such as enhancing the extraction of biomarkers from blood. Also, although we've done studies on a couple of these biomarkers, we need to demonstrate that we can apply this approach to an entire panel."
The team is also working to simplify and streamline processes within the device, and work on validating its sensitivity and specificity.
With an eye on commercialization, they are working on packaging the device and producing a test reader and analyzer that can be used in a doctor's office or hospital.
Woolley said that they believe that the greatest demand for the test will be in doctors' offices, when pregnant women periodically check in for monitoring, but that it should also be adopted by hospitals. He said that the test could also be valuable for use in "rural and underserved communities around the world," and that the development team is "quickly moving toward a chip that is inexpensive, small, and fast."
Tiffani Lash, director of the NIBIB program in microfluidic bioanalytical systems, said in a statement that the technology has potential "to be of tremendous significance on the personal, public health, and even economic levels both in the US and worldwide." 
Because many diseases including cancer, degenerative conditions, and infections release biomarkers into the blood that can provide an early indication of disease, the isolation and concentration strategy developed by the researchers at Brigham Young "has the potential to be adapted for identifying a range of diseases before any symptoms are observed," Woolley said. The technique could differentiate itself through its ability to identify "very low concentrations" of the important biomarkers "that cannot be routinely captured and analyzed," he added.