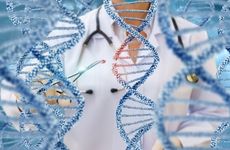 NEW YORK (GenomeWeb) – Engineering biology startup Sherlock Biosciences announced today that it has launched with initial financing of $35 million and licenses to foundational CRISPR and synthetic biology technology from the Broad Institute and Harvard's Office of Technology Development.
The company's nine co-founders include its new CEO Rahul Dhanda; MIT professor, and Wyss and Broad faculty member James Collins, who will serve as a director on Sherlock's board; Illumina Scientific Founder David Walt, who will also serve as a director; CRISPR expert and Broad researcher Feng Zhang, who will chair Sherlock's scientific advisory board; cancer genomics expert and Broad founding core member Todd Golub; Harvard professor and infectious diseases expert Pardis Sabeti; Deborah Hung, a molecular biology and infectious disease expert, and physician-scientist at the Broad Institute; and CRISPR experts Omar Abudayyeh and Jonathan Gootenberg.
Sherlock will use engineering biology tools, including CRISPR and synthetic biology, to develop a new generation of molecular diagnostics that can rapidly deliver accurate results for a vast range of needs in virtually any setting and at low cost, the company said.
The financing includes a $17.5 million non-dilutive grant and an investment from the Open Philanthropy Project, as well as funds from additional undisclosed investors.
"Our founders have created some of the most important breakthroughs in modern science through advances in the field of engineering biology, the practice of designing and building biological systems into tools that can enhance human health," Dhanda said in a statement. "We are building Sherlock to transform these breakthroughs into a new and powerful generation of molecular diagnostics that will enable users to make more effective decisions in both clinical and non-clinical settings worldwide — including hospitals, industrial settings, low-resource settings, and at home."
One of the company's foundational platforms is SHERLOCK (Specific High-sensitivity Enzymatic Reporter unLOCKing), which was first developed by Zhang's team at the Broad in April 2017. The team made improvements to the technology in March 2018 in order to move it closer to use in the field and clinic. And a team led by Sabeti demonstrated in April 2018 that SHERLOCK could be used as a diagnostic tool to detect Zika virus in the field.
SHERLOCK combines various CRISPR-Cas13 enzyme types with Cas12a and Csm6 to allow for the simultaneous detection of multiple nucleic acids at once. It also has a bilateral flow strip made of paper — this visual readout doesn't require any additional instrumentation, much like a pregnancy test.
The company is also developing INSPECTR (INternal Splint-Pairing Expression Cassette Translation Reaction), a synthetic biology-based molecular diagnostics platform developed by a team led by Collins at the Wyss. The technology can be programmed to distinguish targets based on a single nucleotide without an instrument and at room temperature, Sherlock said.
The technology consists of a DNA hybridization-based sensor that can be programmed to detect target nucleic acids with single base pair specificity, coupled with a paper-based synthetic gene network that translates the sensor's detection into a bioluminescent signal, the Wyss added.
"Used as stand-alone tools or in combination, these platforms allow for the detection and quantification of targets without complex instruments and in a variety of potential settings," the new firm said in its statement. Their flexibility and modularity makes them applicable for a wide range of fields, including precision oncology, infection identification, food safety, at-home testing, and disease detection in the field.
The company said it will selectively partner with other firms and also plans to directly produce its own tests for these platforms. The financing it has received so far will be used to advance development programs and to design new assays.
"We believe Sherlock Biosciences offers an enormous opportunity to improve human health worldwide by delivering fast, accurate, and simple diagnostic testing. It is especially encouraging that the broad potential of its technologies is matched by co-founders and a team who are deeply experienced scientists, entrepreneurs, and clinicians," Heather Youngs, program officer for scientific research at the Open Philanthropy Project, added. "Development of this technology could both reduce viral pandemic threats and benefit healthcare more broadly."