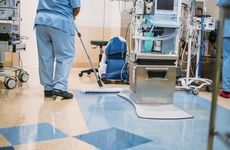 NEW YORK – BioMérieux is piloting advanced analytics software aimed at helping US hospitals curb antibiotic resistance and providing insights for their antimicrobial stewardship teams.
The software, unveiled last week at the American Association for Clinical Chemistry Annual Scientific Meeting & Clinical Lab Expo in Anaheim, California, is part of the firm's efforts to transform its image as a seller of laboratory test systems to that of a value-based solutions provider, Stefan Willemsen, CEO of BioMérieux Inc., the company's North American business, said in an interview.
By measuring and analyzing hospital operations — including which tests are being used and who is using them for specific medical conditions and at specific points in time — the firm anticipates helping its customers implement better antimicrobial stewardship programs, Willemsen said on the sidelines of the AACC meeting.
The software, developed using the SAS analytics platform, a statistical analysis system, "connects data coming not only from our instruments and systems but also from everything else that is relevant to the stewardship workflow within and outside the hospital, including data from laboratory information systems and competitor instruments," Willemsen said. "We've developed these analytics tools to enable customers to track patient activities in hospitals, link diagnostics with therapeutic decisions, and link decisions to outcomes, including patient health, length of stay, and other economic indicators."
With an approved blood culture system, new indications for its procalcitonin diagnostic assay, and an arsenal of molecular testing tools, BioMérieux had previously announced that it is aiming to become a leader in the increasingly competitive field of antibiotic stewardship.
The firm is currently engaged with two undisclosed hospitals to implement the pilot project, and it anticipates continuing with the pilot through at least the rest of this year. BioMérieux anticipates a broader rollout sometime next year. The company said that it has named its software Agilist to reflect that hospitals need to be agile in healthcare markets and able to quickly act on the information that is produced.
Because the analytics system highlights the importance of the correct use of diagnostics, it is likely to drive increased sales of the company's diagnostics systems and tests, Willemsen said. Further, the analytic tools are likely to increase test sales overall, including for diagnostic products sold by its competitors, he said.
The inspiration for the advanced analytics project came from an understanding that diagnostics systems in hospitals are underutilized, he noted, adding that diagnostic technologies have evolved over the past 20 years but antimicrobial practices in hospitals have largely remained the same.
The analytics software will enable BioMérieux's sales teams to engage with hospital executives ­— targeting customers that they have rarely approached in the past. Existing sales teams engage with laboratory executives that continue to be an important part of the firm's customer ecosystem, he said. However, working directly with executives in hospitals is likely to enable the company to help shape US hospitals' antimicrobial stewardship practices, Willemsen said, adding that one of its objectives is to become the "principal stewardship consultant company in the AMR and infectious disease space."
BioMérieux anticipates hiring additional advisers to help hospitals implement the advanced analytic systems and develop customized reports as needed. The company is identifying salespeople with new skillsets, including knowledge of software analytics and clinical diagnostics, to implement and continue developing the system.
Meghan Thelen, a director of value-based healthcare at the firm, said that its analytics software continues to evolve in response to a "shift in healthcare systems from a volume model to a value model." Hospitals are facing the burden of showing better patient outcomes at a lower total cost of care and "doing more with less," she said, adding that health systems operating within this context tend to look toward labs as cost centers and use fewer tests to cut costs.
The new analytics software can help hospitals with these challenges by identifying not only testing inefficiencies but also best practices within the testing operations of specific hospitals that other hospitals or departments could apply, she said. Further, the system's reporting platform enables lab managers, clinicians, and pharmacists to view the same outcomes on a single platform. They can use that as a basis for discussions, potentially leading to improvements in patient care and economic outcomes, she noted.
The analytics system has revealed that clinicians are often not making timely decisions based on the test results they receive, Thelan said.
That conclusion is supported by the results of research at a Mayo Clinic campus in Phoenix, which found that knowing the test results from BioMérieux business BioFire's rapid multiplex diagnostic panel for detecting bloodstream infections did not alter certain aspects of clinician prescribing behavior, contradicting previous published reports.
In some cases, the new analytics software identified when clinicians were not using important tests such as those that use procalcitonin as a biomarker of disease, which is a tool in many clinicians' antimicrobial resistance arsenal. Doctors using the marker noticed a reduced length of stay and decreased mortality rates, according to BioMérieux.
The company is not claiming that improved outcomes are a sole consequence of using procalcitonin testing, but it is nonetheless presenting real-world data being generated by hospitals, Thelan said.
Agilist is likely to help health systems at a time when testing companies and the diagnostic testing industry is experiencing the consequences of reduced reimbursements because of the Protecting Access to Medicare Act, Willemsen said.
As labs continue to consolidate with a goal of cost savings, testing sites are often moved further from patients, and results can take longer to reach clinicians, he said. That move is counterproductive because potential savings for healthcare systems come from getting faster and more precise results and spotting inefficiencies in testing, he said. When hospitals can focus on positively impacting clinical decisions using diagnostic systems and tests, "the economic benefits far outnumber the costs of testing," and Agilist is being designed to help hospitals with that focus, he noted.
"We're now at a stage where we have a tool that can be very powerful to guide AMR strategies for hospitals, but it could also be very useful for public health authorities for surveillance purposes, including tracking pathogens and resistance patterns," among other variables, Willemsen said.
Initiatives to improve patient outcomes through analysis of laboratory test results and other hospital data are finding applications broader than curbing antimicrobial resistance. As illustrated by comments from Abbott, Roche, Massachusetts General Hospital, and others at AACC, the central theme among these initiatives involves using advanced analytics to aggregate and analyze results.
In a presentation about the use of artificial intelligence in medicine, Jason Baron, an assistant pathologist at Massachusetts General Hospital, noted that the rate of data production exceeds the capacity of clinicians, pathologists, and chemists to generate useful information from that data. That's leading to the development of systems that use predictive models and machine learning to gather and analyze data from diagnostic tests and medical records, including within Mass General, he said.
Noting that laboratories remain a large source of untapped data, Abbott unveiled the AlinIQ Integrated Platform as part of its professional services and informatics portfolio at the AACC meeting. Vahe Ayvazian, the marketing director of its US diagnostics business, said in an interview that the firm anticipates that US hospitals will use the AlinIQ Integrated Platform and Abbott's professional services group to bring together data from across hospital systems, including laboratory testing and clinician-derived information.
In a media presentation at the AACC meeting, Roche also noted that "unprecedented amounts of high-quality data" are being generated not only from clinical trials but also diagnostic applications, including genetic profiles of individuals and their diseases; a range of imaging technologies; and wearable devices.
Willemsen said that in implementing its analytics system, BioMérieux is currently working "on generating the right balance between the size of the institution, customization, and financial benefit," and how to license and price the product. "At this point it's still a pilot, but we see its power, and we believe that this is going to change the way diagnostics is done," he said.