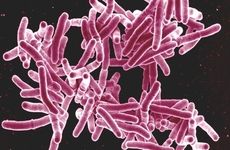 NEW YORK (360Dx) – Concerned about a growing global health threat that claims around 700,000 lives each year, AdvaMedDx in January announced a global stakeholder initiative that stresses diagnostic tests' role in the fight to avert antimicrobial resistance.
Its executives want to make sure people know that "diagnostics have a place in the fight," and may have a substantial and enduring impact in the drive to mitigate the growing health concern, AdvaMedDx Executive Director Andrew Fish said in an interview.
AdvaMedDx, the industry association representing the world's leading diagnostic manufacturers, also recognized that stakeholders working within public health needed to better understand the prominent role that diagnostic tests can play in combating AMR, he added.
The association announced the initiative during a satellite event at the World Economic Forum's annual meeting in Davos, Switzerland, and leading up to the announcement, several stakeholders inked a commitment that serves as a framework for collaborative action in the fight against AMR. The initiative "outlines specific goals for leveraging existing diagnostic solutions and investing in improvements and access," AdvaMedDx said.
"We started working together to not only drive a better understanding of diagnostics' role in antimicrobial resistance, but to ultimately improve use of diagnostics worldwide to counter this problem," Fish said.
AdvaMedDx's objective was to obtain a commitment not only from industry and member companies, but also to broaden its scope to include government agencies and global health organizations.
"The commitment is certainly a platform, in part, for industry to continue to step up its activities, but also to provide a catalyst that encourages other stakeholders to participate globally and regionally," Fish said.  
AdvaMedDx said that it expects that global public health agencies, including the World Health Organization and UN agencies, will play a key role, and ministries of health in numerous countries will engage in deciding how to improve best practices and public policy. The association added that it also sees academic researchers and nongovernmental organizations as playing a critical role.
In parallel with pharma
The initiative is patterned after work by pharmaceuticals industry companies and others that established a commitment last year to fight the threat of antimicrobial resistance.
In January 2016, more than 80 leading international pharmaceutical, generics, diagnostics, and biotechnology companies, as well as key industry bodies, aligned to propose that governments and industrial entities work together to support sustained investment in the new products needed to beat the challenges of rising drug resistance. They launched the initiative through a joint declaration at the World Economic Forum in Davos.
AdvaMedDx also took purpose from The Review on Antimicrobial Resistance, a report commissioned in July 2014 by then-UK Prime Minister David Cameron, who requested an analysis of the global problem of rising drug resistance, and a proposal for concrete actions to tackle it internationally.
Over the course of two years, the report's authors engaged with international stakeholders to understand and propose solutions to the problem of drug-resistant infections from an economic and social perspective, and produced its final report and recommendations in the summer of 2016.
"We worked with a number of leaders including some of the people behind the work that went into the UK review on AMR and some of the UN agencies that are most involved in this," in addition to AdvaMedDx's member companies and global diagnostic associations, Fish said.
To develop solutions that tackle the global health crisis, several global stakeholders signed on to the commitment, including the British In Vitro Diagnostics Association; CBDL, the Brazilian Chamber for In Vitro Diagnostics; MedTech Europe; Abbott; Alere; Amplex Diagnostics; Becton Dickinson; Beckman Coulter; BioMérieux; Bio-Rad Laboratories; Cepheid; CIGA Healthcare; Erba Molecular; Hologic; Mast Group; Micronics; Mologic; Momentum Bioscience; Oxford Impedance Diagnostics; Philips Healthcare; QuantuMDx Group; Roche; and Thermo Fisher Scientific.
AdvaMedDx invited the industry stakeholders to commit to building a long-term economic case for diagnostics as a public good in the fight against drug-resistant infections; establish public-private partnerships to develop health systems and create wide-scale access to diagnostics.
Other goals include working to ensure effective global utilization of diagnostics; and advocating for research and development investments, funding, simplified regulatory processes, and sustainable reimbursement policies to encourage development.
The statement of commitment states that based on present trends, "AMR is projected to cause 10 million deaths annually by 2050, accompanied by $100 trillion in lost global economic productivity."
"It is essential that country-level action plans on AMR recognize the critical role of diagnostic tests in fighting this public health threat and promote adoption of existing tests, as well as the development of new test technologies," it added.
Antibiotics abuse
The drivers of the need for action against antimicrobial resistance are manifold. "Antibiotic use has been less than discriminate," Fish said. "There are issues with antibiotics being prescribed and used when it's not clear that the infection is bacterial; the use of antibiotics that are not tailored to the infectious organism; the use of antibiotics for prophylactic purposes; and the dimensions of this problem that go outside [the] scope of human health, such as the challenges associated with the use of antibiotics in agriculture."
The indiscriminate use of antibiotics can be significantly addressed by diagnostic tests that determine what kind of an infection is present, which bacterial organism is present, and to which antibiotic the bacteria is most susceptible, he said. When those diagnostic resources are available, clinicians can make more effective decisions about when to use antibiotics and which antibiotics to use, Fish noted, and added that "part of this problem has been the result of not using the tools that are available and — especially in less developed countries — not having access to the tools that are available elsewhere."
A big part of the collaborators' work is to bring awareness of "the need for better stewardship practices, [to] involve … diagnostic tests when available, and [to follow] the diagnostic test results," Fish added.
AdvaMedDx said it closely collaborated with the Joint United Nations Program on HIV/AIDS (UNAIDS), BD, and others in supporting and promoting the launch of this global commitment at Davos.
Michel Sidibé, executive director of UNAIDS, noted in a statement the need to "galvanize action in both private and public sectors to accelerate the uptake of diagnostics, including for HIV and TB testing, and treatment monitoring." Quality care, including timely diagnosis, he said, should be ensured for everyone to save lives and to prevent widespread resistance.
Expert opinion
In parallel with the announcement of a global commitment to fight AMR, industry leaders and global experts on antimicrobial resistance convened as part of a panel at Davos to discuss the growing public health crisis and the critical role of diagnostic solutions in combating it.
Catharina Boehme, CEO of the Foundation for Innovative New Diagnostics (FIND), noted during the panel discussion that over prescribing antibiotics is prevalent in pediatric populations as well, and that almost every child with a positive malaria rapid diagnostic test gets an antibiotic today.  "In India … we see that 80 percent of patients [who have drug resistance] are not diagnosed," she added.
Kjersti Grimsrud, president of International, and president of Europe and Middle East at Alere advocated for cross-border cooperation leading to global collaboration. "What excites me is that we finally have diagnostics on the agenda," she said. "I am all for innovation … but we also have to use [the diagnostic tests] we have, and we are not good at that."
Rosanna Peeling, director of the International Diagnostics Center, called for "a completely disruptive solution where regulatory authorities, academia, and departments of health need to come together around the same table." These entities need to evaluate the tradeoff between access, accuracy, and affordability of diagnostic tests, and also evaluate benefits and risk as well as issues related to reimbursement, she said. "Why couldn't we sit around the same table to talk about this," Peeling added.
John Nkengasong, director of the Africa Centers for Disease Control and Prevention, noted that the fight against AMR "can learn a lot from the HIV experience." Product-side challenges may be resolved related to supply chain, price, and regulations, but that does not guarantee that people will be tested, he said. "About 50 percent of those that are supposed to know their HIV status have not taken an HIV test, and we have been dealing with that for 30 years," he added.
Dame Sally Davies, chief medical officer of England, delivering a keynote address in Davos, noted that TB accounts for the biggest component of antimicrobial resistance, "but we have to remember the people that die of drug-resistant malaria, and HIV, as well as bacteria."
She added that 700,000 people die from AMR annually, and in India, 60,000 babies die each year from drug-resistant infections, a statistic that "surely in this modern world should be unacceptable."
Next steps
Following the signing of the commitment and announcement at Davos, the collaborators have begun drawing up implementation action plans.
"We have not yet identified which of these steps will rise to the top and be identified as a priority for collective action, or which actions might be better served by being undertaken by a separate set of stakeholders," Fish said.
In terms of test selection, he said "any test is better than none, but of course it's more nuanced than that and the right test is very much context-specific."
Tests employed in the fight against antimicrobial resistance need to be specific to the resources that are in place in a region or country, Fish said, and rapid point-of-care tests would be especially valuable in areas with limited laboratory and equipment resources since they could be run by personnel with less training.  
Stakeholders need to assess the public health infrastructure available in each region and then determine how to plug in various tests, he said, "whether it's to enhance a central laboratory test portfolio or deploy more rapid point-of-care tests."
Although diagnostic tests are vital in this context, it's important to note that "they will never solve the entire problem," Fish said. Several pieces of the infrastructure associated with the fight against AMR need to fall in place for the initiative to be most effective. "Tests need to be available where they are needed, and results need to be communicated, sometimes to people in another location," he said, and added that "the test results need to be understood and followed, and appropriate medications need to be available and administered."
A broader point, he noted, is that diagnostics are largely underappreciated for the role that they play in healthcare on many fronts. "We appreciate the opportunity not only to leverage more appropriate use of diagnostics in fighting AMR, but this issue is also providing a platform to communicate about the value of diagnostics in general, and we think that's an important advance as well," Fish added.
A recent Nature Reviews Urology article drew attention to the increasing prevalence of antimicrobial resistance in treating several bacterial sexually-transmitted infections. Neisseria gonorrhoeae and Mycoplasma genitalium are becoming superbugs, "causing exceedingly difficult-to-treat or untreatable STIs and threatening global public health."