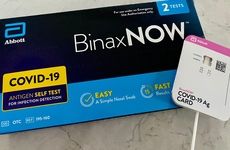 This story has been updated with comments from the conference call discussing the firm's financial results.
NEW YORK — As COVID-19 transitions to an endemic illness, Abbott is prepared for its testing business to transition as well.
On a conference call to discuss Abbott's Q4 and full-year 2022 financial results, CEO Robert Ford said that as COVID-19 becomes an endemic, seasonal respiratory virus, COVID-19 testing volumes are expected to decline significantly. However, as variants continue to emerge, he added, COVID-19 testing will remain an enduring portion of the firm's respiratory testing portfolio, and the success of Abbott's COVID-19 testing business has had a positive impact on the overall business.
Ford said the company has delivered nearly 3 billion COVID-19 tests since the start of the pandemic and noted that the firm's installed base of instruments, including its point-of-care ID Now platform, has expanded significantly throughout the pandemic. That expanded footprint has driven strong growth and supported testing needs for other respiratory illnesses like influenza, he noted.
New testing channels, such as physicians' offices and at-home testing, have opened as a result of the pandemic, and Abbott has been able to increase its investments into business operations such as research and development, Ford said. Those investments have made the core business stronger than it was before the pandemic, and the success of its COVID-19 segment has strengthened Abbott's overall financial health and provided "significant strategic flexibility as we look to build and grow the company even further," he added.
That decline in COVID-19 testing demand has already begun, as the company reported Wednesday morning that its fourth quarter diagnostics revenues fell 26 percent year over year.
For the three months ended Dec. 31, 2022, the Abbott Park, Illinois-based firm reported overall revenues of $10.09 billion, down 12 percent from $11.47 billion a year ago but beating the consensus Wall Street estimate of $9.67 billion. On an organic basis, which excludes the impact of foreign currency exchange, revenues fell 6 percent year over year.
Revenues were negatively impacted by a decline in COVID-19 testing-related sales. Excluding those sales, revenues decreased 1 percent on a reported basis and increased 5 percent on an organic basis, Abbott said.
The company said revenues from its diagnostics business fell 26 percent from the prior-year quarter to $3.31 billion from $4.47 billion. Within diagnostics, core laboratory revenues fell 6 percent to $1.26 billion from $1.35 billion; molecular revenues declined 48 percent to $180 million from $345 million; point-of-care revenues fell 3 percent to $131 million from $135 million; and rapid diagnostics revenues were $1.73 billion, down nearly 35 percent from $2.64 billion in the prior-year quarter.
Global COVID-19 testing-related sales were $1.07 billion in the fourth quarter, compared to $2.32 billion in Q4 2021. Ford said that rapid testing platforms comprised about 95 percent of those sales.
In the US, diagnostics sales were down 29 percent compared to the prior year, while international sales were down 23 percent. Excluding COVID-19 testing-related sales, worldwide diagnostics revenues rose 4 percent on a reported basis and 11 percent on an organic basis. That growth was led by rapid diagnostics, where sales increased 30 percent year-over-year excluding COVID-19 testing, Ford said.
Abbott's nutrition revenues fell 11 percent to $1.82 billion from $2.04 billion; established pharmaceuticals revenues rose 1 percent to $1.22 billion from $1.20 billion; and medical devices revenues were flat at $3.75 billion.
Ford said that although the macroeconomic business conditions, such as inflation, supply chain issues, and staffing shortages, have been dynamic and challenging, he is optimistic that some of those headwinds are easing. The impact of COVID-19 on society has lessened and economies across the world are increasingly reopening, he said, adding routine testing trends are steadily improving in many regions after staffing shortages affecting hospitals caused declines in routine testing and procedures.
He also noted that the gradual reopening of China will have a big impact not only in the country, which is an important growth market for Abbott, but in other countries as well. While there will be some bumps in the first quarter as COVID-19 infection and hospitalization rates in China are on the rise, Ford said he expects a "pretty strong rebound in our growth prospects over there" and a positive spillover effect, predominantly in Southeast Asia.
Abbott reported net earnings of $1.03 billion, or $.59 per share, in Q4 2022 compared to $1.99 billion, or $1.11 per share, in the year-ago period. Adjusted EPS for the recently completed quarter was $1.03, above the consensus Wall Street estimate of $.92.
For full-year 2022, the firm reported total revenues of $43.65 billion, up 1 percent from $43.08 billion a year ago, beating the average Wall Street estimate of $43.22 billion. On an organic basis, total revenues were up 6 percent.
Abbott reported $16.58 billion in diagnostics revenues in 2022, up 6 percent from $15.64 billion in 2021 and up 10 percent on an organic basis.
Within diagnostics, molecular diagnostics revenues totaled $995 million in 2022, down 30 percent from $1.43 billion in 2021. Core laboratory revenues were $4.89 billion, down 5 percent from $5.13 billion in 2021. Point-of-care revenues were $525 million, down 2 percent from $536 million a year ago, and rapid diagnostics revenues were $10.18 billion, up 19 percent from $8.56 billion in 2021.
Global COVID-19 testing-related sales for the full year were $8.37 billion, compared to $7.68 in 2021.
Regarding its other business units, 2022 nutrition revenues fell 10 percent year over year to $7.46 billion from $8.29 billion; established pharmaceuticals revenues rose 4 percent to $4.91 billion from $4.72 billion; and medical devices revenues rose 2 percent to $14.69 billion from $14.37 billion.
The company reported a 2022 net income of $6.93 billion, or $3.91 per share, compared to $7.07 billion, or $3.94 per share, in 2021. The firm's 2022 adjusted EPS was $5.34 per share, beating the consensus Wall Street estimate of $5.23 per share.
Abbott said it anticipates full-year 2023 earnings per share from continuing operations to be between $3.05 and $3.25. Adjusted EPS from continuing operations for 2023 is expected to be between $4.30 and $4.50. The full-year forecast anticipates COVID-19 testing-related sales of $2.0 billion. Ford noted that the guidance for COVID-19 testing doesn't factor in any surges in infection rates but that if a surge occurs, Abbott has the manufacturing capacity to meet increased demand for its tests.
Excluding COVID-19 tests, the company expects organic sales growth to be in the high-single digits in 2023, Ford said.
He added that Abbott is interested in M&A and is actively assessing deal opportunities from tuck-in acquisitions to larger deals with a focus on the diagnostics and medical devices segments, although valuations need to stabilize further. The firm is looking at businesses where it can bring value, whether that means bolstering R&D efforts or accelerating sales, he said. Abbott is interested in growth areas where it can build out a presence or in augmenting its pipeline in existing markets, he said.
In early afternoon trading on the Nasdaq on Wednesday, Abbott's share price was down 2 percent to $110.30.