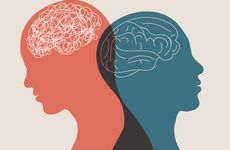 NEW YORK – Researchers from the University of Cambridge recently said they have developed a blood-based metabolomic test that can help distinguish bipolar disorder from major depressive disorder, raising hopes they can not only reduce the frequency of a common misdiagnosis but also provide objective test results in a field largely reliant on patient self-reporting and symptomatic diagnosis.
The blood test alone can only differentiate between those disorders in 30 percent of cases, but the accuracy rises to about 90 percent when the results are combined with a questionnaire-based patient evaluation, said Jakub Tomasik, who was the lead author of a JAMA Psychiatry article on the results. Sabine Bahn, a neurotechnology professor at Cambridge who led the research, said her spinout company Psyomics plans to develop the combination into a commercial test that would be available first in the UK and eventually in the US.
"Sixty percent of people who have bipolar disorder are initially diagnosed, and 40 percent of them are misdiagnosed as [having] depression because they present with a depressive episode," Bahn said. "It is very important to identify and diagnose someone accurately because someone who has bipolar disorder should not be treated with antidepressants because, if you give them antidepressants, then you may switch them into a manic episode."
Neuropsychiatric disorders are typically diagnosed instead using subjective evaluations of patient-provided information such as questionnaires. Following diagnosis, treatment typically involves a trial-and-error system of finding the right medication for each patient. Though laboratories offer pharmacogenomic tests to guide treatments, those tests have yet to achieve widespread adoption as some, including regulators, have cast some skepticism on the utility of such tests.
Those tests have come under scrutiny from the US Food and Drug Administration, which has cautioned patients and providers against switching drugs based on the results of pharmacogenomic laboratory developed tests that are not approved by the agency. One firm, Inova, stopped offering PGx testing after the FDA warned it against linking gene variants with drugs in ways not recognized by FDA labeling.
According to Tom Miller, founder and managing partner of GreyBird Ventures, a wealth of researchers are trying to establish correlations that could be used for neuropsychiatric tests, but nobody so far has found strong enough connections to create diagnostic tests. As an investor in healthcare firms, he has searched for companies that have promising technologies to diagnose neuropsychiatric disorders or guide their treatment but mostly found what he describes as a "diagnostic desert."
Miller said that, unlike the definitive answers offered in oncology through tumor tests, diagnoses of neuropsychiatric diseases remain subjective and subject to the "squishiness" of categorizing human behaviors as well as separating signal from noise in potential biomarkers.
In a move to improve the diagnostic capabilities of potential tests for neuropsychiatric tests, the National Institutes of Health this spring began accepting grant applications through its National Institute of Mental Health for a program, Individually Measured Phenotypes to Advance Computational Translation in Mental Health (IMPACT-MH).
Aimed at overcoming the "squishiness" due to the heterogeneity and overlap of mental health disorder symptoms, the NIMH program is intended to spur development of more precise tools that primary care physicians or social workers could use to diagnose mood disorders or other psychiatric conditions. The program, however, is at least initially focused on the development of behavior- and activity-based measurements rather than in vitro diagnostics.
Bahn, who is also a psychiatrist, said it's impossible to differentiate during a first meeting with a patient whether their symptoms of depression stem from major depressive disorder or bipolar disorder. The average time to diagnose bipolar disorder is more than seven years in Western countries, and a patient who is treated for bipolar disorder with antidepressants can experience more manic episodes or simply fail to respond to treatment compared to the better results seen from mood stabilizer treatment.
"In order to make a diagnosis of bipolar disorder, you need to elicit whether someone has had episodes of elation in mood, like mania or irritability," she said. "And this can be very difficult to establish because most patients only remember when they felt depressed and often don't remember when they felt very good about themselves."
Tomasik, lead author on the JAMA paper, said the team received self-collected finger-prick blood spot samples from 641 patients and used mass spectrometry to perform metabolomic profiling and identify potential biomarkers of bipolar disorder. The team determined that 17 metabolites were predictive biomarkers of bipolar disorder and performed the resulting test on a 241-patient discovery cohort and a 30-patient validation cohort.
Further studies are needed to validate the results in larger and more diverse patient groups, optimize the biomarker selection, examine the feasibility of combining the test and questionnaire data, and meet regulatory requirements, he said.
Bahn said the test methods are similar to those used in heel-prick screening tests for newborns, and she estimates the tests will initially cost £100 ($123) to £150 each. Her company, Psyomics, plans to debut the test in the UK, where the company already offers its Censeo digital mental health assessment platform. That is likely at least a few years away, after which the firm next plans to pursue expansion into the US with an LDT version of the blood test, she said. Securing FDA and European regulatory approvals for more widespread use of the tests will come later.
If successful, Psyomics would enter a market that so far has proven elusive to diagnostic test makers. Academic researchers and commercial firms have been hunting in recent years for the markers to identify psychiatric diseases or to select the right therapy. Some tests are used to guide treatment, such as Saladax Biomedical's assay kits used on clinical chemistry analyzers to measure levels of antipsychotic drugs prescribed to treat patients with mental illnesses such as schizophrenia and bipolar disorder.
Copenhagen-based startup GLX Analytix is developing immunoassays to monitor chronic diseases and treatment response through changing volumes in blood of glycocalyx, a seaweed-like structure that is on the surface of vascular endothelial cells and is cleaved by immune cells. The company has seen some early, promising results from studies on use of the technology to identify patients with major depressive disorder and schizophrenia.
A team from the Royal College of Surgeons Ireland, meantime, has been developing a prognostic test that uses mass spectrometry to identify proteins that could help stratify patients presenting with clinical symptoms, while researchers from the University of California, Irvine, reported in 2018 in the journal Molecular Neuropsychiatry that they had developed an 18-gene panel to differentiate patients with bipolar disorder, patients with schizophrenia, and normal control subjects.
Miller's firm, GreyBird, has invested in Genetika+, an Israeli firm that is developing a brain-in-a-dish model that matches patients with antidepressants by extracting induced pluripotent stem cells from a blood sample, growing those cells into the type of prefrontal cortical neurons affected in mental illness, and recording how those neurons react to drugs and drug combinations. Miller said that, compared to developing a test to diagnose a mental health condition, identifying a patient's likely response to treatment is an easier problem to solve.
Other firms sell laboratory-developed tests intended to help guide treatment selection. Myriad Genetics, for example, sells a pharmacogenomic LDT that is meant to indicate how well patients are likely to metabolize or respond to medications for conditions such as depression and anxiety when that information is used with other clinical factors.
Some firms are using imaging-based technologies rather than in vitro diagnostics to help guide treatment of psychiatric conditions. Firefly Neuroscience, formerly Elminda, uses EEGs and algorithm-driven analysis to map brain "signatures" that the company says can help characterize brain function and guide personalized treatment or, in healthy people, provide brain function checkups.
A team from Stanford University also published last month in Nature Genetics study results that suggest certain genetic variants relate to increased risk of developing 10 of the most common neuropsychiatric disorders. Further study of the biomarkers could help identify genetic links to symptoms across those disorders and allow more precise diagnoses and targeted therapies.
In its study, senior author Paul Khavari, chair of the School of Medicine's dermatology department and codirector of Stanford's epithelial biology program, and his team analyzed genetic variants that previous genome-wide association studies had linked with common neuropsychiatric diseases and tried to determine which genes were dysregulated by those variants as well as what symptoms resulted from that dysregulation. He noted that any risk conveyed by those variants likely is mediated by a patient's individual combination of protein coding genes as well as environmental factors such as nutrition, stress, and illness.
"It did provide us some insights and ideas into the potential parts of the genome that seem to be a little different in relationship to the risk of these diseases and pointed to possible target genes that might be important in either the development of the disorder studied or maybe even their future treatment," Khavari said. "It's really meant to stimulate further research as opposed to providing immediate clinical application."
Those studies could dive deeper into the protein-level effects of those variants on gene expression and the connections between the variants and mental health disorders. For example, the study results identified dysregulation of the CNNM2 magnesium transporter gene in connection with multiple neuropsychiatric diseases, and prior research results suggest lower blood-magnesium levels may relate to higher incidence of schizophrenia, major depressive disorder, and bipolar disorder. The article also states that mutations in CNNM2 have strong connections with hypomagnesemia, which causes seizures and impaired brain development.
Khavari said the inherited risk of polygenic disorders is believed to be concentrated in genes that regulate expression of protein coding genes. The results published in Nature are part of a larger project by his lab to create the Atlas of Regulatory Variants in Diseases (ARVID), a single-nucleotide resolution atlas of genetic variants that change gene expression and are linked with risk of developing 42 polygenic diseases including cancers, heart disease, and neuropsychiatric disorders.
Despite the ongoing work in the field, Miller said he has been underwhelmed by attempts by teams so far to develop metabolite-based tests for neurological conditions, which are inherently difficult to develop into accurate tests as metabolite levels can be affected by a variety of factors that are unrelated to a neurological condition such as changes in a patient's microbiome.
"You're trying to detect a tricky signature with a tricky baseline to correlate," he said.
Miller said he is also skeptical of the value of any genetic diagnostic test for neurological conditions. But he said he continues watching for firms with promising leads on tests for neuropsychiatric conditions because the lack of tests is a big problem.
"Nothing has jumped out recently to me to say 'Wow, here is a quantum leap forward in this area,'" he said. "There's little incremental progress, and I expect it's going to be slow over the next decade or so."