REPRINTED WITH PERMISSION

FIND Expands Fever Bank for Diagnostics Developers
NEW YORK – FIND has expanded a recently curated biobank of samples from fever patients to include additional low- and middle-income countries. The fever collection — which is part of FIND's larger biobank of nearly 500,000 patient samples — was initially available to developers in 2019 offering samples collected in Malawi but now offers samples from Brazil and Gabon as well, and includes specimens from more than 2,000 adults and children.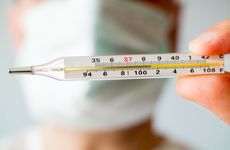 Leticia Fernandez, a scientific officer at FIND working on pneumonia and fever, said in an interview that the bank expansion was completed earlier this year and that it contains many different sample types, as well as extensive demographic, clinical, and microbiological data.
"We started the fever biobank because we saw that there were very few point-of-care diagnostics to help fever case management in low- and middle-income countries, particularly to differentiate bacterial from non-bacterial infections," she said.
Fever management in LMICs presents unique challenges for diagnostic developers, as underlying endemic diseases can include a variety of bacterial and viral infections.
Bacterial infections account for the fewest number of fever-related infections, but the default in many LMIC clinical settings is to prescribe antibiotics in the absence of pathogen detection, Fernandez said. This in turn contributes to overuse of antibiotics and acceleration of antimicrobial resistance in the community.
For this reason, samples were collected primarily from outpatients whose fevers were not severe, since these patients are the most likely to receive unnecessary antibiotics.
For the fever bank, a range of sample types are grouped by patient symptoms and classified by bacterial and non-bacterial status, Fernandez said. There is also data on approximately 100 other demographic, clinical, and microbiologic parameters for each patient.
For example, the bank can provide sample data on C-reactive protein and procalcitonin levels, two biomarkers sometimes used to distinguish viral from bacterial infections that can be used as good comparators in diagnostic testing. However, Fernandez noted that FIND prefers to provide blinded samples at first to avoid biases, and once developers have completed their testing and sent results to FIND, they can be unblinded.
Fernandez said the sample collection process for the fever bank began in 2017, and it began supplying developers in 2019 with the partial collection.
It was recently used by FIND in a clinical study called Biomarkers for Fever Diagnostics, or BFF-Dx, to set up a mechanism to distinguish bacterial from non-bacterial infection in cases of acute febrile illness.
A publication in BMJ Global Health last year detailed the sample and data collection methodologies, and FIND expects other publications will follow later this year to provide additional detail on the study demographics, the causes of fever identified, and the performance of selected biomarkers.
According to a recent activity update on the FIND biobank, requesters of samples from the fever bank in 2019 included the Natural and Medical Sciences Institute, or NMI, at the University of Tübingen, Meso Scale Diagnostics, Microsynth, and Inflammatix.
In 2020, requesters included NMI, Duke University, the Liverpool School of Tropical Medicine, and San Raffaele Scientific Institute in Milan, as well as DCN Diagnostics and Cepheid.
Banking with FIND
The fever collection is a furtherance of FIND's specimen bank of carefully curated samples that is available to all developers of infectious disease diagnostics for low- and middle-income countries. Originally initiated in 2008, FIND's biobank overall has more than 480,000 well-characterized specimens of different sample types from more than 14,500 individual patients enrolled at 25 sites worldwide.
Stefano Ongarello, FIND's head of data services and biobanking, said in an interview that the biobank has been an important component of the support that FIND offers developers of diagnostics for LMICs and low-resource settings.
"As part of our mission, we felt it was critical to provide developers with high-quality samples that they can use to develop and evaluate their tests," he said.
For diagnostics in LMICs, it is key to make sure the samples are not only high quality, but also paired with good clinical characterization of the donor, and collected in locations in which the diagnostics will ultimately be used, Ongarello said.
With these constraints, "it is difficult for researchers and developers to obtain samples," he said.
One option would be to purchase samples from commercial entities, but samples from LMICs can be difficult to procure, Ongarello said, because most global biobanks tend to curate samples collected in high-income countries.
Setting up a clinical trial in the location where the diagnostic will be used is another option, but it presents developers with bureaucratic challenges and costs. For small, startup developers, both of these options can be beyond their budgets, Ongarello said.
FIND set up its first sample biobank collection dedicated to tuberculosis, but in the ensuing years it expanded to include malaria, hepatitis C virus, and in 2020, COVID-19.
Ongarello said all the specimens and associated data are collected in clinical trials with appropriate consent and ethical approvals, and the samples are further characterized by FIND scientists.
FIND works with carefully selected clinical sites in LMICs to collect the samples and maintain cold chain storage and shipment, and provides these sites with technical support and oversight.
The collection typically includes whole blood, serum, and plasma, as well as sputum, saliva, and urine. It also includes DNA from bacterial samples, PAXgene tubes, and culture isolates.
The team is also motivated to apply the Nagoya protocol on access to genetic resources, an international legal framework that encourages access and benefit sharing.
In addition, the FIND team has expertise in arranging the required materials transfer agreements and shipping for samples, which enables the entire process to go more quickly, Ongarello said.
Funding for FIND's biobank is provided by the governments of Australia and the Netherlands, as well as UK aid from the British people, among others. The fever collection specifically is funded by the governments of the Netherlands and the UK.
FIND also charges a shipping and handling fee to support its operations. The fee is typically between $50 and $200 per sample, and according to its recent activity report , the bank raised $334,919 that it used to offset collection and running costs between 2014 and September 2020.
While the fever bank is relatively new and no results have yet been published, there have been many studies that used the other collections.
"We strongly encourage all specimen bank users to report back on data derived from the use of the samples and share results with the wider scientific community to support the development of diagnostic tools, but there is no contractual obligation," Ongarello said.
The TB collection has been instrumental for the development, evaluation, and validation of technologies, Ongarello said. For example, it was utilized for the development of a novel lipoarabinomannan point-of-care tuberculosis test for people with HIV.
It was used for assessment of the analytical performance of the Cepheid Xpert MTB/XDR assay for tuberculosis and expanded resistance detection, as well as the new Xpert MTB/RIF Ultra.
The FIND biobank is "a precious tool for all developers of infectious disease diagnostics," said Philippe Jacon, senior VP of global access at Cepheid. "Being able to access well-characterized samples is highly valuable and helps reduce the time to develop a new test," he added.
Going forward, FIND expects to continue to maintain and expand its bank and has also begun two new initiatives in biobanking. Its Virtual Biobank is an open-access platform meant to increase the visibility of existing sample collections beyond the one at FIND and facilitate access to these infectious disease resources.
FIND is also building an integrated biobank. Ongarello said this new approach supports in-country capacity building at the collection sites, ensuring they all use the same standards and enabling them to quickly respond to researchers' needs.
The integrated system is essentially a network of biobanks that are considered independent but connected, local partner facilities, whereby FIND offers a single point of contact to request samples from the network.
Developers can go to the FIND website and make a specimen request, Ongarello said. FIND can provide technical advice on the type of samples needed, if a developer wishes, or the developers can simply submit a request through its portal, with a turnaround time as quick as two weeks.
Reprinted with permission 360Dx, a business unit of Crain Communications © 2021. All Rights Reserved. #DX115 www.360dx.com